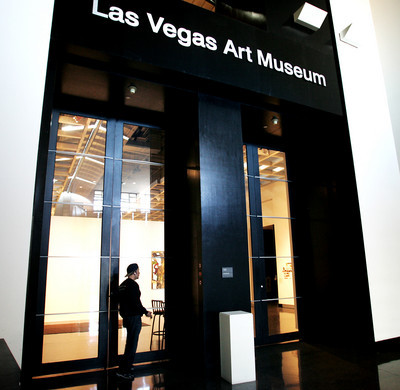 Tough times are putting a serious strain on this city's cultural community.
Las Vegas Art Museum's shutdown last month rattled an arts scene that might have underestimated the impact of an imploding economy.
"I was completely shocked," said Libby Lumpkin, the art museum's former executive director who resigned in December after the museum board approved a 30 percent budget cut that nearly guaranteed reduced salaries and job losses.
"I thought there might be more dismissals of staff, but I honestly did not think the entire institution would collapse," Lumpkin said.
Other nonprofit linchpins of the arts community have not plunged into the same fiscal abyss, but cuts, caution and concern are the watchwords as they weigh artistry and economics.
The Nevada Ballet Theatre suffered enough losses to warrant personnel cutbacks and a programming postponement. On March 10, the organization announced a reduction of the dance company from 31 to 22 dancers — but no principal dancers — laid off several administrative staff members and decided to leave three positions unfilled. Further temporary layoffs are possible.
The company also rescheduled the season-ending "New Works '09" performance, originally set for May 15-17, to next season. Season subscribers are urged to donate tickets to the postponed show back to the company to help alleviate its budgetary issues, and an anonymous donor has pledged to match as much as $50,000 in contributions received before June 30.
"We saw the signs as early as September," said Beth Barbre, executive director of Nevada Ballet Theatre, which has seen a 20 percent drop in contributions, event revenues and tuition for its academy this year, the $3 million budget down from the previous year's $3.39 million.
"It really became significant with 'The Nutcracker,' where we were down 27 percent, and that makes up over half of our tickets. Our Black and White Ball, while successful, still did not meet budget. And our Balanchine program was well-attended but did not make budget. We felt it was time to act so things didn't get worse."
There has been talk of restructuring, Barbre said, as well as "a healthy conversation about ticket prices" — the average ticket now is $36 — and a possibility of discounts. A $10 balcony seat has been added to the pricing of the "American Masters" program April 10 and 11 at the University of Nevada, Las Vegas, which features guest dancers from the New York City Ballet.
"The last thing we want to do is affect the art form, but we are sensitive to the needs of our patrons," Barbre said.
She said the company still is formulating the budget for the next fiscal year and she can't speculate on any additional cost-saving measures.
"We have four months left of the fiscal year, and every prudent option is on the table. We're looking at what other companies in our field (are doing). We're taking steps to ensure our fiscal health and longevity, emerging a smaller but stronger company."
The Las Vegas Philharmonic canceled its traditional July 4 program, but will maintain its slate of Masterworks, Pops and youth concerts, the latter nearly eliminated last December. The philharmonic is recovering from internal turmoil after the resignation of board President Barbara Woollen and the dismissal of Executive Director Peter Aaronson, saving the organization his $125,000 salary.
"I'm working toward stabilizing the ship, and we have a lot of new energy here now," said Jeri Crawford, presiding officer of the philharmonic, which is working with a $1.7 million budget, and saved additional money when music director David Itkin sliced 10 percent off his $93,500 salary.
"We've had some voluntary cutbacks. Some people couldn't do a (salary) reduction. We didn't want to fire anyone. We're looking at different ways of restructuring."
But attendance is robust, Crawford said, noting the sold-out Valentine's Day concert with guest cellist Zuill Bailey, and a $100,000 challenge to philharmonic audiences from an anonymous donor.
Nevada Opera Theatre is mindful of the money crunch and felt the economic impact, but it was cushioned somewhat by pre-recession budgeting.
"The effect on us has not been as traumatic as on the philharmonic and the ballet because of their much larger agenda and audience participation," said founder/director Eileen Hayes, whose outfit actually has seen a budget increase from about $225,000 to $300,000.
"Yes, contributions have been down, especially between the last two years and this year, but we've been in the mode of reducing our once big deficit dramatically over the last few years. And our audience attendance is really starting to rebound."
Beyond those factors, the company has not tied itself to a set season of performances and the attendant costs. When it does perform, it is at smaller, less expensive venues. Though for the past two years the company has not staged its usual production at UNLV's large Artemus Ham Hall, Hayes expects that to resume. Tickets have been kept less than $50, and the group has kept close tabs on production budgets.
"We're just being very careful what we do," Hayes said. "We have cut back on guest performers over the last several years. We used to bring in entire sets and costumes, but now we've gotten frugal and rent pieces locally and from Southern California. We used to rent entire sets from New York, but those days are gone."
At Opera Las Vegas, finances are actually on the upswing. Citing "prudent and creative fundraising," Hal West, vice president of marketing and public relations, said the company is aiming for a 50 percent budgetary hike, from $50,000 to $75,000. Containing expenditures by staging only two productions this year, they briefly considered doubling the top $40 ticket price but nixed that notion.
"In these times," West said, "people need the arts more than ever."
The 32-year-old Las Vegas Little Theatre, the city's oldest community theater, is functioning fairly well on a nearly $200,000 budget while maintaining six productions in the main stage theater and three in the smaller Black Box.
"We're not rolling in money, but we're no worse than in previous years, paying our rent and electric bills," said board President Walter Niejadlik, noting that keeping expectations reasonable and avoiding grandiose goals helps steady the balance sheet. "We're not doing huge productions costing $20,000 a pop that never have a shot at making money back. It's the undoing of a lot of arts organizations in this town. Everyone's going to be the next greatest thing, doing art for art's sake, but with no business sense."
Theater audiences traditionally skew older than for other art forms — on average, 65 to 70 years old, Niejadlik said — with more discretionary income to spend on the arts. But that demographic reality has a sad side: the steady attrition of season subscribers. Las Vegas Little Theatre loses about 70 subscribers a year.
"Without being terribly morbid, they're dying," Niejadlik said. "We get a list of subscribers who have passed away. Our big focus is on getting younger folks into the theater."
Outside assistance remains for arts organizations via grants from the Nevada Arts Council, though it trimmed 8.5 percent off its budget for the current fiscal year.
President Barack Obama's economic stimulus plan doles out $50 million for the National Endowment for the Arts to fund arts projects, but Nevada Arts Council Executive Director Susan Boskoff cautions that "when you look at splitting that between 62 arts organizations (nationwide), it's not as big as that number suggests."
Boskoff points out that arts outfits that depend on ticket sales generally struggle more during a recession than those more reliant on donors and grants. But she adds that in surveys, "parents support arts and sports the most for their children's growth, even in a recession. Also, with people traveling less and doing what they're calling 'stay-cations,' I think attendance will still be fairly strong."
Hayes is cautious, however.
"The arts in general are suffering, we're in survival mode. People are taking care of food, housing and other things more important to them. The arts won't disappear, but they might take a back seat."
As for the abrupt shuttering of the Las Vegas Art Museum, Lumpkin refers to it as a "devastating blow to the visual arts in Las Vegas." (The artwork of the final "L.A. Now" exhibit is being returned to collectors, and pieces in the permanent collection are being offered back to donors, who could donate them elsewhere.)
"The economy is in such a shambles that it will be 10 years before there's any serious building of the required public funding until deficits are paid down," Lumpkin said, adding that it would require a bigger, better facility than its former digs at the West Sahara Library.
"It takes seven years minimum to get a facility built, so it might be at least 17 years to find somebody to try to build a serious museum again in Las Vegas."
But the museum board has retained the museum name and labels the closure a "hibernation," with hopes of reopening when the economic slide reverses.
Board President Patrick Duffy doesn't foresee a domino effect from the art museum's disappearance, temporary or otherwise, on small, independent galleries in town.
"Our gallerists are extremely smart business people," Duffy said. "We need to be immersed in some optimism, sensible optimism, because we've been satiated with pessimism."
Said Barbre, "We know it's a difficult time for everyone, but it's a time when people need beauty more than ever."
Contact reporter Steve Bornfeld at sbornfeld @reviewjournal.com or 702-383-0256.