Musician opens his home to others for jam sessions
October 28, 2013 - 3:06 pm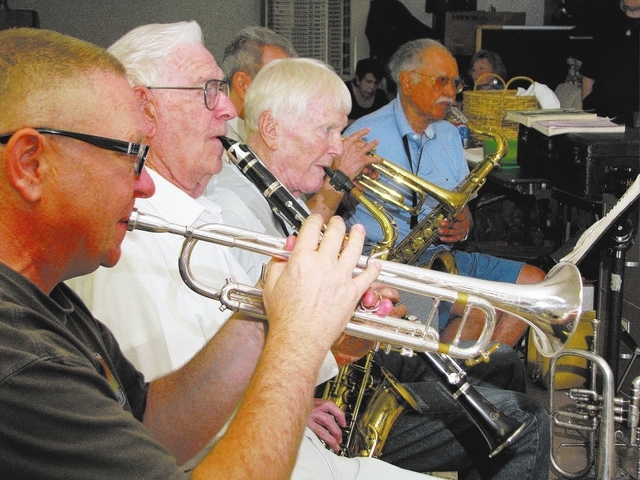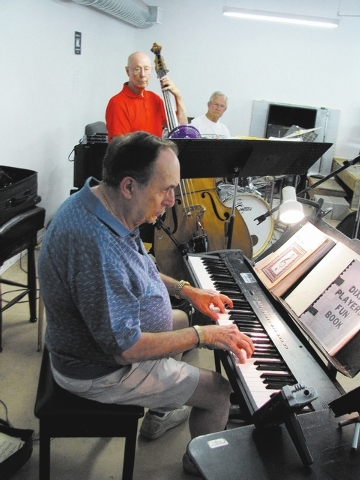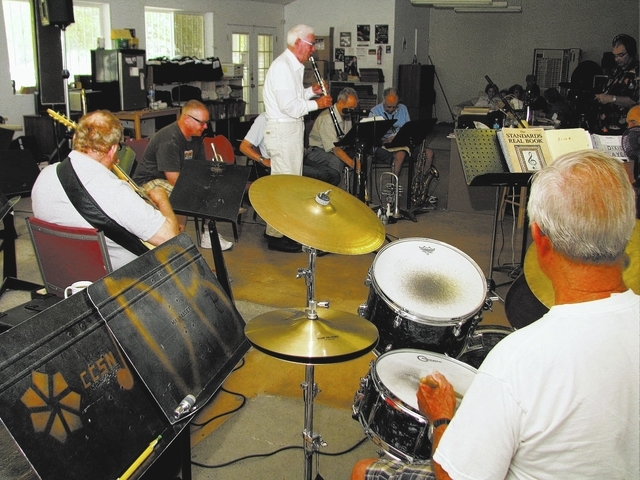 Every Friday morning, a bunch of guys get together and jam at a building behind Jim Hemming's house. Before they played there, they rehearsed in the garage at Hemming's former residence, about a mile away, but this isn't your average garage band.
Career musicians, many performing since the big band era, get together and test their chops while occasionally busting each others' chops.
"Hey, that sounded pretty good," guitarist Tom McDermott said to Dick Geuder, who was trying his hand at violin. "We should get together and play a single."
The group has been honing its skills and having fun together for around 20 years.
Hemming has been playing trombone and tuba with the Dummkopfs since the local band was created in 1985. When he bought his home seven years ago, there was already a cement pad with some walls, and the electricity and plumbing already connected.
"There were four, five corrals around it, so I figured it was a barn," Hemming said. "We fixed it up as a rehearsal space, and now we've got people practicing there most every day. Sometimes, up to three groups will be there at different times in the day."
Hemming doesn't charge for use of the space, and he never had to advertise that it was available.
"Once you open up for bands to come in, the musicians tell the other musicians," Hemming said. "Word gets around pretty quickly."
A donation bucket sits atop a small refrigerator, and the musicians who use the building donate money to help cover utilities and beer.
There's an ever-changing lineup on Friday mornings, with a core group that shows up regularly, including musicians who have won gold and silver records, performed in Broadway musicals and accompanied big stars at their early performances. Some are still regularly working the showrooms, such as McDermott, who said he has played for Don Rickles for more than 40 years.
"I was on the cast album of 'Jesus Christ Superstar,' " said Brian O'Shea. "Elton John used to be my backup singer back when he was Reggie Dwight."
O'Shea added that he used to play with Elton John's longtime drummer, Nigel Olsson.
O'Shea said he comes to the Friday jam sessions to have fun and practice playing,
"Most of the gigs I work are as a singer," he said. "If I didn't come here, I'd hardly ever get a chance to play, and I like to, and I've got to keep practicing."
Piano player Ron Simone keeps the group organized and has become the de facto leader.
"The piano is the instrument with which you can make an introduction and you can make an ending," Simone said. "You set the chord and you set the style, so like it or not, you become the leader."
Simone falls into the "like it" side of the equation.
"This is a kick," Simone said. "We're not getting paid, we're just doing it for laughs and fun, but it does help to keep your chops in shape."
Simone's skills are particularly suited for the jam. They were well-honed by the job he held for many years performing with the relief band that covered for shows at 11 hotels on the Strip. He would perform a different show at a different hotel every night so the regular musicians could get a night off.
Like many members of the group, Simone has been playing in Las Vegas for years. He first came here in the early 1960s.
"My first gig was at the Riviera," Simone said. "I was here with a violist, Florian Zabach, and it was a four-week gig. After that, I was supposed to go to New York."
That changed when the local piano player got fired after getting into an argument with the New York-based conductor of a touring Broadway show.
"They came in to the lounge where we were playing and asked me to cover until they could find an available guy," Simone said. "They never found an available guy. The show was supposed to be six weeks. It ran six months. I ended up working for five years at the Riviera."
Simone followed that up with five years at the Desert Inn performing in a gourmet restaurant.
"Everybody who was everybody came into that room," Simone said. "We were there from 1966 to '71, and every celebrity and every politician came in there. We couldn't get a night off. There was one stretch of two solid years we didn't have a single night off."
Simone still performs regularly, but he's selective about his gigs. He works when he wants to, often performing at corporate events with musicians he likes and respects.
"I don't like to play the Strip anymore because it's like Coney Island," he said. "It's not like what Las Vegas used to be. Thank God I was here for the good years."
Ninety-two-year-old saxophonist Don Hill said he is happy to still be performing regularly in town, including at special events and a monthly show with fellow Friday morning jammer Jeanne Brei at the Italian American Club, 2333 E. Sahara Ave. He said he's happy with this phase of his musical career and the jam.
"I played with The Treniers for 50 years," Hill said of the R&B band. "Now I play what I want to play anytime I want to play."
Contact Paradise/Downtown View reporter F. Andrew Taylor at ataylor@viewnews.com or 702-380-4532.