1 killed as police move in to arrest Bundys at wildlife refuge in Oregon
January 26, 2016 - 11:28 pm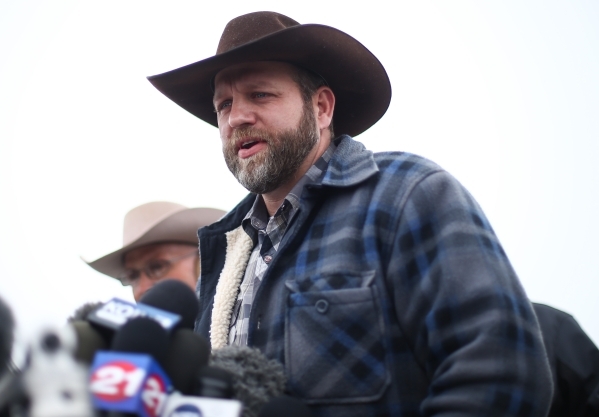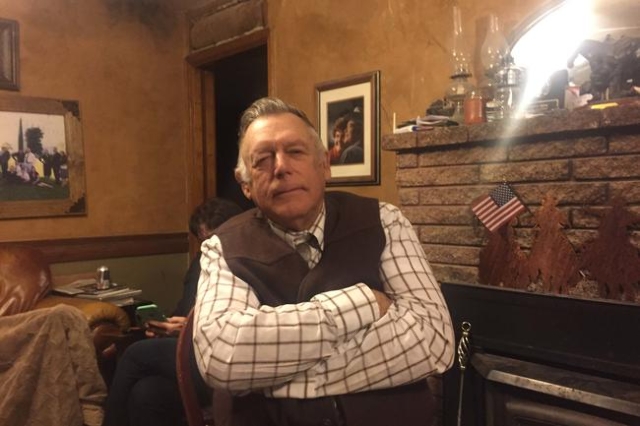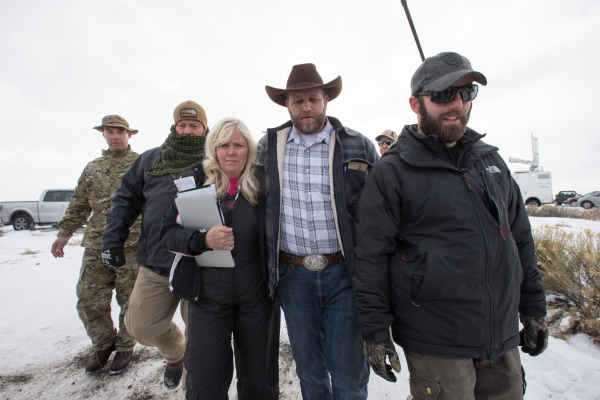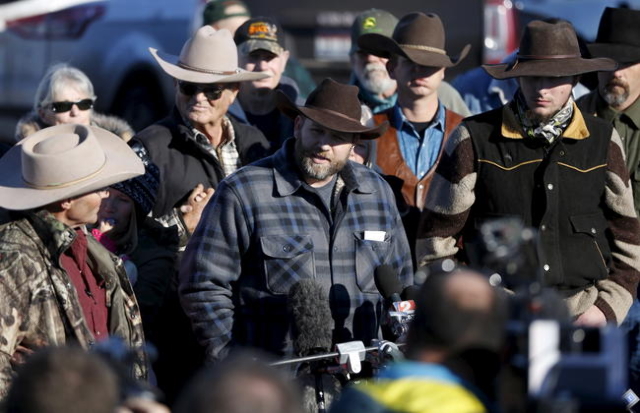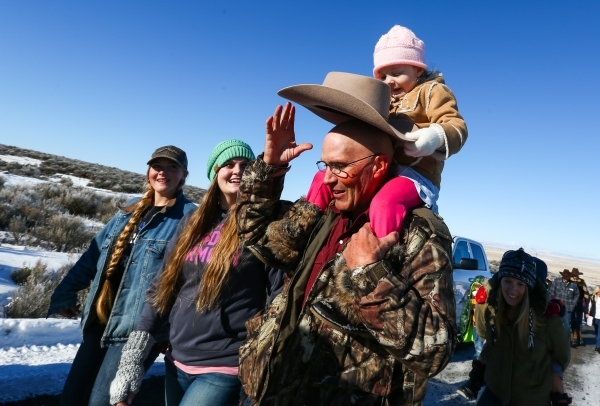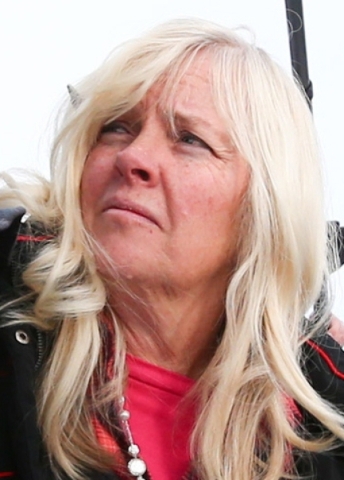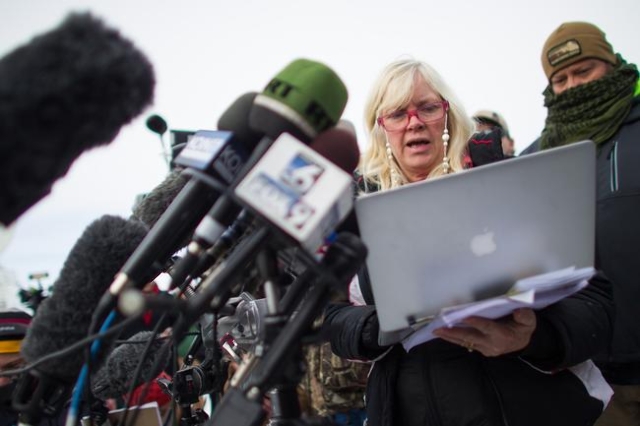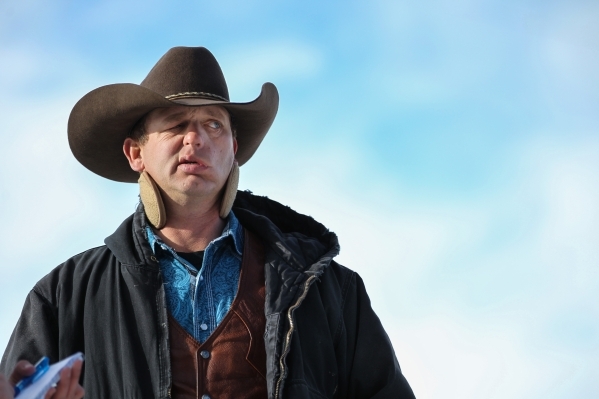 A person was killed as authorities moved in to arrest Ammon Bundy and Ryan Bundy, the leaders of the armed occupation of a federal wildlife refuge in Oregon, the FBI and Oregon State Police said Tuesday.
Authorities said shots were fired during the arrest, and the person killed also was facing arrest. They declined to release his name, but the family of LaVoy Finicum, 55, confirmed on social media that he was shot and died in the incident.
The Bundys, the sons of Bunkerville rancher Cliven Bundy, had been leading the occupation at Malheur National Wildlife Refuge in southeast Oregon since Jan. 2 along with self-styled militia protesters.
Finicum, a northern Arizona rancher, was a public face of the standoff alongside the Bundys, frequently acting as a spokesman and talking to reporters. Finicum also participated in an armed standoff in Southern Nevada led by Cliven Bundy in 2014, part of a group of protesters who backed Bundy when he secured the release of his cows from federal agents.
Three other individuals were arrested with the Bundys at a traffic stop on a highway near the refuge on Tuesday, including Brian Cavalier, 44, of Bunkerville. Also arrested were Shawna Cox, 59, of Kanab, Utah; and Ryan W. Payne, 32, of Anaconda, Montana.
Two others were arrested in Burns, a town near the refuge: Joseph Donald O'Shaughnessy, 45, of Cottonwood, Arizona; and Peter Santilli, 50, of Cincinnati. In all, law enforcement confirmed the arrests of seven individuals tied to the standoff.
Authorities said those arrested all face a federal felony charge of conspiracy to impede officers of the United States from discharging their official duties through the use of force, intimidation, or threats.
One of those arrested was shot and was treated for injuries that aren't life-threatening, police said. Cliven Bundy, speaking from his Bunkerville ranch, said his son Ryan Bundy was shot in the arm.
The protest and occupation, which have drawn widespread condemnation from government officials and the region's residents, were part of an effort to claim control of federal lands in the West for ranchers and others. The occupiers had hoped to start a movement in Oregon that would spread throughout the West. It was also a protest of the five-year federal prison sentences handed down to Oregon ranchers Dwight Hammond Jr. and son Steven Hammond for arson on public lands and a bid to get them released from prison.
Southern Nevada ties
The Oregon standoff had echoes of the 2014 standoff involving the Bundys in Southern Nevada, but ended differently. In April 2014, Cliven Bundy, backed by armed militia protesters, confronted federal agents who had rounded up his cattle. The Bureau of Land Management had obtained a court order for the roundup because Bundy didn't pay grazing fees for using the federal public lands, as is customary for ranchers.
In that standoff, federal agents released the cattle and neither side fired shots. To date, no one has been charged in connection with that standoff.
But some of the same people now under arrest in Oregon had a part in the standoff near Bunkerville. Bundy's sons were at the 2014 standoff. Payne, a militia coordinator, was also at the Nevada standoff, as was Cox. Payne coordinated militia groups through an organization called Operation Mutual Aid and was one of the first armed men to arrive at the Bundy ranch in 2014.
Before his death, Finicum relished his role in the 2014 standoff, telling reporters in Oregon about how he rode on horseback and faced guns.
"When I rode with my friend Cliven Bundy, I was one of those cowboys down under there, and who was pointing guns at me?" Finicum told the Las Vegas Review-Journal during the first week of the Oregon standoff. "The feds were pointing guns at me. Who said they was going to kill somebody? They was going to kill me and then when I got out of that, our illustrious leader Harry Reid says I am a domestic terrorist. Under that statute as a domestic terrorist, I think they could do whatever they want to me. I think I've already crossed that bridge."
U.S. Senate Minority Leader Harry Reid, D-Nev., has called what happened during the 2014 standoff "domestic terrorism."
Already, Finicum's death is being criticized on social media, and the Bundys and their sympathizers appear intent on making him a martyr.
"The resolve for principled liberty must go on," the Bundy Ranch Facebook page said late Tuesday. "It appears that America was fired upon by our government. One of liberty's finest patriots is fallen. He will not go silent into eternity. Our appeal is to heaven."
The Bundys, father and the sons, believe that federal ownership of public lands is unconstitutional. The view doesn't square with how the federal goverment manages land in the West, including Nevada, where about 85 percent of land is owned by the federal government.
When asked how he feels about the shooting, Cliven Bundy said, "How I feel is not the important thing. What's happened is the most important thing. We've just got an innocent man shot by federal or state police."
Asked if he thinks federal agents will come after him now, he said, "I'm probably the next man on their list, if they got Ammon and Ryan and LaVoy."
Contact Ben Botkin at bbotkin@reviewjournal.com or 702-387-2904. Follow him on Twitter: @BenBotkin1 Contact Keith Rogers at krogers@reviewjournal.com or 702-383-0308. Find him on Twitter: @KeithRogers2
Oregon arrests:
Ammon Bundy, 40, Emmett, Idaho
Ryan C. Bundy, 43, Bunkerville
Brian Cavalier, 44, Bunkerville
Shawna Cox, 59, Kanab, Utah
Ryan Waylen Payne, 32, Anaconda, Montana
Joseph Donald O'Shaughnessy, 45, Cottonwood, Arizona
Peter Santilli, 50, Cincinnati, Ohio