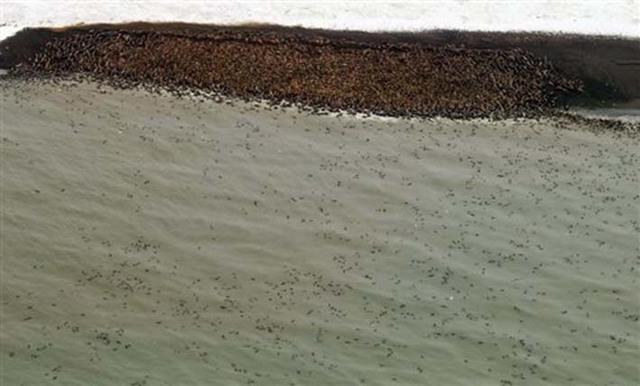 ANCHORAGE, Alaska — An estimated 10,000 Pacific walrus have gone ashore on Alaska's northwest coast and are bunched along a beach near the village of Point Lay.
The National Marine Fisheries Service says 1,500 to 4,000 walrus were counted Sept. 12 and numbers had swollen to 10,000 on Friday.
The animals are counted using aerial photographs.
Walrus historically use sea ice to rest as they dive for clams and other food on the ocean bottom.
However, sea ice in recent years has receded far beyond the shallow outer continental shelf. Chukchi Sea walrus in 2007 began showing up in large numbers on Alaska's shore in late summer. Last year, there was enough remnant ice to keeps the mammals from going ashore.
Walrus in such numbers are in danger of being crushed in stampedes caused by airplanes, human hunters or polar bears.