6 killed in Arizona plane crash identified
Updated April 11, 2018 - 6:43 pm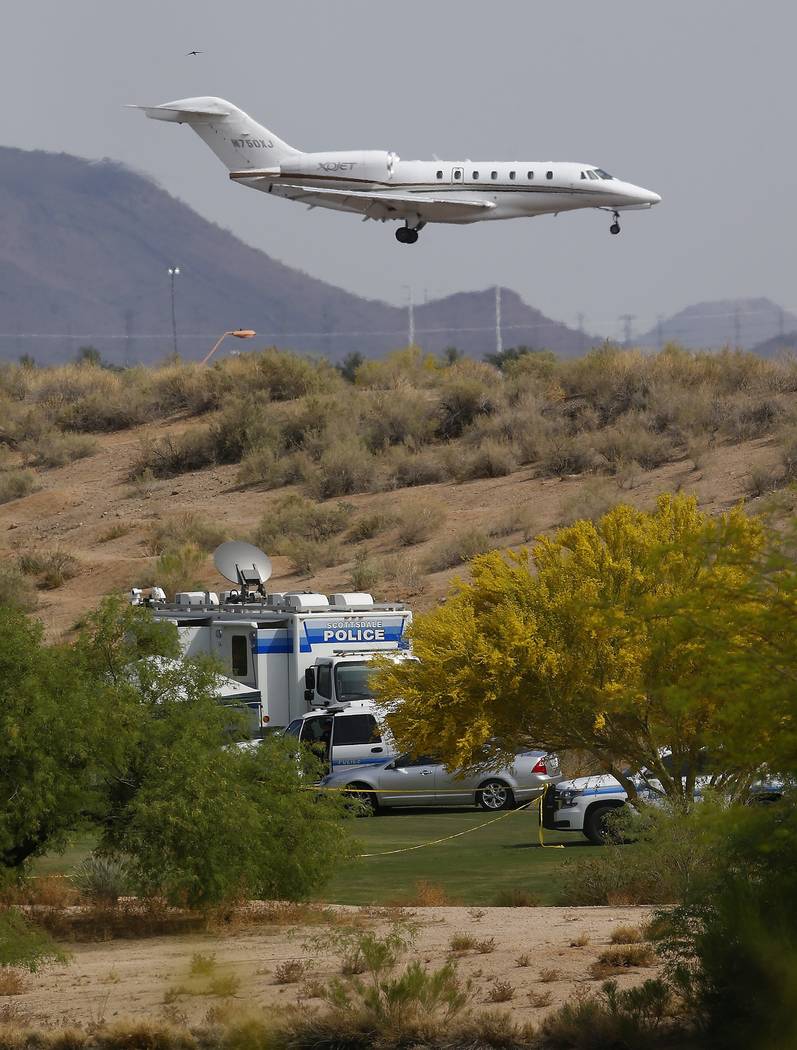 SCOTTSDALE, Ariz. — Six people killed in the fiery crash of a small plane on a golf course in a Phoenix suburb shortly it took off from a nearby airport were identified by authorities Wednesday.
Scottsdale police said the victims were Erik Valente, 26; James Louis Pedroza, 28; Mariah Sunshine Coogan, 23; Anand Anil Patel, 28; Helena Lagos, 22; and Iris Carolina Rodriguez Garcia, 23.
Some of their hometowns weren't immediately available, but police said the victims' families have been notified.
The Arizona Republic reported Tuesday that the plane was headed to Las Vegas and National Transportation Safety Board investigators were trying to determine if the Piper PA-24 Comanche was overloaded and not equipped to carry six people.
The plane went down Monday night on the TPC Scottsdale Champions Golf Course, less than a mile north of the Scottsdale Airport, and burst into flames.
NTSB investigators were at the crash site Tuesday examining the burned wreckage next to a tree.
The wreckage will be transported to Phoenix for examination, according to authorities.
The agency is expected to issue a preliminary report on the crash within two weeks, said NTSB spokesman Eric Weiss.
The Republic said Coogan was from Santa Rosa, California, and was a horse trainer and aspiring model.
Patel, an Oklahoma resident known to his friends as "Happy," co-founded a clothing line and worked as an event promoter, the newspaper reported.
Phoenix TV station KTVK said Pedroza, from Las Vegas, bought the 1970 six-seat plane in February.
Investigators have not confirmed yet if Pedroza was piloting the aircraft when it crashed.