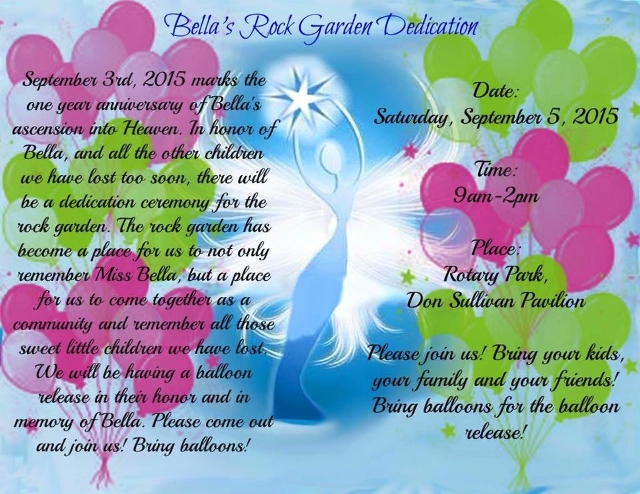 An 8-year-old girl who was kidnapped and strangled last year is being honored at a rock garden that will be dedicated Saturday along the Colorado River.
The rocks in Bullhead City, Ariz., will be in a heart shape as a tribute to Bella Grogan-Cannella and other children who have succumbed to abuse, disease or accidental death.
"It's a zen garden," said Rose Fox, who has worked with the city to develop the space. "It's basically a place for peace, tranquility and reflection."
Bella, who lived in Bullhead City, was reported missing Sept. 2, 2014. Authorities said she had been kidnapped from her home the evening before.
The child's body was found the next day, Sept. 3, in a shallow grave less than a mile from her home.
The 18-foot-by-20-foot rock garden at Rotary Park next to the river will be dedicated at 9:30 a.m. Saturday. Fox said Bella's older sister, her grandmother and one of her schoolteachers will speak at the ceremony, followed by a symbolic balloon release.
Fox said only painted rocks, some of them with messages or names of victims, will be allowed in the garden. City officials don't want it to become cluttered with pictures, posters and teddy bears.
A friend of Bella's mother, Justin Rector, 27, awaits trial and a possible death sentence if convicted in her death. Authorities say Rector, who admitted smoking methamphetamine the day Bella went missing, was playing hide-and-seek with the girl hours before she disappeared.
After Bella's death, her mother and stepfather were arrested and accused of selling drugs from their home. Both have agreed to plead guilty. Authorities said the two left Bella in Rector's care.