A Good Friday unlike others as virus death toll tops 100K
Updated April 10, 2020 - 10:50 am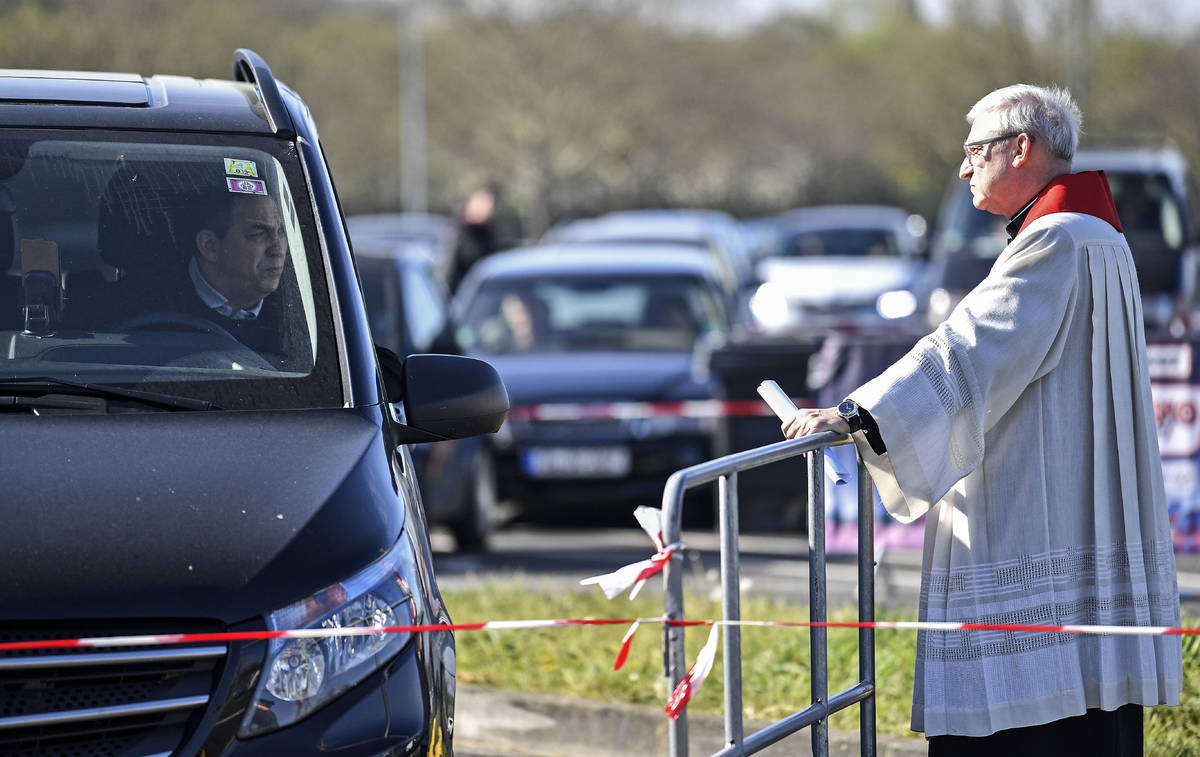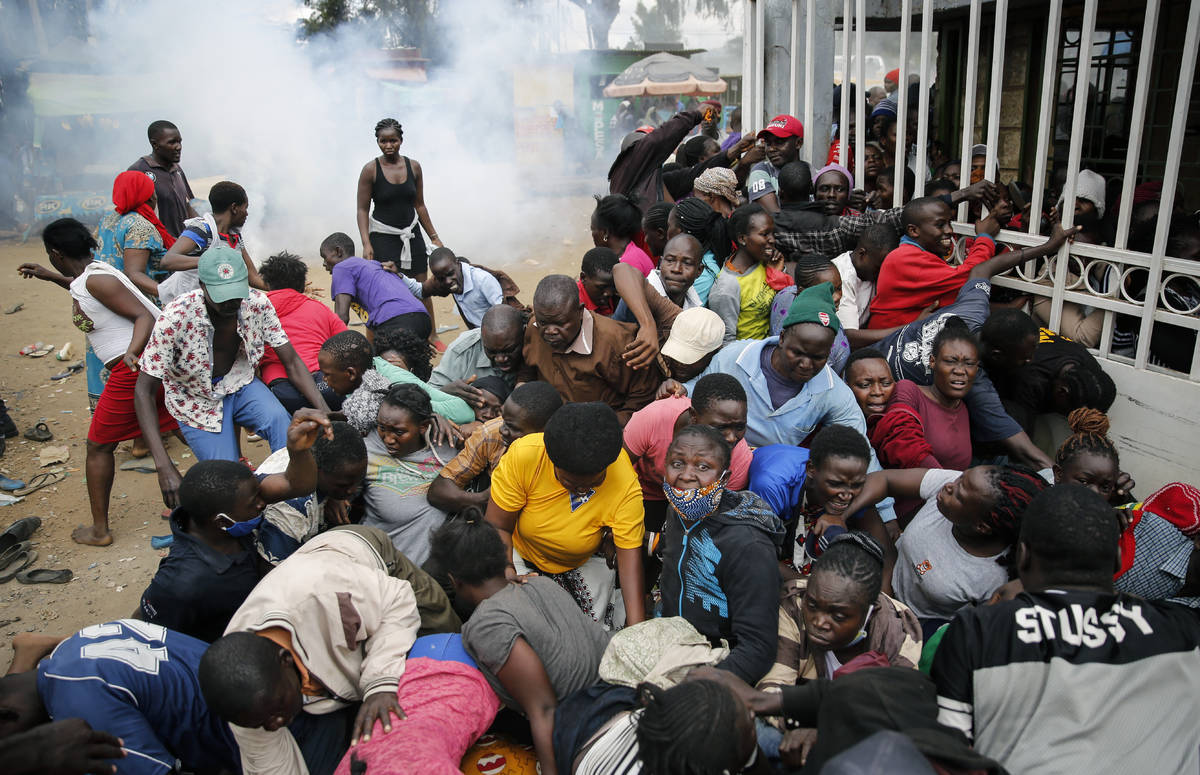 The worldwide death toll from the coronavirus has hit 100,000, according to the running tally kept by Johns Hopkins University.
The sad milestone comes as Christians around the globe mark a Good Friday unlike any other — in front of computer screens instead of in church pews. Meanwhile, some countries are tiptoeing toward reopening segments of their battered economies.
Public health officials are warning people against violating the social distancing rules over Easter and allowing the virus to flare up again. Authorities are using roadblocks and other means to discourage travel.
In Italy, officials used helicopters, drones and stepped-up police checks to make sure people don't slip out of their homes over the holiday. On Thursday alone, police stopped some 300,000 people around Italy to ensure they had permission to travel. About 10,000 were issued summonses.
Some churches held virtual services online, while others arranged prayers at drive-in theaters. Fire-scarred Notre Dame Cathedral came back to life briefly in locked-down Paris, days before the first anniversary of the April 15 inferno that ravaged it. Services were broadcast from the nearly empty, closed-to-the-public cathedral.
The death toll kept by Johns Hopkins University neared another sad milestone, though the true number of lives lost is believed be much higher because of limited testing, different rules for counting the dead and cover-ups by some governments. The number confirmed to be infected was more than 1.6 million.
US deaths pass 16,700
In the U.S., the number of deaths climbed past 16,700, with close to half in New York state. Still, there were signs of hope.
New York state reported 777 new deaths, down slightly from the day before, for an overall toll of over 7,800. And Gov. Andrew Cuomo said hospitalizations are slowing and the number of people in intensive care dropped.
"I understand intellectually why it's happening," he said of the staggering number of deaths. ""It doesn't make it any easier to accept."
"There is a light at the end of the tunnel," said Dr. Jolion McGreevy, medical director of Mount Sinai Hospital's emergency department. "It's getting better, but it's not like it's going to just drop off overnight. I think it's going to continue to slowly decline over the next weeks and months."
With the pandemic slamming economies, the head of the International Monetary Fund warned that the global economy is headed for the worst recession since the Depression.
Pope prostrates himself in prayer
In a sign of humble obedience, Pope Francis prostrated himself for a few minutes on the floor of a nearly empty St. Peter's Basilica in a Good Friday service, where the papal preacher said the coronavirus has reminded people that they are mortal, not all-powerful.
As Francis listened attentively, the Rev. Raniero Cantalamessa told a few prelates, choir members and about a score of other faithful that "it took merely the smallest and most formless element of nature, a virus, to remind us that we are mortal" and that "military power and technology are not sufficient to save us."
The solemn prayer service was held, like all Holy Week ceremonies at the Vatican this week, without rank-and-file faithful as part of containment measures against the virus' spread.
Later, in an empty St. Peter's Square, Francis was set to preside over a nighttime procession to pay tribute to Jesus' suffering. Normally, thousands of pilgrims and Romans would have flocked to the Colosseum in Rome for a torch-lit Way of the Cross procession, presided over by Francis. But that was canceled because of the pandemic and moved to the vast Vatican square instead.
Cantalamessa said that when the pandemic is over, "returning to the way things were is the 'recession' we should fear the most." He said the virus broke down "barriers and distinctions of race, nation, religion, wealth and power."
During the basilica service, prayers were offered for those who contracted or succumbed to the virus, as well as health care personnel who cared for them.
What's happening today
— Even as nearly 17 million Americans sought unemployment benefits, a large number appear to be falling through the cracks. They can't get through jammed phone systems or finish their applications on overloaded websites. And now there is a whole new category of people seeking help — gig workers, independent contractors and self-employed people.
— International charity groups usually provide support to war-torn or impoverished countries. But now, they're sending humanitarian aid to some of the wealthiest places in the United States to help manage the coronavirus pandemic. Experts say the fact that U.S. health providers are turning to international charities underscores the government's inadequate response.
— Schools that feed millions of children from low-income families across the U.S. promised to keep providing meals during the pandemic. But cities big and small quickly ran into problems when food workers, teachers and volunteers became infected or were too scared to report for duty.
— As the coronavirus pandemic unfolds, Senate Majority Leader Mitch McConnell flashes back to an earlier crisis that gripped the nation, and his own life, when he was a boy. He was stricken with polio. The two crises now bookend McConnell's years, making the Kentucky Republican an unexpected voice of personal reflection. "Why does this current pandemic remind me of that? I think No. 1 is the fear," he told The Associated Press.
— The coronavirus has infected so many doctors, nurses and other health workers that some in France, Italy and Spain are now quickly returning from their sick beds and heading back to the front lines. "We were trained for this. The world needs us," one doctor explained.
— The coronavirus pandemic in Spain has heightened the fragility of the elderly of Barcelona's working-class Poble Sec neighborhood. It has stripped away the safety nets that kept them fed and healthy, and exposed them to a daily threat of infection that they know will likely kill them. Difficult decisions are being made every day in the battle to keep the elderly safe.
$550B spending in Europe
In Europe, the 19 countries that use the euro currency overcame weeks of bitter divisions to agree on spending $550 billion to cushion the recession caused by the virus. Mario Centeno, who heads the eurozone finance ministers' group, called the package "totally unprecedented. … Tonight Europe has shown it can deliver when the will is there."
As weeks of lockdowns were extended in nation after nation, governments were pressed to ease restrictions on key businesses and industries.
After a two-week freeze on all nonessential economic activity, Spain decided to allow factories and construction sites to resume work on Monday, while schools, most shops and offices will remain closed. Spanish authorities said they trust that the move won't cause a significant surge in infections.
"We wouldn't be adopting them otherwise," said María José Sierra of Spain's health emergency center.
Yet some experts warned that relaxing the two-week "hibernation" of economic activity comes too early.
In Italy, the industrial lobbies in regions representing 45% of the country's economic output urged the government to ease its two-week lockdown on all nonessential manufacturing, saying the country "risks definitively shutting down its own motor, and every day that passes the risk grows not to be able to restart it.''
Malaysia's prime minister announced a two-week extension to the country's lockdown but said selected economic sectors can reopen in phases while following strict hygiene rules.
In the Kenyan capital of Nairobi, people desperate for food stampeded, pushing through a gate at a district office in the Kibera slum. Police fired tear gas, injuring several people.
In Japan, the world's third-largest economy, many have criticized Prime Minister Shinzo Abe as being too slow to act against the pandemic. In a rare rebuke, the Japanese prefecture of Aichi, home to the Toyota car company, declared its own state of emergency, saying it cannot wait for the government.
"The situation is critical," said Aichi Gov. Hideaki Omura. "We decided to do everything we can to protect Aichi residents' lives and health."
Japan has the world's oldest population, and COVID-19 can be especially serious for the elderly.
In some of the worst-hit countries, Italy and Spain, new infections, hospitalizations and deaths have been leveling off. But the daily tolls remain shocking.
The 605 new deaths announced in Spain were the lowest in more than two weeks. The coronavirus has claimed more than 15,800 lives there, though the rates of contagion and deaths are dropping.
900 new deaths in UK; Johnson out of ICU
Britain recorded more than 900 new deaths, for close to 9,000 in all.
British Prime Minister Boris Johnson was moved out of intensive care on Thursday after spending three nights there being treated for the virus. The 55-year-old remained hospitalized in London. His father, Stanley Johnson, said the prime minister needs to "rest up" before returning to work.