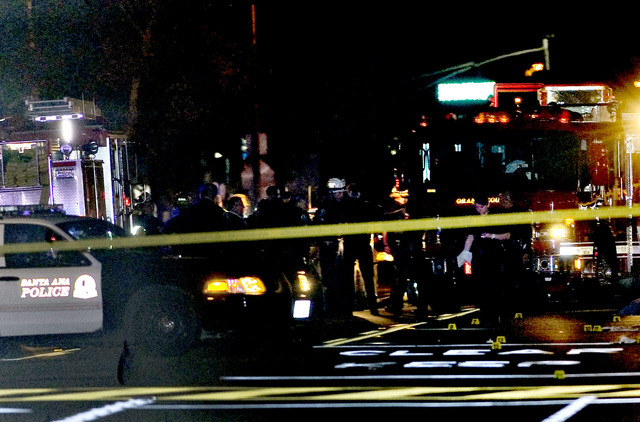 SANTA ANA, Calif. — Police in Orange County say they have made multiple arrests in the hit-and-run deaths of three teenage girls who were trick-or-treating on Halloween, but few other details have been released.
Authorities in Santa Ana had been looking for the driver and another person who fled the scene of Friday evening's crash, which claimed the lives of 13-year-old twins and their 13-year-old friend at a crosswalk. A damaged black Honda SUV was found a short distance from where the collision occurred.
Santa Ana police said Sunday that officers had made the arrests but declined to provide an exact number of people apprehended or other details ahead of a news conference scheduled for Monday.
A witness told the Los Angeles Times that the girls were wearing costumes with black leggings and dark clothing when they were hit.
Two of the girls were declared dead immediately, and a third died as paramedics prepared to take her to a hospital, Orange County fire Capt. Steve Concialdi said.
The twin sisters were Lexi and Lexandra Perez, and the third victim was Andrea Gonzalez, the Orange County Sheriff's Department said.
In the nearby city of Irvine, a 65-year-old man was killed and his 4-year-old son was injured Friday after a car struck them while they were trick-or-treating.