Autopsy report: Missouri teen shot at close-range
October 22, 2014 - 9:42 am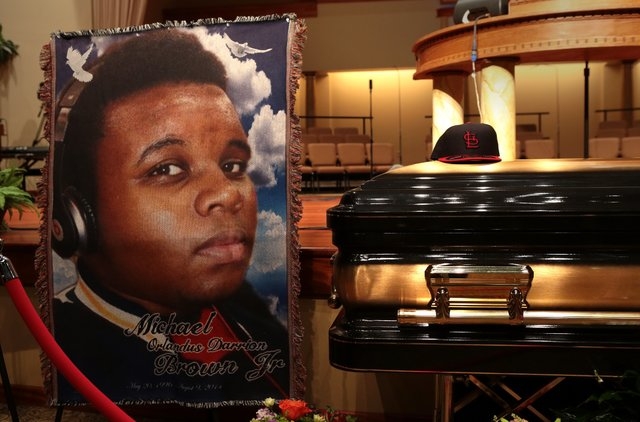 A newly disclosed autopsy of the unarmed black teenager whose killing by a white police officer set off months of protests in Ferguson, Missouri, suggests he suffered a gunshot to the hand from close range, the St. Louis Post Dispatch reported.
The St. Louis County medical examiner's autopsy of 18-year-old Michael Brown, obtained by the newspaper and published online late on Tuesday, said a microscopic examination of his hand tissue showed particles "consistent with products that are discharged from the barrel of a firearm."
Forensic experts interviewed by the newspaper said the material indicated Brown's hand was close to officer Darren Wilson's weapon when Brown was shot Aug. 9. However, the autopsy noted there was no "powder stipple," or residue often left by guns fired at close range.
Reuters could not immediately verify the report. Representatives for the St. Louis County Office of the Medical Examiner could not be reached early on Wednesday.
Police and witnesses have said that Brown was first shot during a struggle with Wilson at the officer's vehicle and then fatally shot after fleeing.
The medical examiner's autopsy revealed that Brown had THC, the main psychoactive ingredient in marijuana, in his system when he was killed. An expert quoted by the Post Dispatch said he "may or may not have been impaired."
The county autopsy largely squared with a private one requested by the Brown family as far as the number and location of his wounds. But the private report concluded none of the wounds were likely made at close range due to a lack of gunpowder on the body.
The results of a third autopsy conducted by the U.S. Department of Justice have not been released.
Brown's death sparked angry protests across the St. Louis suburb over the primarily black community's distrust of the mostly white police department and drew global attention to race relations in the United States.
A grand jury is considering charges against Wilson, who has not spoken publicly about the matter. Protesters want Wilson arrested and have called for the appointment of a special prosecutor.
On Tuesday, Missouri Governor Jay Nixon said he was setting up a special commission to examine the social and economic conditions in Ferguson, and offer recommendations to help improve the area.
Related
Ferguson officer says he feared for life in shooting
Hundreds protest at Ferguson police department
Violent police images spark anger among St. Louis community
Second autopsy shows unarmed Mo. teen shot multiple times
Protests turn violent in St. Louis suburb following shooting
Witnesses say shooting victim was 'giving up' when shot