Before 'Saving Private Ryan,' Private Smith was saved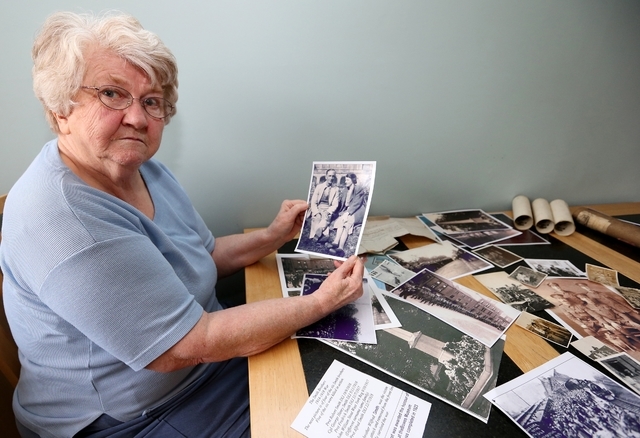 BARNARD CASTLE, England — Carved into the simple obelisk commemorating the fallen are the names of five sons of Margaret and John McDowell Smith. There's a story behind the name that isn't there — a sixth brother, Wilfred — and a century after World War I a local historian has dug out the details from archives.
Wilfred Smith's survival is a story of sacrifice amid a war that demanded so much of it from virtually every family in Britain.
Because long before there was the fictional tale of "Saving Private Ryan," there was the real-life story of saving Pvt. Smith.
———
The people of Barnard Castle have long known the story of the Smith brothers and that Wilfred, or Willie as he was known, survived.
But how that happened was largely unknown until local historian Peter Wise searched the recently digitized archives of the local newspaper, the Teesdale Mercury. In a minuscule item buried at the bottom of a long gray column came the answer: Queen Mary, wife of King George V, heard about the sacrifice of the brothers and intervened to send Willie home.
A century later, the news has stirred memories and inspired a mixture of pride and astonishment.
"To say it's been massive is probably not an understatement," said Trevor Brookes, the newspaper's editor. "Every parent can probably roughly imagine how terrible it would be to lose a son, but to lose five sons at the risk of losing a sixth — that's tragedy. I don't think any British family suffered a greater loss."
Some 9 million soldiers died in the war that began in 1914 and ended in 1918, and it was common for families to lose more than one son. Brothers and friends would join so-called "Pals Brigades" so they could serve together — and communities sometimes found that a single skirmish could wipe out a generation of their men.
But even so, this story was different.
———
Wilfred was the youngest son of a chimney sweep who scraped by in the slums of Barnard Castle, a market town nestled in a landscape dotted by herds of deer and turreted castles in northern England. When Wilfred was 12, there were 10 members of his family living in three rooms in Poor House Yard, according to the 1911 Census of England and Wales. While Wilfred was still in school, his 14-year-old brother, Frederick, was already working in a local mill.
For many poor young men, joining the army was an adventure, a chance to get regular meals and pay, especially since recruiters told them the war would be over in a matter of months. Local World War I buff John Pringle said the boys would have been anxious to leave the drudgery of the flax mill or the shoe-thread factory.
Wilfred didn't want to go, but did when his country called. A photograph taken at the time showed four of the brothers posing in their uniforms with a cute white dog at their feet. The image would remain on Margaret's mantel throughout the war.
Robert 22, died first, in September 1916. George Henry, 26, died less than two months later.
Frederick, 21, died in July 1917, while the eldest, 37-year-old John William Stout — who had their mother's maiden name because she was not yet married when he was born — died in October 1917. The fifth son, Alfred, died in July 1918.
Margaret's grief was apparently more than the vicar's wife, Sarah Elizabeth Bircham, could bear. Bircham, who organized care packages for troops in the trenches, wrote to Queen Mary about the deaths of Margaret's five sons and how she had a sixth son still at war.
The Teesdale Mercury reported what happened next, printing the reply of the queen's secretary, Edward Wallington.
"I am commanded by the queen to thank you for your letter of the 16th instant, and to request you to be good enough to convey to Mr. and Mrs. Smith of Bridgegate, Barnard Castle, an expression of Her Majesty's deep sympathy with them in the sad losses they have sustained by the death of their five sons.
"The Queen has caused Mr. and Mrs. Smith's request concerning their youngest son to be forwarded for consideration of the War Office authorities."
So Wilfred went home to Barnard Castle — though little is known about exactly how that came about. He suffered the lingering respiratory effects of a mustard gas attack and newspaper reports suggested he was temporarily blinded. But once home, he worked as a chimney sweep and a stone mason.
At the Bowes Museum, a memorial was erected to residents who fell in the Great War, including Wilfred's brothers. His mother laid the first wreath at its dedication in 1923 — chosen by the war veterans for the honor. Wilfred was at her side.
He went on to become a devoted husband, father and grandfather who liked to laugh and took joy in simple things. His granddaughter, Amanda Nelson, recalls going to his home for lunch on weekends, where he would delight the little ones by racing snails or other bits of silliness.
His daughter Dianne Nelson said he doted on her and that, as the youngest, she got away with everything.
Now 70, she said her reserved father never talked about his experiences in the war, even when she needed to write a childhood essay on the topic and asked him to tell her about it. The family had heard about the queen and the letter, but it was simply a hazy oral tradition.
Amanda Nelson made a point of seeing the Steven Spielberg film, "Saving Private Ryan." The 1998 Oscar-winning film depicts the fictional account of a World War II rescue mission for a single American soldier whose brothers have been killed in the fighting.
"It was as if they knew the story of us — except they are called the Ryans and not the Smiths," she said.
Although Margaret Smith once told a relative "Don't have boys. They'll just end up being cannon fodder," Amanda Nelson stressed that Margaret believed she did the right thing by allowing her sons to serve.
"She would gladly send them again to fight," Amanda Nelson said. "For king and country."
———
In this community, where people often live not far from where their ancestors lived, the Smith story seems very real despite the passage of time. There's a sense of connection to the past that Brookes, the newspaper editor, feels strongly.
Earlier this month, he lifted a dusty, faded red book from an upstairs shelf that holds full-sized bound copies of the paper: the volume labeled 1918. He pushed his finger down the page, to the final sentences of a long column of newsprint, below an item on a produce sale for the War Prisoners Fund.
Brookes has wondered why such a unique and tragic tale would garner so little attention in the paper.
His guess was that by 1918, people had wearied of war — so many had lost so much. But he also speculated the plight of the Smith family might have been deemed less newsworthy because they were members of the town's underclass.
"If not for 'Private Ryan,' it might be lost to history," he said, crediting the Spielberg movie as having offered a contemporary connection.
———
Wilfred Smith lived until 1972, when he died at age 74. He was a frequent visitor to the monument at the Bowes Museum that bears his brothers' names.
In "Saving Private Ryan," the now-older soldier stands before the graves of the men who saved him and recalls their sacrifice, saying he tried to live the best life he could. Wilfred Smith's family believes that he, too, could hold his head high as he scanned the names of his brothers at the Bowes obelisk.
"He was a good dad," Dianne Nelson said with pride. "He was a true person."