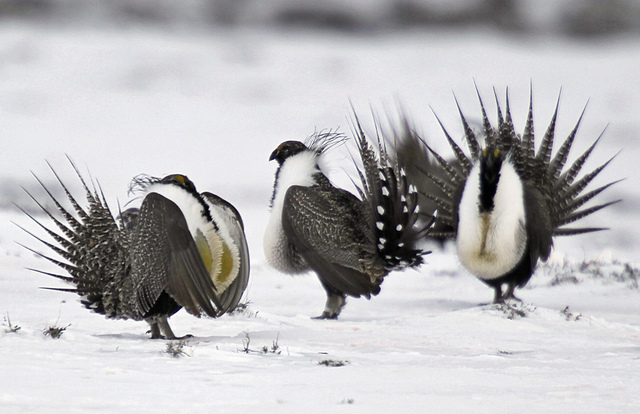 DENVER — The Obama administration on Thursday released five possible plans for limiting mining on federal land in the West to protect the vulnerable greater sage grouse, but it isn't saying which it prefers.
The proposals in the draft environmental impact statement drawn up by the federal Bureau of Land Management range from banning new mining activity on about 10 million acres, or roughly 15,000 square miles, for up to 20 years to imposing no additional restrictions on mine locations. Any ban could be extended for additional 20-year periods after additional public review.
The rules would affect federal lands administered by BLM and U.S. Forest Service in Idaho, Montana, Nevada, Oregon, Utah and Wyoming. More than 2.7 million acres in Nevada would be affected under the most-restrictive of the five plans.
Under all the options, mining-related projects already approved could proceed. Nor would the ban impact "leasable or salable products" such as oil or gas leases or sand and gravel permits.
Republicans have berated President Barack Obama for other last-minute environmental measures, including his designation Wednesday of two new national monuments, Bears Ears in Utah and Gold Butte in Nevada.
Gov. Brian Sandoval, who for years has worked with federal agencies to try to minimize restrictions in Nevada while protecting sage grouse habitat, expressed his displeasure with the BLM proposals.
"Today's announcement does nothing to protect the greater sage grouse, but does cripple the mining and exploration industry," the governor said in a statement. "It is an unfortunate end to our collaborative efforts with this administration."
U.S. Sen. Dean Heller, R-Nevada, called the options an "11th-hour attack on Nevada and the West." He said he would try to overturn any mining restrictions.
After a public comment period, the incoming Trump administration will decide which option to choose, if any.
It's not yet clear whether President-elect Donald Trump or his choice for Interior Secretary, Republican Rep. Ryan Zinke of Montana, would continue to pursue the current sage grouse conservation plans, modify them or scrap them.
Randi Spivak of the the Center for Biological Diversity said all mining is harmful to sage grouse. She said Zinke, who describes himself as "a Teddy Roosevelt Republican," could emulate the conservationist president by protecting the bird.
But Sandoval said he's "hopeful the new administration will consider the limited ecological benefits of this withdrawal."
"I have consistently said that I believe a withdrawal is unnecessary and does not move the needle for the greater sage grouse, and will deliver the same message in the future," Sandoval said.
He said he will encourage the Department of Interior to adopt Nevada's plan "which expands the habitat, protects sage grouse, and allows lithium development and the mining industry to remain vibrant."
An estimated 200,000 to 500,000 sage grouse remain in 11 Western states, but their numbers are down significantly because of habitat loss. However, a review by the U.S. Fish and Wildlife Service in 2015 in found that conservation efforts have significantly reduced threats to the chicken-like fowl, prompting a decision to remove it from the candidate list under the Endangered Species Act.
Review-Journal staff member Sandra Chereb and the Associated Press contributed to this report.