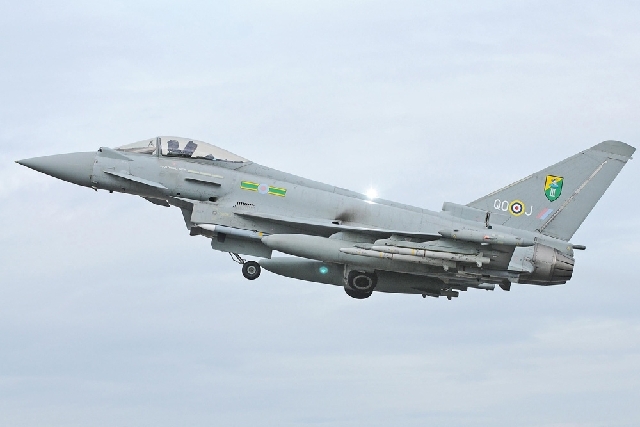 LONDON — Britain scrambled fighter jets Friday to intercept a commercial airliner carrying more than 300 people from Pakistan, diverting it to an isolated runway at an airport on the outskirts of London and arresting two passengers on suspicion of endangering the aircraft.
A British security official said the situation involving the Pakistan International Airlines flight did not appear terror-related, though police were still investigating, but the incident further rattled Britain just days after a soldier was killed on a London street in a suspected terror attack.
The security official requested anonymity because he was not authorized to discuss the investigation.
Flight P709 was traveling from Lahore, Pakistan, to Manchester Airport when it was diverted by the fighter jets to Stansted Airport. The U.K. Ministry of Defense confirmed that Typhoon jets were launched to investigate an incident involving a civilian aircraft but gave no further details.
Passenger Nauman Rizvi told Pakistan's GEO TV that two men who had tried to move toward the cockpit during the flight were handcuffed and arrested once the plane landed. Rizvi said that after the men were taken away, the flight crew told passengers there had been a terrorist threat and that the pilot had raised an alarm.
Essex Police said the two suspects, aged 30 and 41, were taken off the plane and to a police station for questioning. By late afternoon Friday, passengers had disembarked from the plane and were being interviewed, according to Mark Davison, a spokesman for Stansted Airport.
PIA spokesman Mashood Tajwar said the airline had been unable to contact the pilot of the flight despite repeated attempts. He said 297 passengers and 11 crew members were on the plane.
The incident comes as many police forces across Britain have stepped up patrols in recent days following the suspected terror attack in south London.
Two men with a meat cleaver and knives attacked and killed a British soldier in broad daylight, and gruesome footage that emerged after the attack showed one of the alleged assailants angrily complaining about the British government and troops in foreign lands.
Those two suspects were shot when police arrived on the scene and have been hospitalized.
—
Associated Press writers Paisley Dodds in London and Zarar Khan in Islamabad contributed to this report.