Bump stock sales sustained small West Texas town, but no more
Updated June 10, 2018 - 4:09 pm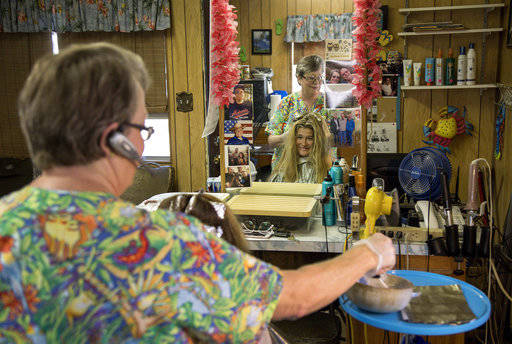 MORAN, Texas — This tiny West Texas town is fading. The Methodist church is for sale, the American Legion post is on the brink of closing and half the main drag is shuttered.
Homes are falling in on themselves. The only restaurant, most days, closes at 2 p.m.
But the city of Moran also is loved. Every morning, residents gather at that one restaurant, Pizza Mark, for coffee and gossip. The mayor, unpaid, fixes the gravel roads on his own tractor. Many grew up on this harsh yet beautiful land and do not plan to leave it.
Moran is a town of "yessir" and "yes ma'am," of handshakes and hollers. It's a place where people know each other by the sound of an engine or color of a truck. And like anywhere else in rural Texas, few would know it existed — if not for the fact that it's home to the inventor of the bump stock.
And that's not something many people here want to talk about.
Jeremiah Benjamin Cottle, known as Ben, grew up just outside this town of 250 people or so, 160 miles west of Dallas. His grandparents, Julie and Buster, raised him and tended to what remained of the city, mowing empty lots and planting flowers. Here, he dreamed up a device that made semi-automatic weapons shoot like machine guns, a device that made him rich and put Moran on the map.
His company, Slide Fire, transformed from a home-grown operation in a shed on his family's ranch to a multi-million dollar enterprise in a hulking beige warehouse surrounded by high fences and razor wire. Cottle patented his invention, and the business became the nation's top supplier of bump stocks, which sold for several hundred dollars apiece.
Then, on October 1, 2017, a man in a room at a high-rise hotel in Las Vegas opened fire on the crowd at a music festival below. He killed 58 people in 10 minutes. Twelve of his guns were outfitted with bump stocks, according to news reports, allowing him to rain a deadly stream of bullets onto helpless concertgoers below.
Each mass shooting in America — which now includes a high school in Santa Fe — sparks tortured debate about how to prevent them from happening again, and that debate invariably includes placing restrictions on the rights of citizens to own the weapons they want.
But so far, the only real restriction that has met acceptance across the political divide is a proposed ban on bump stocks, currently in a Department of Justice public comment period. The brunt of that proposal is being borne by the little town of Moran, where residents commonly believe blame should fall not on the weapon used in a mass shooting, but on the gunman who wielded it.
In Moran, people grow up with guns. Weapons are practical (shooting the turkey for Thanksgiving dinner), a matter of self-defense (killing a rabid skunk) and fun (frog hunting). Slide Fire provided jobs for an area that desperately needed them.
The company has not taken a new order since May 20, and is expected to cease operations for good.
Moran, in essence, began with the railroad's arrival in 1881. A man opened a grocery store at the crossing. In 1884, he platted the town, named for a railroad official.
The community had churches, a school, a bank and a newspaper. Then, in 1908, oil and gas appeared in water wells. A derrick was built on land belonging to Ben's great-great-grandfather Jim Cottle. It became "the first commercial gas well completed in this vast west Texas area," according to a state a historical marker, posted along Highway 6 in Moran. They called it "Cottle No. 1."
Cottle land is a short drive from the city down a farm-to-market road. A "NOT HIRING" warning hangs on one gate. Next door is a "Cottle Ranch" sign, decorated with the family's registered cattle brand, marking the home where Ben Cottle's grandparents lived.
Julie and Buster Cottle were many things to Moran. They were rural mail carriers, school board members and supporters of the historical society. Both attended the First Baptist Church. Buster belonged to the American Legion.
It was this atmosphere in which Ben Cottle grew up and to which he returned. Cottle graduated from Moran High School, spent a year in junior college and served nine years in the U.S. Air Force, until March 23, 2005. Slide Fire began operating in December 2010, according to a story in the Albany News. It ballooned.
Within a year, the company employed 26 people and sold more than 35,000 units, Cottle told the paper. Sales in the first year exceeded $10 million.
"It gave a rebirth to Moran," said Donnie Lucas, publisher of the Albany News.
Grant Robinson, who taught Ben in the high school's agriculture program, joined the team in those early years. As a student, Ben was smart and good at math, Robinson recalled. Robinson helped ship the burgeoning bump stock orders through the local post office where Buster was once post master.
Later, Robinson said he and Buster worried about what might happen if a bump stock fell into the wrong hands. In his opinion, the factory has become a sacrificial lamb in the national debate about gun control. But, when Ben first showed him the model, he was amazed.
Robinson, 66, recalled saying: "I think you're going to be a rich man, Ben."
A cool breeze blew through the quiet town midmorning on a recent Wednesday, four days before the Slide Fire website was scheduled to go down. Carlton Edgar sat outside Pizza Mark in a metal chair, drinking so-so coffee, smoking Carnival Reds and talking with a newcomer in town, Heather Hill.
With his back against the building, Edgar could see the empty storefronts lining Fisher Street in front of him. Gone were the movie theater and pool hall he remembered from his youth. The brick facades crumbled. Faded paint from the last homecoming celebration lingered on the pavement.
Edgar returned here after 25 years working in Houston as an engineer. He used to chat at the diner with Cottle about his inventions, he said. Now, he discussed why the town needed more law enforcement. Like everyone else, he lamented the drug problem.
He looked down at his weathered fingers, picking them.
"I don't really know what could be done to this town," he said.
Hill, sitting next to him, listened. She moved in August with her three children to Moran from another small town that started to feel unsafe. She liked Moran immediately. She felt happy here, relaxed.
The 35-year-old fit in. She noodled catfish. She totaled her car on a hog. She cheered her son in six-man football. And she could talk with Edgar for hours.
"My redneck's coming back out," she joked. "You don't have to get up and impress anybody."
Still, it was hard to be an outsider in Moran. When Hill ran for city council, she received three votes. One was her own.
At another table that morning was Tommy Boyd, there with friends for what he called "our morning session." Boyd hauls cattle, or cattle feed, anything really. He grows peppers, tomatoes and squash in his yard. Of Slide Fire, he said he knew little — a common refrain — but had no problem with it.
Edgar came out a little more forcefully.
"Ben," Edgar said. "He hasn't done nothing for this town."
The night before Edgar arrived for coffee, six council members gathered next door to Pizza Mark in the one-room City Hall. They sat around what could have been a dinner table. An American flag stretched across the wall behind them.
Mayor Steven Taggart at 6 p.m. called the meeting to order. Three council members were stepping down. One worked at the diner. Another at the prison. A third wore a hat from Holland Dozers, the other big, local company.
A newly elected councilwoman brought pigs in a blanket with mustard to share.
The city of Moran will operate on a budget of $193,692 this year. It receives no direct revenue from Slide Fire, which is outside city limits. To save resources, the city secretary cuts the edges off water bills to use as scrap paper.
And yet, humorous banter unfolded that night, the kind shared between friends. They all knew the sound of an 18-wheeler starting up. They could point to which people used what dumpster. They collectively hated Moran's many stray or escape-artist dogs.
They considered whether a councilwoman who worked at the bank could have shot the dog that killed 27 of her chickens.
"You have a right to shoot it," the mayor said. "You're protecting your property and you're protecting your animals."
Everyone knew the mayor and his wife worked for Slide Fire. During the meeting, he mentioned a new job. He declined to discuss it on the record.
Commissioner Lanham Martin, in a county shed the next day, warily granted an interview. He taught his kids to handle guns as soon as they could hold them, he said. There was a gun in his pickup. He did not much care what a liberal city dweller thought about that.
Martin knew a sheriff's deputy might be a long time responding to a call here. Wearing jeans, a denim button-down and a John Deere hat, he knew he has a right to that weapon. "It's our heritage," he said. "The west was won with guns. Our liberty was won with guns."
As for Ben Cottle? Martin figured: "All he's doing is fulfilling the American dream. He came up with a product that everybody wanted."
Besides the diner, there are two other businesses in town: Red Barn, the liquor store, and Cynthia Gilmore's beauty parlor, which she has run for 35 years.
On a recent Thursday morning, Gilmore recalled how the town took care of her growing up. Her mom's friends called to report her progress to and from the grocery store.
Sydney Tencate, 21, sat in Gilmore's chair. She, too, was a product of Moran. In high school, to stave off boredom, she participated in Future Farmers of America, ran cross country and track and paraded as the school mascot, a bulldog named Bones.
Eighty percent of the 129 students in Moran Independent School District are considered economically disadvantaged. They play in a depression-era gym, made from eye-catching stone, which has no air conditioning.
Tencate recalled that two of her classmates were in Moran because their dad worked at Slide Fire. They were Mexican — a fact that stands out in a largely white town — and she was glad to go to their house to eat.
Both of Gilmore's sons worked at Slide Fire, too. So did Tencate's aunt and uncle, who, as it happens is the mayor.
"If evil people want guns, they're going to get them," Gilmore figured as she bleached Tencate's hair.
"True," said Tencate, now in college studying criminal justice. But regular people had no need for automatic weapons, she said. "You don't need (them) to keep your house safe."
Cottle received his first bump stock patent in January 2013. Buster died in 2014 and Julie in 2016. A photograph of them hangs in the hall of fame at Moran High School. Julie is seen in YouTube videos firing a gun with a bump stock, curly hair poking above ear muffs, a huge smile across her face.
Attacks on Slide Fire have been fierce. Lawsuits related to Las Vegas replaced battles over the patent. And, of course, there remains the ongoing soap opera of opinions in town.
At the entrance to the Slide Fire complex, a man who did not give his name said Cottle "respectfully declines" an interview.
And then he drove back through the high chain link gates of the factory. They shut behind him.
The air was dry and hot. There wasn't anyone else around.
———
Information from: Houston Chronicle, http://www.houstonchronicle.com
This is an AP Weekend Member Exchange shared by the Houston Chronicle