California blaze reaches Redding; 1 dead, firefighters injured
Updated July 26, 2018 - 11:30 pm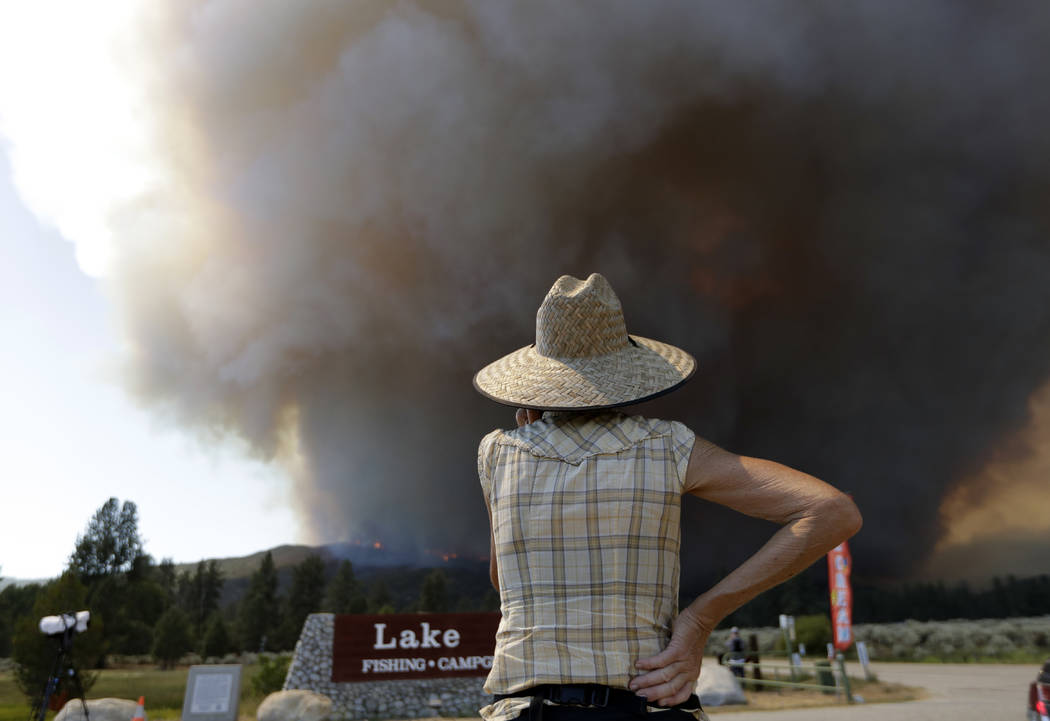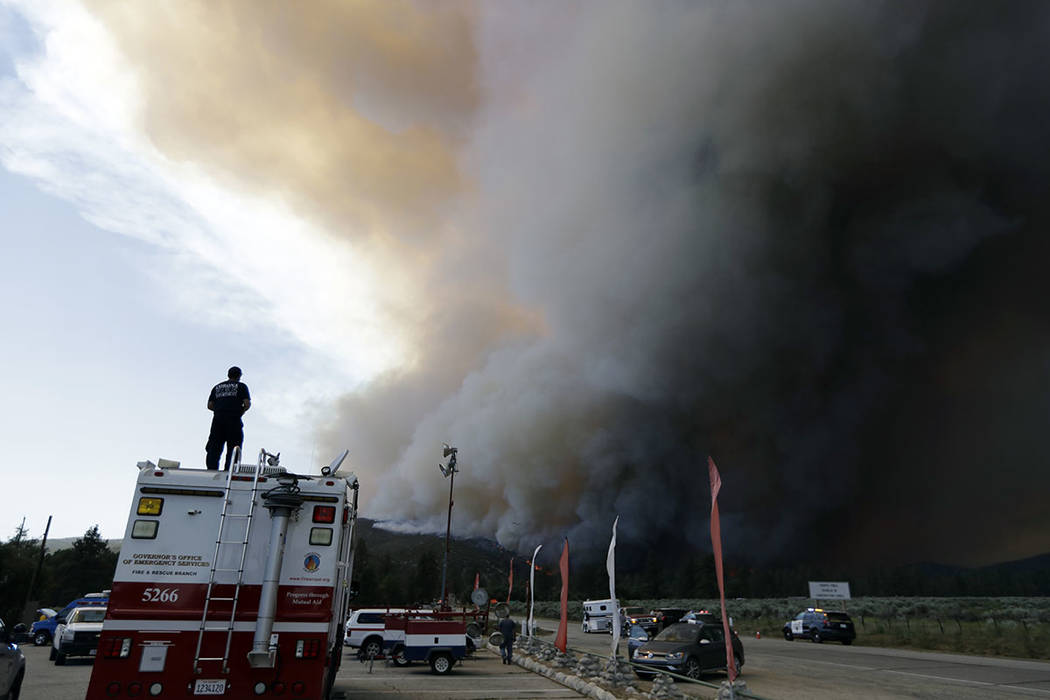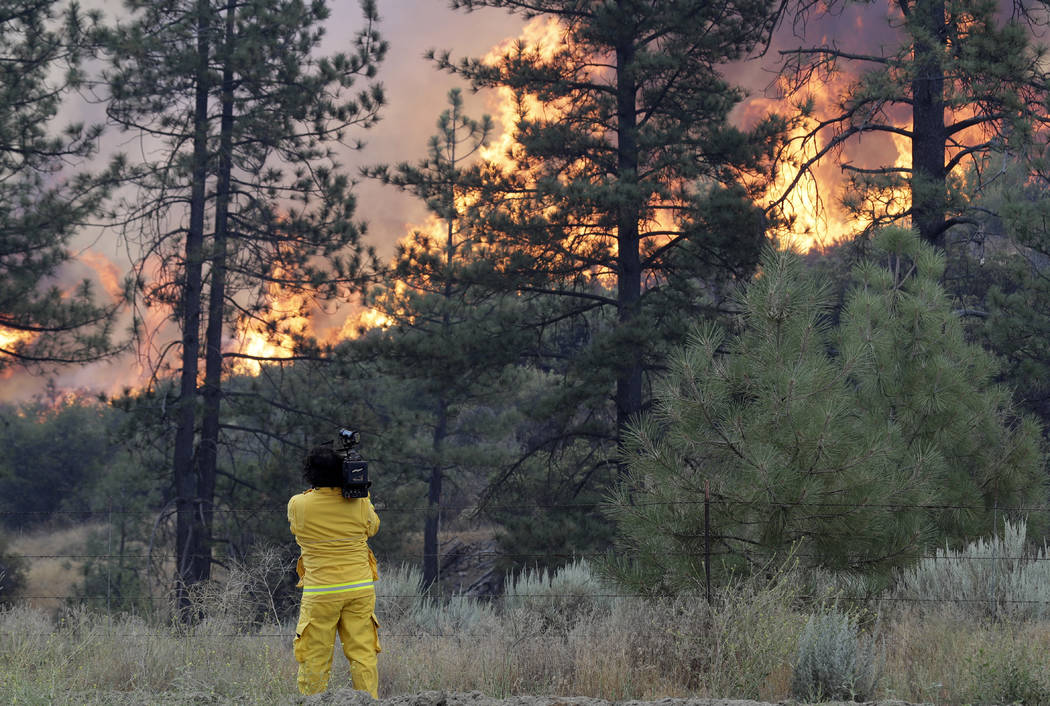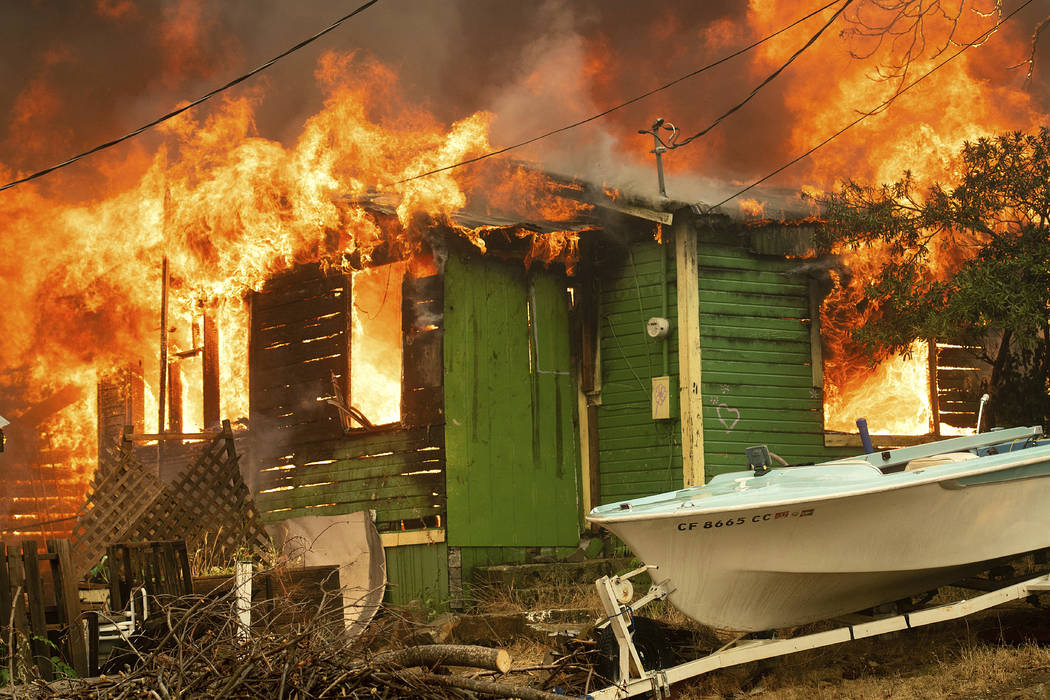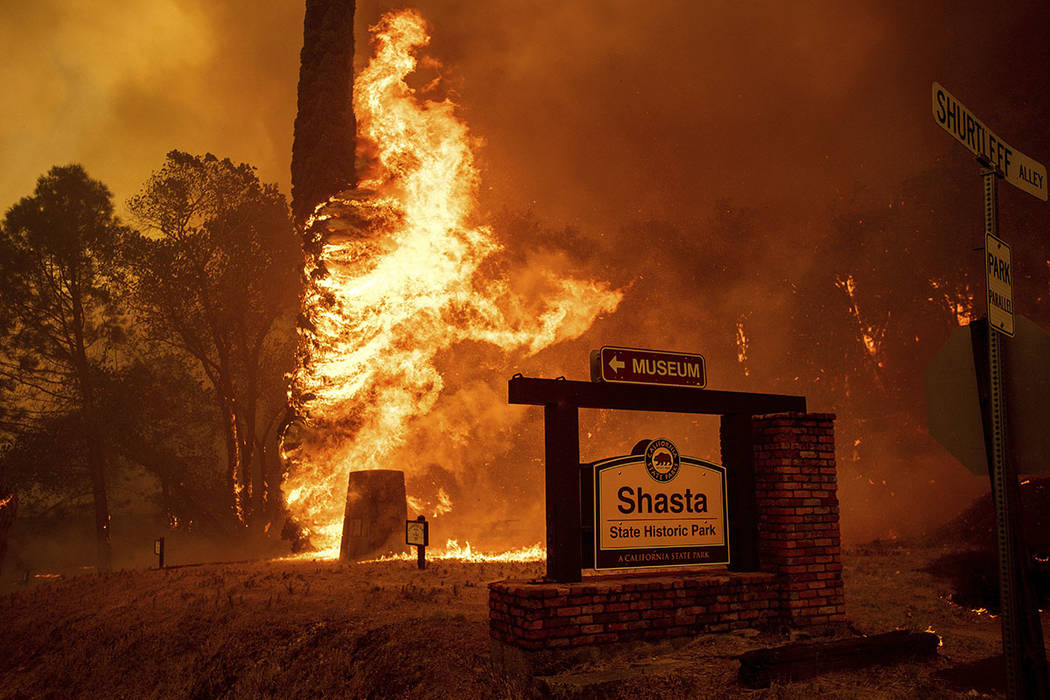 REDDING, Calif. — A fire official says an explosive wildfire in Northern California has killed a bulldozer operator as he fought to contain the blaze and injured three firefighters.
Cal Fire spokesman Scott McLean says the Carr Fire in Shasta County burned over the bulldozer operator, who was hired privately, and his equipment. He says the man's body was found late Thursday.
McLean says three firefighters and an unknown number of civilians have burns but didn't know the extent.
He says the fire is "taking everything down in its path."
The blaze has burned dozens of homes in the communities of Shasta, Keswick and the west side of Redding, a city of about 92,000 people.
McLean says the situation is chaotic as Redding residents, who had little warning, try to evacuate.
Firefighters tried in vain to build containment around the blaze Thursday but flames kept jumping their lines, McLean said.
"It's just a heck of a fight," he said. "They're doing what they can do and they get pushed out in a lot of cases. We're fighting the fight right now."
The 45-square-mile Carr Fire that began Monday tripled in size overnight Thursday amid scorching temperatures, low humidity and windy conditions.
Whiskeytown Lake burns
Earlier in the day with flames exploding around Whiskeytown Lake, an effort to save boats at a marina by untying them from moorings and pushing them to safety, wasn't swift enough to spare them all.
Dozens of charred, twisted and melted boats were among the losses at Oak Bottom Marina.
"The only buildings left standing … right now are the fire station and a couple of restrooms," said Fire Chief Mike Hebrard of the California Department of Forestry and Fire Protection. "The boat docks down there — all the way out in the water — 30 to 40 boats caught fire when the fire laid down on top of them last night and burned those up."
In the historic Gold Rush-era town of Shasta, state parks employees worked through the early morning to rescue artifacts from a museum as the blaze advanced.
Wildfires throughout the state have burned through tinder-dry brush and forest, forced thousands to evacuate homes and forced campers to pack up their tents at the height of summer. Gov. Jerry Brown declared states of emergency for the three largest fires, which will authorize the state to rally resources to local governments.
The wildfires have dispatched firefighters to all corners of the state amid an oppressive heat wave.
Cranston Fire
Hundreds of miles to the south, winds picked up and sent flames rushing downhill on the flanks of Southern California's Mount San Jacinto.
Helicopters making water drops and air tankers pouring red flame retardant circled overhead as flames burned both sides of the main road leading to the scenic town of Idyllwild.
The blaze erupted Wednesday and quickly turned into a wall of flame that torched timber and dry brush. In a matter of hours, the so-called Cranston Fire grew to 7.5 square miles.
About 3,000 residents were under evacuation orders Thursday in Idyllwild and several neighboring communities.
The Cranston Fire was the largest of at least five police believe were purposely set by a man whose car was spotted at the starting point of the blaze in Riverside County, officials said.
Brandon McGlover, 32, of Temecula was booked on suspicion of five counts of arson, state fire officials said.
Yosemite blaze grows
The heart of Yosemite National Park remained empty the day after campers and hotel guests were evicted so firefighters could try to keep the state's largest fire from entering the park nearly two weeks after it was sparked.
The closure was heartbreaking for travelers who mapped out trips months in advance to hike and climb amid the spectacular views of cascading waterfalls and sheer rock faces.
Daina Miller of Tucson, Arizona, had wanted to visit Yosemite for years, but instead her family spent a few hours breathing foul-smelling smoke Tuesday before retreating to their RV for the night. The next morning, they left for Los Angeles.
"You go there and expect the fresh air and it was the total opposite of that," she said Thursday. "It's kind of funny, we're going to LA to get some fresh air."
The closure through at least Sunday led to at least 1,000 campground and hotel bookings being canceled, park spokesman Scott Gediman said.
Officials emphasized Yosemite wasn't in imminent danger from the Ferguson Fire, which grew to more than 67 square miles in steep timber in the adjacent Sierra National Forest. The fire was just 25 percent contained.
One firefighter was killed July 14, and six others have been injured
Evacuations in the north
In the north, new evacuations were expanded to about 2,200 people in the wilderness recreation region near Redding that included Shasta and its historic former courthouse and ruins of brick buildings that make up Shasta State Historic Park.
Matt Teague, an acting district superintendent for state parks, drove an hour and half in the middle of the night to help employees of the park and volunteers rescue historic paintings, prints and other artifacts from the museum housed in the 1861 courthouse.
The fire's faint glow was visible when he arrived at 3 a.m. and it kept getting brighter, he said.
Just before dawn, the flames had gotten close enough that they were about to evacuate when the fire changed direction and began burning to the north, he said.
That bought them five more hours to collect the most precious items until late morning when it became too dangerous and they were told they had to leave.
"We were on our toes the whole time, to be honest with you," Teague said. "We didn't get everything. We didn't have time."
Teague spoke later in the day as ash rained down and flames burned on both sides of town as temperatures in the area topped 110 degrees Fahrenheit. He said the downtown and centerpiece of the park still stood, but it was unsafe to go inside and collect more relics.