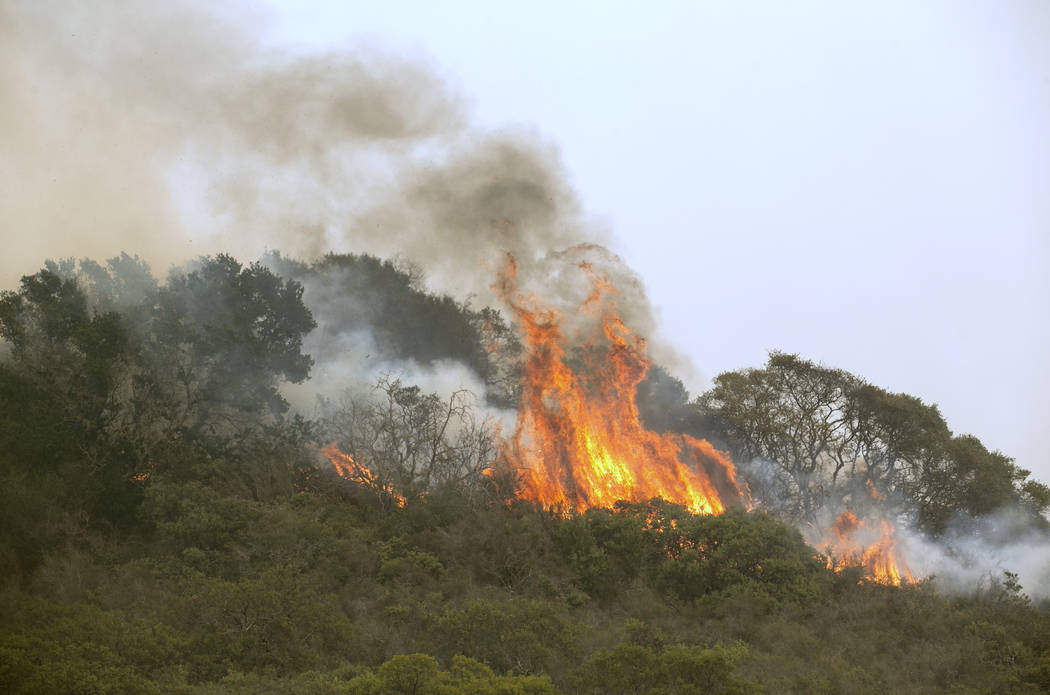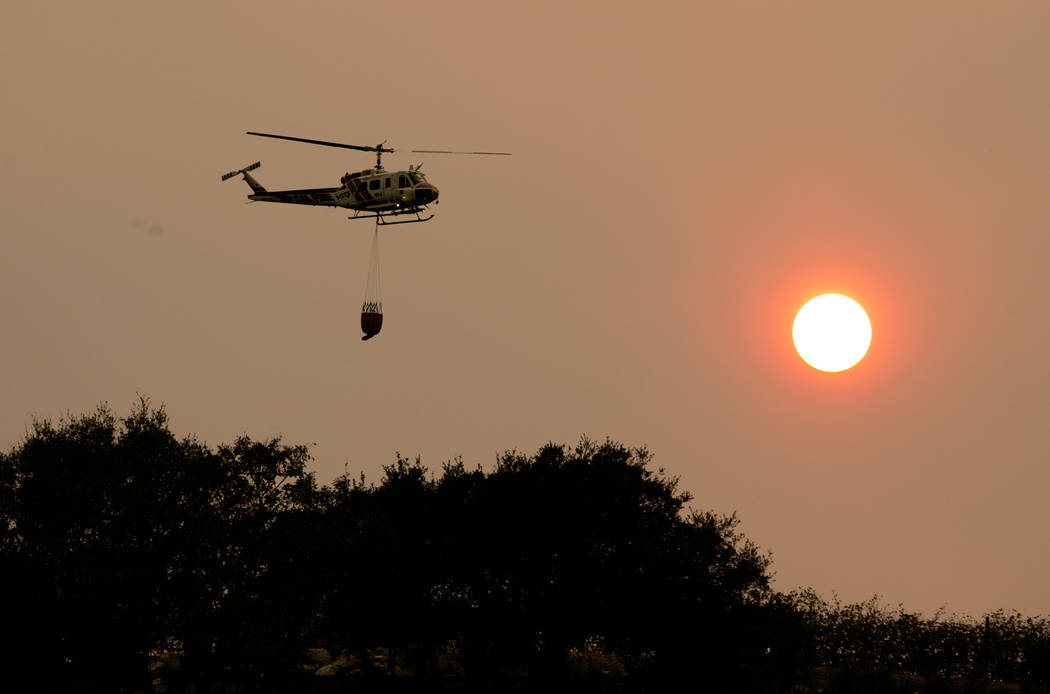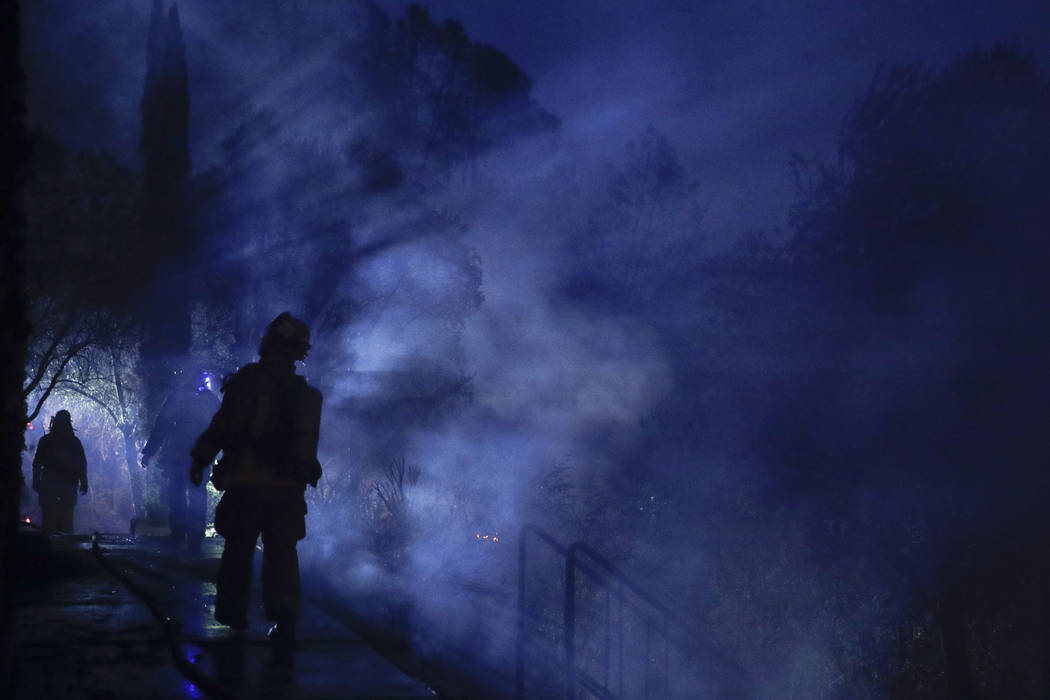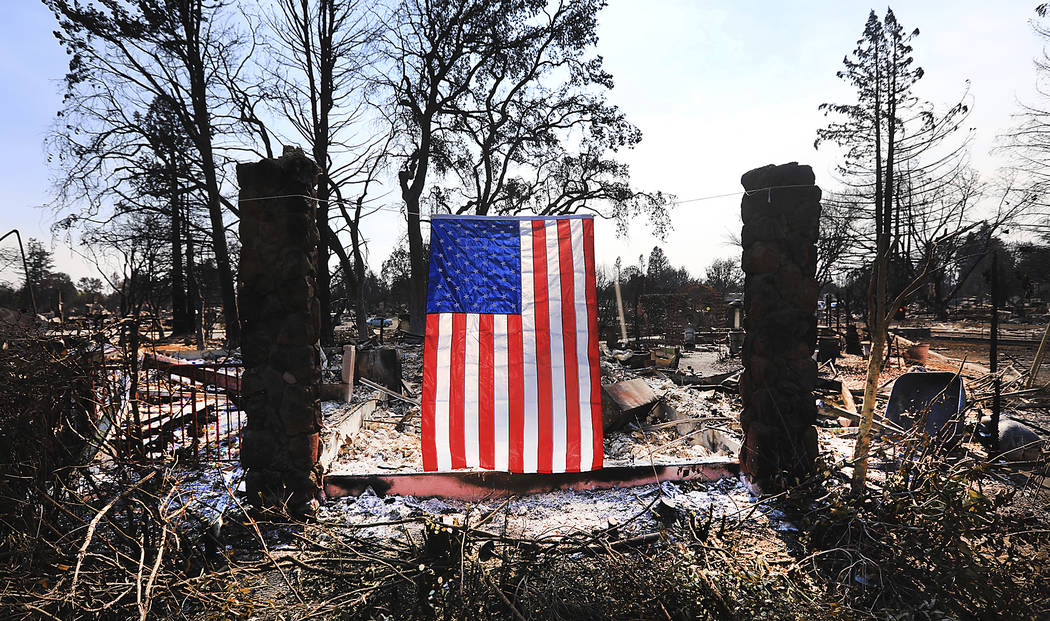 SONOMA, Calif. — They are trying to find lost loved ones, to sift through the ashes of their homes, to count, identify and mourn the dozens of dead — all while the wildfires rage on.
Communities in Northern California prepared for another day under siege Friday, despite being driven to exhaustion by evacuations, destruction and danger in the deadliest week of wildfires the state has ever seen.
"It wears you out," said winemaker Kristin Belair, who was driving back from Lake Tahoe to her as-yet-unburned home in Napa. "Anybody who's been in a natural disaster can tell you that it goes on and on. I think you just kind of do hour by hour almost."
Firefighters gained some ground overnight as the blazes grew little in favorable weather, but crews face another battle against gusty winds, low humidity and higher temperatures expected Friday.
Since igniting Sunday in spots across eight counties, the blazes have killed an unprecedented 31 people and destroyed thousands of homes and businesses.
The death toll was expected to keep rising. Individual fires including the Oakland Hills blaze of 1991 had killed more people than any one of the current blazes, but no collection of simultaneous fires in California had ever led to so many deaths, authorities said.
"We had series of statewide fires in 2003, 2007, 2008 that didn't have anything close to this death count," said Daniel Berlant, a deputy director of the California Department of Forestry and Fire Protection.
Hundreds more were injured or missing.
Real recovery would have to wait for firefighters to bring under control the 21 wildfires spanning more than 300 square miles. Most were less than 10 percent contained. New evacuations were still being ordered for fires that broke out Sunday night.
"We are not even close to being out of this emergency," said Mark Ghilarducci, director of the state's Office of Emergency Services.
Choking smoke hung thick and then drifted over the San Francisco Bay Area, where masks to filter the fumes were becoming a regular uniform and the sunsets were blood-red from the haze.
"It's acrid now," said Wayne Petersen in Sonoma. "I'm wearing the mask because I've been here two or three days now, I live here. It's starting to really affect my breathing and lungs so I'm wearing the mask. It's helping."
Even some members of the Oakland Raiders were wearing masks during workouts Thursday.
A statement from the team on Friday said: "Sunday's game against the Chargers remains scheduled for 1:25 p.m. at the Oakland-Alameda County Coliseum. We will continue to monitor air quality conditions in the Bay Area and will update the public with any changes via our social media channels."
The fires drove hundreds of evacuees north to beaches, some sleeping on the sand on the first night of the blazes.
Since then, authorities have brought tents and sleeping bags and opened public buildings and restaurants to house people seeking refuge in the safety and clean air of the coastal community of Bodega Bay, where temperatures drop dramatically at night.
"The kids were scared," said Patricia Ginochio, who opened her seaside restaurant for some 300 people to sleep. "They were shivering and freezing."
California Highway Patrol Officer Quintin Shawk took relatives and other evacuees into his home and office, as did many others.
"It's like a refugee camp," Shawk said.
Meanwhile, teams with cadaver dogs began a grim search for more dead, resorting in some cases to serial numbers stamped on medical implants to identify remains in charred ruins.
Sonoma County Sheriff Robert Giordano said officials were still investigating hundreds of reports of missing people and that recovery teams would begin conducting "targeted searches" for specific residents at their last known addresses.
"We have found bodies almost completely intact, and we have found bodies that were nothing more than ash and bones," said the sheriff, whose office released Thursday the names of 10 of the dead, all age 57 or older.
Some remains have been identified using medical devices uncovered in the scorched heaps that were once homes. Metal implants, such as artificial hips, have ID numbers that helped put names to victims, he said. Distinctive tattoos have helped identify some.
Since igniting Sunday in spots across eight counties, the fires have transformed many neighborhoods into wastelands. At least 3,500 homes and businesses have been destroyed and an estimated 25,000 people forced to flee.
Fire officials were investigating whether downed power lines or other utility failures could have sparked the fires.
Some lucky evacuees returned to find what they least expected.
Anna Brooner was prepared to find rubble and ashes after fleeing Santa Rosa's devastated Coffey Park neighborhood.
Then she got a call from a friend: "You're not going to believe this." Her home was one of only a handful still standing.
"I swore when I left I was never coming back to this place," Brooner said. "I feel so bad for all the other people. All of us came back thinking we had nothing left."