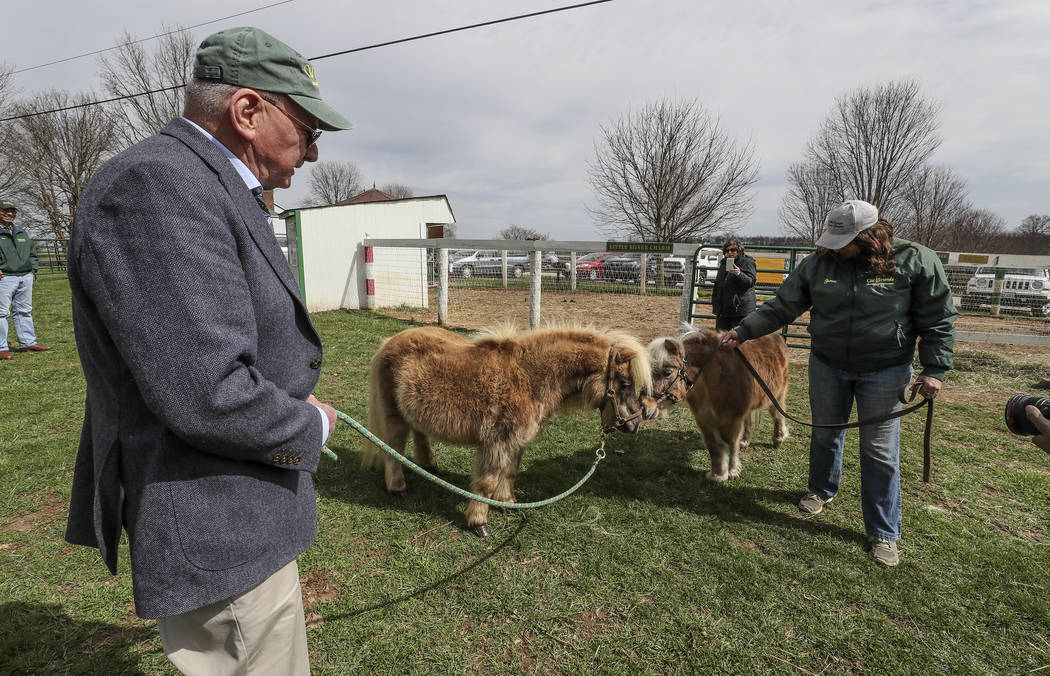 GEORGETOWN, Ky. — He loves the limelight, knows how to work a crowd and patiently puts up with the fans who reach out to stroke his silky blonde hair.
"I fell in love with him as soon as I met him," gushed Kate Sorrell, an employee of the Kentucky Derby Museum. "I just had a little connection, a little bond."
Known simply as "Winston," the 24-year-old goodwill ambassador has lived nearly his entire life in a barn at the Kentucky Derby Museum.
Did we mention Winston is a miniature horse?
"He's been our superstar," Patrick Armstrong, the Kentucky Derby Museum's president, said at a farewell ceremony for his diminutive equine employee. "Whether it's an appearance in the stable at the end of the historic walking tour or through a picture on social media, Winston has created lasting memories for our visitors."
In front of a large crowd of well-wishers, the 34-inch brown gelding retired March 5 from the only job he's ever held: celebrity miniature horse.
Today, his mane is still luxurious and his manner dignified, but the tiny horse is no longer a spring chicken. He doesn't get around as easily and his eyesight isn't what it once was.
"He's had some trouble with his left eye," Alison Knight, equine manager at the Kentucky Derby Museum, said as she handed his medical records to Michael Blowen.
Blowen and his wife Diane White are founders of Old Friends Thoroughbred Retirement Farm in Georgetown, Kentucky. The farm is home to Kentucky Derby winners Silver Charm and War Emblem, several Breeders Cup and Belmont winners and a miniature horse named Little Silver Charm.
Before ambling up the ramp into the horse trailer that would transport him to his retirement home, Winston took one last lap around the Kentucky Derby Museum, gobbled down a bouquet of carrots and endured many affectionate kisses from his fans.
He appeared to appreciate the carrots more than the kisses.
"When I retire I hope it's half as nice as his is going to be," said Knight.
Winston's retirement home includes his own private stall, a large outdoor play space with plenty of grass and guests to greet and adore him three times a day.
Winston's time in the spotlight includes throwing out the first pitch at a Louisville Bats game, helping Churchill Downs pick the Kentucky Derby winner ahead of the race, supporting charitable organizations around Louisville and performing more than 10 marriage proposals with his "Will You Marry Me?" blanket at the museum.
The miniature horse with the colossal personality was greeted at Old Friends Farm with nearly as much fanfare as his departure from the Kentucky Derby Museum.
A Lexington television crew waited for his arrival and a group of 20 people with cellphone cameras recorded his interaction with Silver Charm and his tiny namesake.
They basically sniffed each other and then began eating grass.
"It is going to be a change for Winston but we think he'll really love it," said White as Winston and Little Silver Charm met for the first time.
White, a retired Boston Globe reporter, actually writes Facebook posts for Little Silver Charm. He's kind of a big deal.
"The only thing he said was that Winston had better not eat all his carrots. Little Silver Charm is very selfish about his carrots, but there are plenty for everyone."
As for Winston's former home, the Kentucky Derby Museum is set to begin a $6.5 million renovation and expansion that will add more than 11,000 square feet of space museum. Construction will begin after the 2018 Kentucky Derby and should be complete by November, in time for the 2018 Breeders' Cup at Churchill Downs.
And yes, the expansion includes a barn for a new miniature horse who will carry on Winston's tradition.