Charleston shooter Dylann Roof says it's 'not fair' he has to hear so much about victim-impact
January 5, 2017 - 11:59 am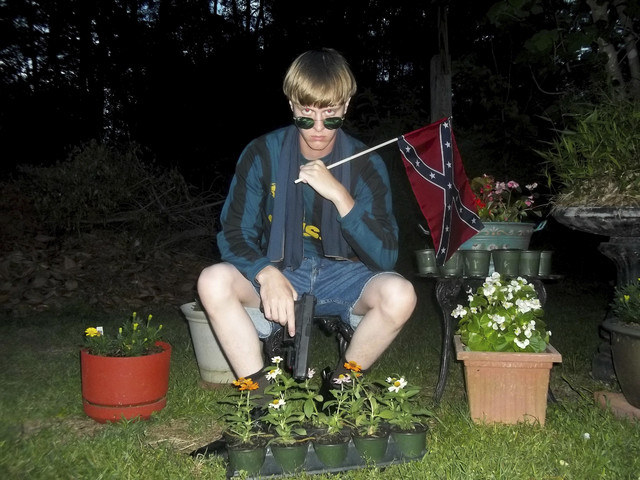 CHARLESTON, S.C. — Dylann Roof wrote in a court filing unsealed Thursday that it was "not fair" for prosecutors to present such extensive testimony about the effect of his church shooting here on victims' family members, arguing – because he was not presenting any evidence – that it would virtually assure a death sentence.
"If I don't present any mitigation evidence, the victim-impact evidence will take over the whole sentencing trial and guarantee that I get the death penalty," Roof wrote.
The filing was unsealed on the second day of the penalty phase in Roof's trial, as prosecutors elicited emotional stories from the loved ones of those slain at Charleston's historical Mother Emanuel African Methodist Episcopal Church. Aside from Roof's opening statement, the motion marked Roof's first substantive participation in the penalty phase of proceedings. He has mostly sat silent, staring straight ahead and declining to question any witnesses himself.
U.S. District Judge Richard Gergel ultimately did not impose any limits on testimony, though he warned prosecutors he was worried about the issue. "I'm concerned both about the number of witnesses and the length of their testimony and the length collectively of their testimony, and I want you to revisit your strategy here, because at some point I'm going to cut you off if it gets too long," he said.
Assistant U.S. Attorney Jay Richardson insisted the government was acting appropriately.
"It is also, I think, important that the government and these individuals are allowed to tell the stories of their loved ones," he said.
Roof, 22, was convicted last month of federal hate crimes for killing nine people in a June 2015 rampage at the Mother Emanuel church, and jurors have only two options for his sentence: life in prison or death. He has said the massacre was racially motivated, and he wrote six weeks after the crime in a jailhouse journal that he did not regret it.
"I am not sorry," Roof wrote in the journal. "I have not shed a tear for the innocent people I killed."
To persuade jurors to impose the ultimate punishment, prosecutors must show the aggravating factors in the case – Roof's racial motivation, his lack of remorse and the effect his crime had on the victims and their families – outweigh the mitigating evidence. They have questioned victims' loved ones at length, often bantering with the witnesses and drawing laughs from those in the courtroom.
Prosecutors have indicated that they could call as many as 38 witnesses, though Richardson said Thursday the final figure will probably be less. Although Roof has not presented any evidence, Gergel told jurors they could consider his confession in the case, his offer to plead guilty in exchange for a life sentence and the possibility that he could change as factors in favor of a life sentence.
CHILL 9-1-1 CALL
For about 20 harrowing minutes, Jennifer Pinckney huddled under a desk with her 6-year-old daughter, her hand clasped over the girl's mouth to keep her quiet as Dylann Roof opened fire. Not knowing for certain if the danger had passed, Pinckney dialed 911 and breathlessly told an operator she had heard shots inside Charleston's Emanuel AME Church.
"I think there's been a shooting. I'm in the closet, under a desk," Pinckney told the operator. "Please hurry."
The conversation was played in court Wednesday for jurors considering whether Roof should be sentenced to death or life in prison. Roof, who is representing himself, hasn't put up any fight for his life, saying he doesn't plan on calling witnesses, and he has not cross-examined anyone.
In the tape, Pinckney is heard trying to comfort her daughter Malana, a precocious child who had been watching cartoons in her father's office as he participated in Bible study in the room next door on the night of June 17, 2015.
"Daddy's dead?" Malana is heard asking her mother on the 911 call.
"No, baby, no," she said.
But at that moment, Pinckney said she knew her husband, church pastor Clementa Pinckney, was killed because otherwise he would have come to check on her and their daughter.
Jennifer Pinckney was the first witness called by prosecutors in the sentencing phase of Roof's trial. The same jury that last month found the 22-year-old white man guilty of 33 federal charges, including hate crimes and obstruction of religion, is hearing testimony this week in his sentencing trial.
Roof spoke directly to the jurors for the first time Wednesday, insisting that he is not mentally ill. In brief remarks, the soft-spoken defendant told the jury he was not trying to keep any secrets from them. He did not offer remorse or seek forgiveness or ask them to spare him from a lethal injection.
"My opening statement is going to seem a little bit out of place," Roof said calmly as he stood at a podium, occasionally glancing at notes. "I am not going to lie to you. … Other than the fact that I trust people that I shouldn't and the fact that I'm probably better at constantly embarrassing myself than anyone who's ever existed, there's nothing wrong with me psychologically."
Roof's attorneys have indicated that he chose to represent himself during the sentencing phase of his trial because he was worried his legal team might present embarrassing evidence about himself or his family. As early as last summer, they said they planned to introduce evidence that Roof suffers from mental illness and they hinted at that idea again during closing arguments of the trial's guilt stage.
"I would ask you to forget it," Roof told jurors, referring to what his lawyers said then.
Prosecutors said Roof deserves the death penalty because he painstakingly chose to target vulnerable people at Emanuel AME Church in the June 2015 attack. He sat with church members for about 45 minutes and waited until their eyes were closed in prayer before opening fire.
He told Polly Sheppard that he wanted to leave her alive to tell the world he attacked a historic black church because blacks were "raping our women and taking over the nation."
Two other people also survived.
Assistant U.S. Attorney Nathan Williams said the "horrific acts justify the death penalty."
"He killed them because of the color of their skin. He killed them because they were less than people," Williams said.
The panel has heard from Roof before in the form of his confession to the FBI and his racist manifesto. And on Wednesday, prosecutors read from a journal found in Roof's jail cell six weeks after his arrest, projecting a handwritten page on screens in the courtroom.
"I remember how I felt when I did these things and how I knew I had to do something and then I realize it was worth it," he wrote. "I would like to make it crystal clear. I do not regret what I did. I have not shed a tear for the innocent people I killed."
Before the 911 call was played, Jennifer Pinckney described her husband as an affable figure who was widely respected in his roles as a state legislator and preacher and who was a goofy family man in private with his two young daughters.
"He always made time for the family, and he always made time for the girls," said Pinckney, describing her husband's affinity for cartoonish neckties and socks. "He was the person I think that every mom would be happy that their daughter met and married. … I know that he loved me. And he knew how much that I loved him."