Chilean authorities worry about next eruption of unstable volcano
April 26, 2015 - 10:46 am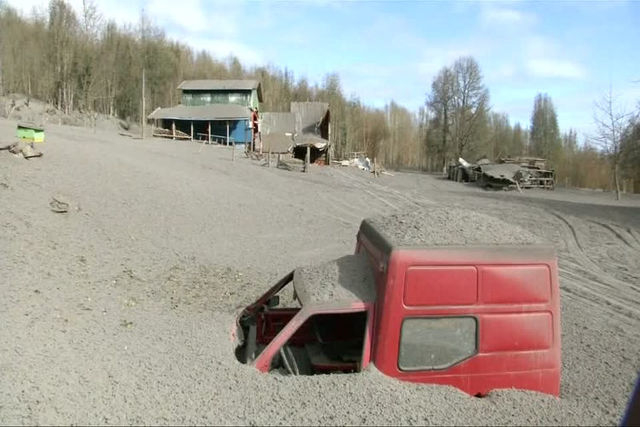 SANTIAGO — The Chilean volcano Calbuco was quieter on Sunday after unexpectedly erupting last week and puffing out plumes of gray ash, but authorities said it could erupt again and worries about the environmental impact grew.
Calbuco has spewed 210 million tonnes of ashes in the immediate surroundings, according to the National Service of Geology and Mining, coating nearby towns and prompting the evacuation of more than 6,500 locals.
"We have observed sporadic secondary explosions correlated with seismic signals in turn associated with the movement of fluids within the volcano," the National Office of Emergencies said in its latest report.
The office said such instability suggested eruptive activity would grow again.
Chile, situated on the so-called Pacific Rim of Fire, has the second largest chain of volcanoes in the world after Indonesia, including around 500 that are potentially active.
In 2011, the eruption of Puyehue sent an ash cloud into the atmosphere that disrupted flights in neighboring Argentina for months. Ash can damage aircraft and make flying dangerous.
Calbuco, considered one of Chile's most dangerous volcanoes, erupted twice in 24 hours on Wednesday and Thursday, sending up a spectacular 17-kilometer-high (11-mile) cloud.
Some ash reached as far as Brazil, albeit at a very high altitude. On Saturday, many airlines canceled flights into the capitals of Argentina, Chile and Uruguay as a precautionary measure, while the southern Argentine airports of Neuquen and Bariloche were closed.
Airlines appeared to be resuming service as normal on Sunday and Bariloche was opening again. Only Neuquen remained shut.
Authorities have set up a 20-km (12-mile) cordon around Calbuco, in the scenic Los Lagos region, around 1,000 km (620 miles) south of Santiago, the capital, where the sheer weight of fallen ash has caused houses, schools and bridges to collapse.
Concern is growing about the possible health risks posed by the ash both close to the volcano and further afield due to high winds.
"Hard sand has fallen in all the houses, the animals have nothing to eat, there are cows and sheep that have nothing, and if they don't remove them, they will die," Raul Cardenas, recently evacuated, told El Mercurio daily. "But we are going for the health of my son."
Experts fear that rainfall could cause potentially deadly lahars, a mix of water and rock fragments, to flow down the volcano's slopes and river valleys. Forecasts are for rain throughout the course of the day.