Christie returns to boardwalk after fire
September 14, 2013 - 1:12 pm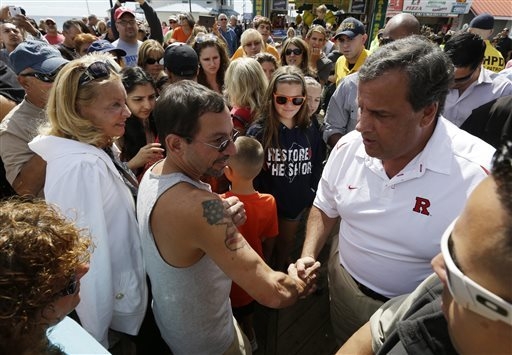 SEASIDE HEIGHTS, N.J. — New Jersey Gov. Chris Christie was back on the boardwalk at Seaside Heights on Saturday, two days after a wind-swept fire destroyed four blocks of the famous amusement pier.
Christie met privately with 30 of the more than 50 business owners who suffered losses in Thursday's fire, promising an aggressive response to haul away rubble from the fire and help again rebuild the boardwalk only just replaced after Superstorm Sandy.
Christie also greeted residents, many of whom thanked the governor for coming to the shore town that was still recovering from Sandy when disaster struck again.
"I wouldn't be anyplace else," Christie said, having canceled a weekend getaway to Florida to celebrate his wife's birthday. "When a crisis happens you have to be here to help organize things, to lend encouragement and deliver help."
The Ocean County Prosecutor's Office confirmed reports of an overnight flare-up at the fire site and said it had been contained.
It took more than an hour for Christie to move one block as a crush of residents thanked him for his continued support, while others expressed sadness over the one-two punch from Sandy and the fire.
"We had two days to feel sad about this, and it is legitimately a sad thing. But we've got work to do now. A couple days to mourn, now we've got to move on and get back to work," Christie said.
Without offering specifics, Christie said his administration had already come up with several ways to help local business owners recoup their losses and rebuild.
He said he spoke with a few of them on Thursday, as they watched their businesses burn to the ground. Saturday was the first time he addressed them as a group.
The good news, if there is any, Christie said, is that the fire was contained before it engulfed the entire boardwalk.
"This could have been significantly worse. We have about four blocks that were taken out, and for those people on those four blocks, it's awful. But, we could have lost all of this," he said, gesturing to a portion of the boardwalk untouched by the flames.