Cliven Bundy indicted for role in 2014 Bunkerville confrontation
February 17, 2016 - 9:17 pm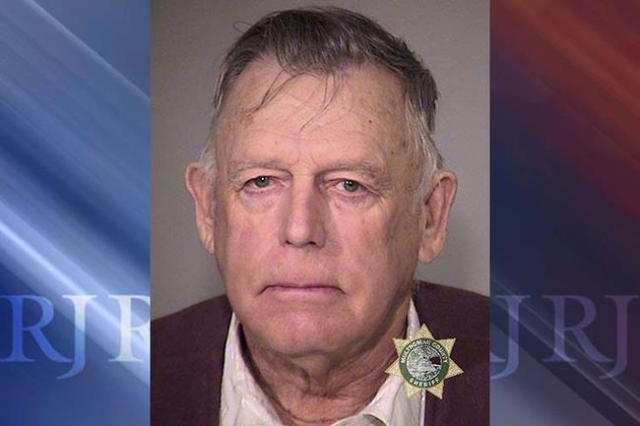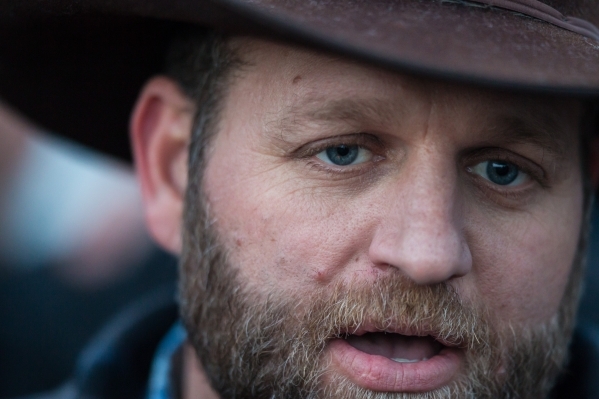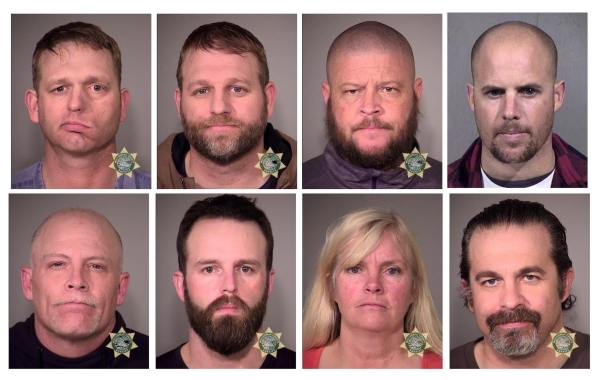 Nevada rancher Cliven Bundy, his sons Ammon and Ryan, and two others were indicted by a federal grand jury in Las Vegas on Wednesday in connection with the April 2014 armed standoff with law enforcement in Bunkerville.
Also named in the 51-page indictment were Ryan W. Payne, 32, of Montana, and Peter T. Santilli Jr., 50, of Ohio.
The five men, who face an array of felony charges, were described as the leaders of the "massive armed assault" against federal officers outside the Bundy ranch near Bunkervile on April 12, 2014. The Bundys used "deceit and deception" to lure hundreds of followers across the country to his call to arms, the indictment alleges.
The confrontation aimed to force federal officials to abandon roughly 400 cattle they had rounded up under court orders, the indictment alleges. The Bundy family had been illegally grazing cattle on federal public lands for more than 20 years.
During the height of the nationally watched standoff, the BLM and National Park Service rangers were outnumbered 4-to-1 by Bundy and some 270 supporters, and rangers were threatened by snipers perched high above them on bridges.
"Today marks a tremendous step toward ending more than 20 years of law breaking," U.S. Bureau of Land Management Director Neil Kornze said. "The nation's public lands belong to all Americans."
Nevada U.S. Attorney Daniel Bogden, added, "The rule of law has been reaffirmed with these charges."
Laura Bucheit, special agent in charge of the FBI in Nevada, said, "This indictment sends a resounding message to those who wish to participate in violent acts that our resolve to pursue them and enforce the law remains unwavering."
All of the defendants except Cliven Bundy, 69, are being held without bail in Portland, Oregon, stemming from their arrests in a just-ended armed standoff at a government wildlife refuge in eastern Oregon.
The elder Bundy was not charged in that case, but is being held without bail in Portland on the Las Vegas charges. He was arrested by FBI agents at Portland International Airport last week on his way to support the four remaining holdouts occupying the wildlife refuge.
The defendants will have to be transported to Las Vegas by U.S. marshals to face the new charges.
Each man faces 16 felony counts, including extortion, obstruction of justice, conspiracy to commit an offense against the United States, conspiracy to impede or injure a federal officer, assault on a federal officer, threatening a federal law enforcement officer and using and carrying a firearm in a crime of violence.
Prosecutors seek to recover $3 million from the five men if they are convicted of the crimes.
The indictment mirrors details laid out in a criminal complaint last week of the tense standoff with the government near Bunkerville.
Prosecutors revealed in court documents Tuesday that the federal investigation began the day after the Bunkerville confrontation. FBI agents and others have worked to identify those who assaulted government officials and to determine their connection to Bundy, prosecutors wrote.
The government has interviewed hundreds of witnesses, executed more than 40 search warrants, analyzed hundreds of thousands of pages of documents (mostly from social media), reviewed thousands of pages of phone records and examined hundreds of hours of audio and video recordings, prosecutors said.
Contact reporter Jeff German at jgerman@reviewjournal.com or 702-380-8135. Find him on Twitter: @JGermanRJ
Previous coverage
Full coverage of the feud between the Bundy family and the BLM