Companies, organizations denounce NC law revoking LGBT protection
March 25, 2016 - 11:30 am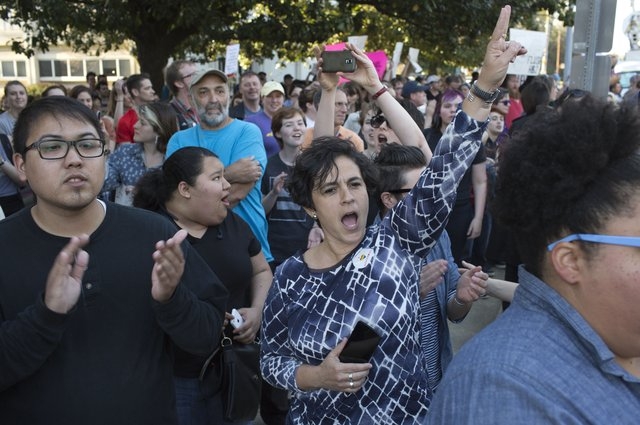 RALEIGH, N.C. — Corporations expressed disappointment and the NCAA vowed to monitor what North Carolina does next now that the state has banned any local government measures protecting people from discrimination on the basis of sexual orientation and gender identity.
American Airlines, which operates its second-largest hub in Charlotte; IBM and Biogen, which have facilities in the state's Research Triangle; and payments processor PayPal, which had announced plans to hire 400 people in Charlotte only last week, were among major employers condemning the new law Thursday. Facebook and Apple, which each run massive data-processing complexes in western North Carolina, also voiced displeasure.
The legislature called a special session Wednesday to void a Charlotte ordinance that would have enabled transgender people to legally use restrooms aligned with their gender identity, and would have provided broad protections against discrimination in public accommodations in the state's largest city.
The new law now prevents the state's cities and counties from passing their own anti-discrimination rules, and instead imposes a statewide standard that leaves out sexual orientation and gender identity.
North Carolina is the first state to require public school and university students to use only those bathrooms that match their birth certificates, according to the National Conference on State Legislatures.
The state law "is a clear step backwards. Sad day," tweeted Jim Whitehurst, chief executive of Raleigh-based open-source software company Red Hat.
The economic impact will take time to quantify. There were no immediate threats to withdraw business from the state, which has seen booming growth and an influx of "knowledge workers" in Charlotte and Raleigh, even as rural towns lag behind economically.
Other businesses have voiced support for the measure Republican Gov. Pat McCrory signed into law late Wednesday, a spokesman for his re-election campaign said. Spokesman Ricky Diaz did not respond when asked which businesses backed the governor's decision.
About 200 protesters blocked a downtown Raleigh street in front of the state's Executive Mansion Thursday evening. Police said in a statement that five people were arrested after they sat down in the street and refused orders to disperse.
The five people were charged with blocking traffic and with resisting, delaying or obstructing police officers, Jim Sughrue, a spokesman for the Raleigh Police Department said in a statement. Four of the protesters were from Durham — Jade Brooks, 30; Salma Mirza, 28; Ngoe Tran, 20; and Jessica Jude, 27. The fifth protester was Noah Rubin-Blose, 32, of Hillsborough.
McCrory, a former Charlotte mayor, stays in the mansion while in the state capital but was not there at the time of the protest, spokesman Josh Ellis said.
Demonstrators like Alex Berkman complained that lawmakers acted quickly before Charlotte's example could be adopted by other communities.
"The way that these things work is that one place will pass a law and then another place will pass a law and then we start to build momentum," said Berkman, 29, of Raleigh.
Democrats warned that North Carolina risks losing billions in federal education dollars by conflicting with Title IX anti-discrimination regulations that apply in public schools. Republican lawmakers downplayed the threat Wednesday.
The NCAA, which is scheduled to hold men's basketball tournament games in Greensboro in 2017 and Charlotte in 2018, said it takes diversity into account when it chooses its event sites. The National Basketball Association said it is too early to know if the new law will affect Charlotte hosting the league's all-star game in 2017.
Advocates for gay, lesbian, bisexual and transgender rights say state legislators demonized them with bogus claims about bathroom risks. Supporters say the new law protects all people from having to share bathrooms with people who make them feel unsafe.
@PatMcCroryNC It's now the law for me to share a restroom with your wife. #HB2 #trans #NorthCarolina #shameonNC pic.twitter.com/4b4OdmfmeN

— JP Sheffield (@JayShef) March 24, 2016
Corporations announcing their displeasure "are shamefully bullying" state officials while many small business owners who live in North Carolina support the new legislation, North Carolina Values Coalition Executive Director Tami Fitzgerald said.
"North Carolinians should be aware of this so they have the opportunities to be consumers of companies that are congruent with their values," Fitzgerald said in a statement.