Death Valley park still closed, Scotty's Castle shut until 2025
Updated August 23, 2023 - 3:30 pm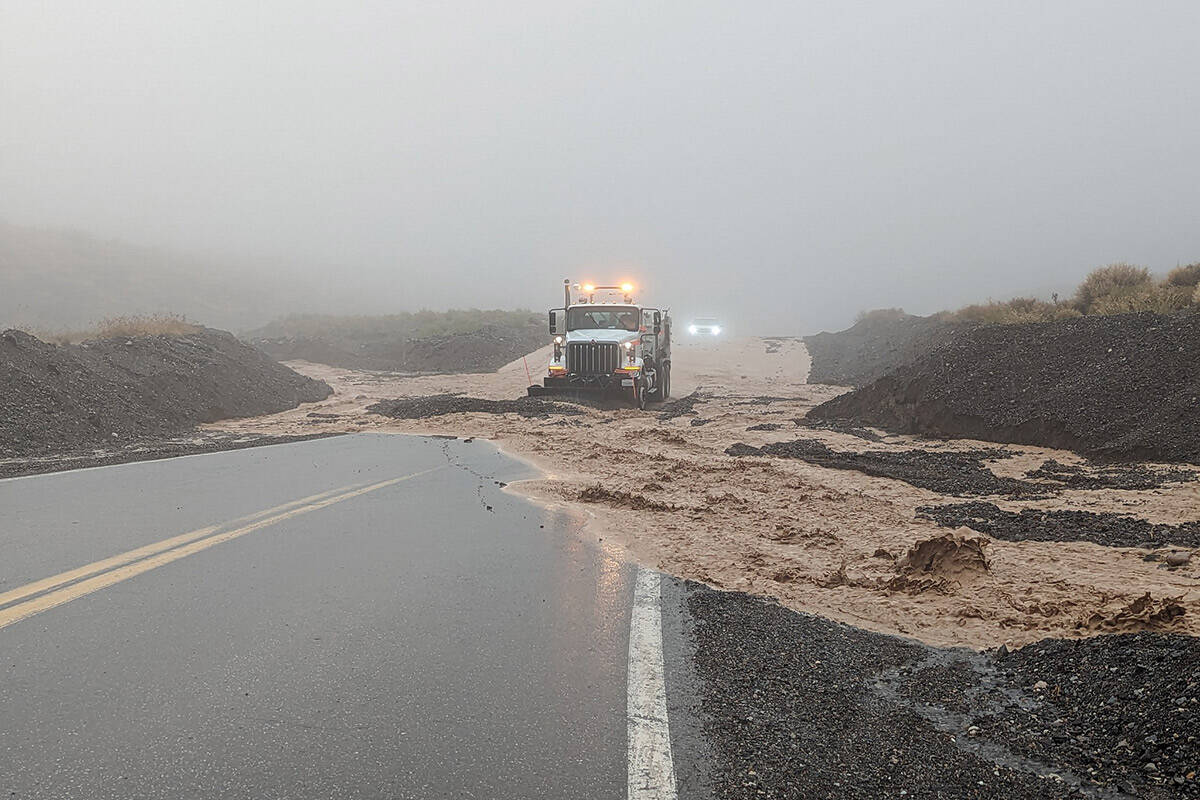 Death Valley National Park remained closed Wednesday because of flood damage from recent heavy rain storms, while access to the historic Scotty's Castle will be shut down until late 2025, according to the National Park Service.
"All park roads are currently closed," the park service announced on its website. "Roads are being assessed for damage and are being cleared of debris."
The closure was ordered starting Monday "after the remnants of Hurricane Hilary delivered a year's worth of rain in one day," park service officials stated.
Rainfall on Sunday in Death Valley reached 2.2 inches, far surpassing the area's previous record for a day of 1.7 inches set on August 5, 2022, the National Weather Service reported.
This is the second year in a row that the national park, in California about 150 miles west of Las Vegas, saw large downpours, park officials said.
"Although all paved roads were repaired from the 2022 flood damage, there is still a lot of work to be done in the backcountry and this latest storm caused significant additional damage," park officials said.
Nichole Andler, a park spokesperson, said flood waters also sent debris that compromised several utility systems, dislodged wastewater pipes and impacted a water well.
"The full extent of the damage across the park will not be known for a period of weeks, as roads make overland travel challenging in order for park crews to identify additional storm damage impacts, however aerial surveys indicated extensive parkwide flooding impacts," Andler said.
"We do not have a timeline for reopening right now, but the park will likely reopen in stages," she said.
Flood waters on roads and desert soil from the inclement weather this past weekend also prompted park officials to shut down the Furnace Creek Visitor Center, a popular outdoor museum and shopping stop for tourists, and the Stovepipe Wells Ranger Station.
Among the park's paved roads closed are State Route 190 to Furnace Creek and Stovepipe Wells, Badwater Road to attractions such as Badwater Basin, Artists Drive, Devil's Golf Course, Natural Bridge and Golden Canyon, plus North Highway that accesses Ubehebe Crater and Wildrose and Emigrant Canyon roads leading to the Wildrose Charcoal Kilns.
The road closures include "Bonnie Clare Road and Scotty's Castle due to flood recovery work," the park service announced. "Unlikely to open before late 2025."
The beleaguered Scotty's Castle, an ornate Spanish-style mansion built from 1922 to 1931 and on the National Register of Historic Places, had been closed by the park service to repair damage from floods after heavy rainfall in 2015 and a serious fire in 2021 and just reopened this year.
All backcountry roads in Death Valley park "were completely washed out in places" and are closed to all vehicles, including motorcycles and bicycles, the park service stated.
Nine park campgrounds, including Furnace Creek and five "primitive" grounds, are closed as well.
Contact Jeff Burbank at jburbank@reviewjournal.com or 702-383-0382. Follow him @JeffBurbank2 on Twitter.