Detective testifies Mont. homeowner deliberately shot exchange student to death
December 12, 2014 - 12:04 pm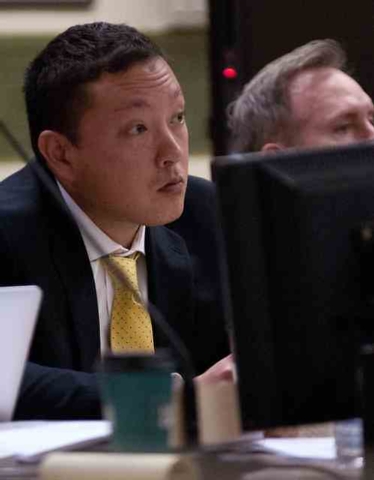 MISSOULA, Mont. — A Montana homeowner who killed a German exchange student in his garage repositioned himself to aim a fatal shotgun blast at the teenager, even though he later claimed it was too dark to see, a detective testified on Thursday in the man's murder trial.
Markus Kaarma, 30, a former U.S. Forest Service firefighter, is charged with deliberate homicide in the April 27 death of 17-year-old Diren Dede of Hamburg, who had walked into the Missoula homeowner's garage.
Kaarma has pleaded not guilty and defense lawyers say he acted to protect his family. The case is expected to test Montana's version of a "Castle Doctrine" self-defense law, which allows deadly force if a person reasonably believes it necessary to guard against an assault.
Evidence from the scene indicated Dede was wounded by a shotgun blast to the arm and moved from one side of the garage to the other, taking cover behind a Buick with hunting equipment on top, Missoula police Detective Guy Baker said.
Baker testified in the week-old trial Kaarma could not have shot and struck Dede over that obstacle, and that he repositioned himself to deliver the fatal blast to Dede's head.
The detective cited ballistic evidence, which showed a change in trajectory and height of the final shot compared to three previous blasts.
Jurors previously heard from neighbors who said they heard a pause of three to five seconds before the final shot.
Separately, images from a makeshift surveillance system installed in the garage show Dede with what appears to be something luminescent in his left hand, which prosecutors believe was a cell phone or a small flashlight, which were both recovered from the scene.
"He (Kaarma) claimed he could see nothing, yet he fires four shots, starting on the right side of the garage, going left, in sequence," Baker said.
On Thursday, jurors viewed videotape of Kaarma telling detectives recent burglaries left his family on edge.
"Did you ever think 'maybe I should just step back, give him the room to get out and I won't get hurt,'" Baker asked Kaarma in the video.
Kaarma described the intruder to detectives as a "caged animal" he feared would harm him or escape and never be caught.
Kaarma faces up to 100 years in prison if convicted.