Ex-Egyptian leader Mubarak released from detention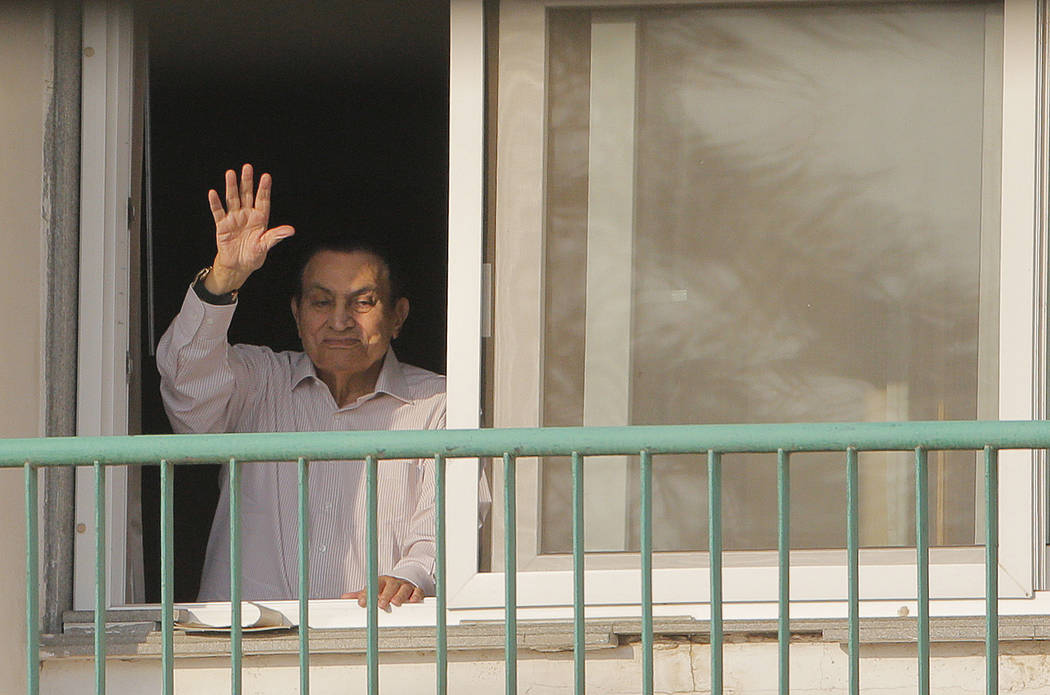 CAIRO — Ousted Egyptian President Hosni Mubarak was freed from custody Friday morning after years of legal proceedings that frustrated activists who had hoped he would face justice for the deaths of hundreds defying his rule.
The ailing, 88-year-old Mubarak left the Armed Forces Hospital in Cairo's southern suburb of Maadi and went to his home in the upscale Heliopolis district under heavy security, according to an Egyptian security official. The official spoke on condition of anonymity because he was not authorized to talk to the media.
His release marked a new chapter for the former autocrat whose people rose up against him in 2011 and demanded an end to his 30 years in power marked by corruption, economic inequity and reliance on a much-feared security apparatus.
It also underscored how the aspirations of the Arab Spring movement that swept the entire region have bottomed out.
Mubarak's ouster, on the surge of furious multitudes that filled Cairo's landmark Tahrir Square — the epicenter of the uprising — was perhaps the seminal moment of the Arab Spring. But six years on, the mass uprisings in Egypt, Tunisia, Libya, Yemen, Bahrain, and Syria have each failed in some way, leading to civil wars or dysfunctional states.
Mubarak's return home took place far from cameras and throngs of media that followed his court appearances. Two groups of security forces secured the route from the hospital to his house, according to the security official.
Mubarak's lawyer, Farid el-Deeb, refused to comment when contacted by The Associated Press.
But in remarks to Egyptian daily Al-Masry al-Youm, el-Deeb said the former president returned home with his two sons, Alaa and Gamal, and that the entire family, including Mubarak's wife, Suzanne, came together at his house to celebrate his return and have breakfast together.
Mubarak was acquitted by Egypt's top appeals court on March 2 of charges that he ordered the killing of protesters during the 2011 popular uprising that led to his ouster.
At that point, he had already served a three-year sentence for embezzling state funds while in detention in connection with the case on the deaths of protesters. A criminal court had ruled in May 2015 to jail Mubarak for three years and fine him millions of Egyptian pounds following his conviction for embezzling funds earmarked for the maintenance and renovation of presidential palaces. The ruling was upheld by another court in January 2016.
Prosecutors, however, reopened another corruption case on Thursday, linked to allegations that Mubarak, along with his family members had received gifts from the state-run Al-Ahram newspaper worth $1 million. The case had been closed once before but the prosecutors appealed and it was restarted.
The order to free Mubarak was the latest in a series of court rulings in recent years in Egypt that acquitted some two dozen, Mubarak-era cabinet ministers, top police officers and aides charged with graft or in connection with the killing of some 900 protesters during the uprising.
Some of those acquitted have made a comeback in public life, while others partially paid back fortunes they illegally amassed.
Activists, meanwhile, say Mubarak's acquittal of killing protesters has confirmed long-held suspicions that his trial — and that of scores of policemen who faced trial on the same charge — would never bring the justice they demanded.
It has also, according to activists and Egypt's beleaguered rights campaigners, confirmed widely-held suspicions that their "revolution" — as the uprising against Mubarak was dubbed — had effectively been reversed by the government of President Abdel-Fattah el-Sissi, a general-turned-politician, in order to restore the status quo in a country ruled undemocratically by men of military background for most of the past 60-plus years.
Powerful media figures loyal to el-Sissi have relentlessly vilified the 2011 uprising as a conspiracy and demonized its icons as foreign agents who pose a threat to the country's national security. The fallen protesters, contend some of them, were shot by members of the now-banned Islamist group, the Muslim Brotherhood.
The attacks began soon after el-Sissi, as army chief, led the 2013 ouster of the Brotherhood's Mohammed Morsi, after Mubarak Egypt's first freely elected leader whose one-year in office proved divisive.
Mubarak's sons were also convicted and sentenced to three years in prison in the same embezzlement case. They still face charges in an insider trading case, but both are free and have recently made a series of intensely publicized appearances greeted enthusiastically by hardcore supporters of their father.
While disillusioned by Mubarak's acquittal and release, rights lawyers and activist in Egypt are likely to see it as a peripheral development in an increasingly military-run state.
"The trials, appeals, and retrials followed by acquittals were only meant to win time until the military took back power," said Ahmed Helmi, a rights lawyer in Cairo.
"There is a great deal of apathy now, the only reaction you can find on the streets is someone joking about Mubarak being back home," he added. "Mubarak's return home is just … a tiny detail in the bigger picture."
RELATED
Egypt's ousted leader Mubarak under house arrest
Murder charges against Egypt's former president dropped
Egypt officials: Mubarak could be freed this week
Egyptian President Hosni Mubarak resigns