Family of man killed in Oregon standoff pleads for independent probe
February 5, 2016 - 8:31 pm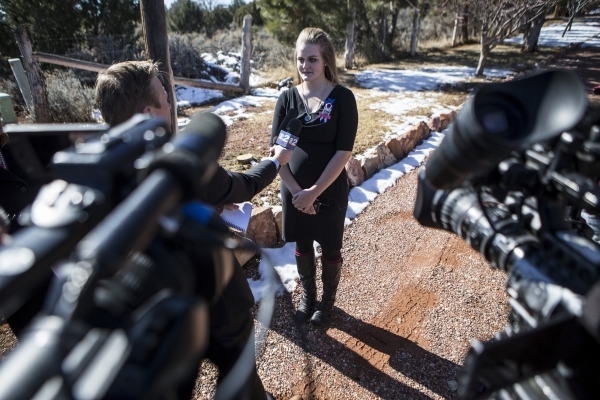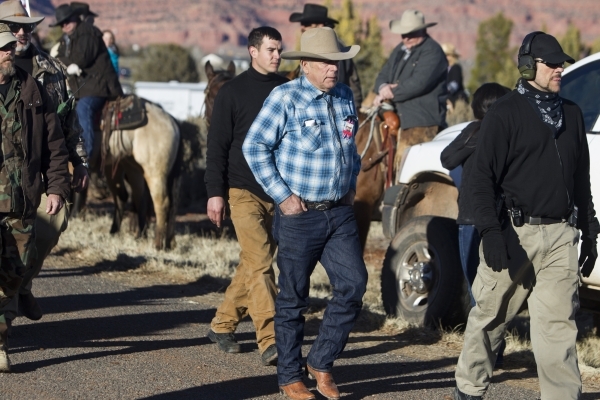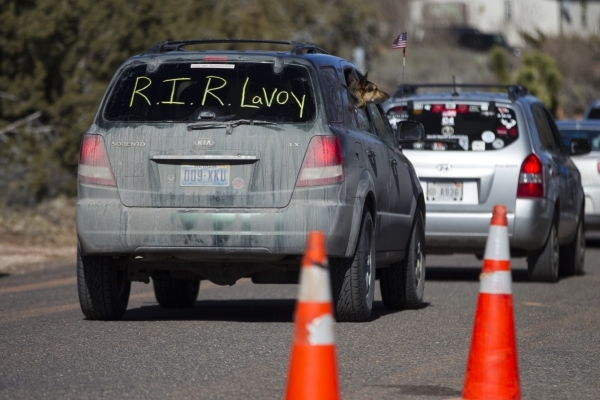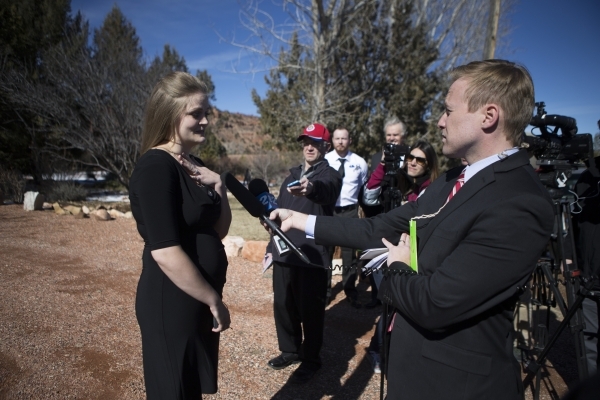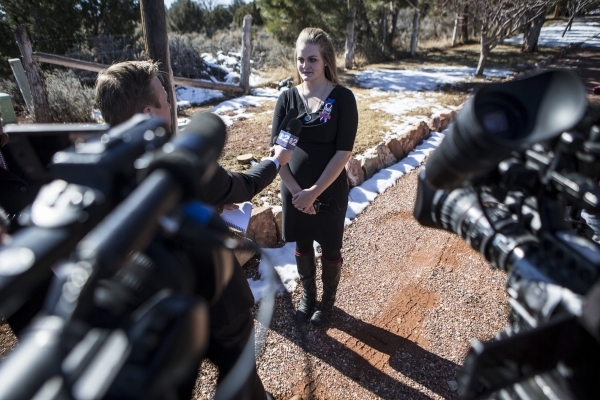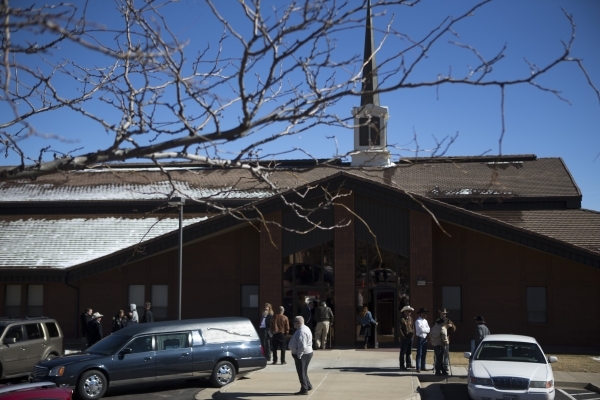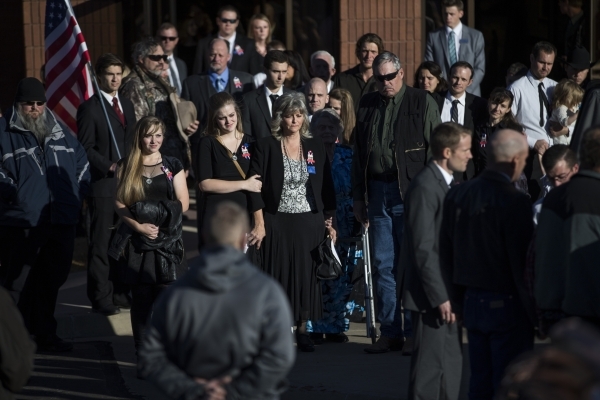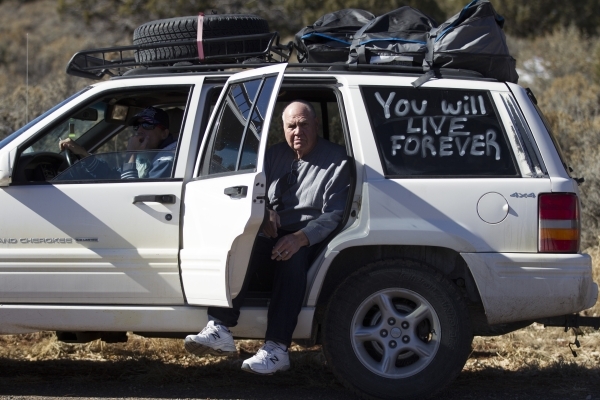 KANAB, Utah — Just before Nevada rancher Cliven Bundy led a horseback procession to escort Robert LaVoy Finicum's casket from his Mormon church memorial service Friday, two of Finicum's daughters made an emotional plea for a "private, independent investigation" into his shooting death by Oregon state police.
The family wants "to find out exactly what happened to our dad in an ambush at a lonely desolate stretch of highway in the dead of winter in eastern Oregon," Thara Tenney, one of Finicum's 11 children, said choking back tears.
It was the culmination of a two-hour remembrance of Finicum, 54, who was described to 1,000 mourners by his sons, daughters, wife and brothers as a keen-spirited, devout family man with a glint in his eyes who loved competing in everything from marathon Monopoly games to rubber-band gunfights and even tennis.
"The sure way to get LaVoy to do something was to tell him he couldn't do something," his brother Jody Finicum said, adding later, "I think most of us here know what he thought about his country: Responsibility is the cross free men must bear."
Finicum, an Arizona rancher and spokesman for a group of self-styled militia led by Ammon Bundy, son of Bunkerville rancher Cliven Bundy, had occupied buildings at Malheur National Wildlife Refuge for nearly a month when he encountered a roadblock Jan. 26 while driving to an eastern Oregon town to deliver a message about federal overreach on public lands. The group was protesting what they call illegal federal control of land in the West.
After Ammon Bundy and other protesters were taken into custody at the first stop, Finicum remained in the truck and sped off a few minutes later.
He was shot and killed by state police after he jumped out of the truck that he drove into a snowbank, nearly hitting a police officer and swerving off the roadway at a containment barricade set up by the FBI and a local law enforcement task force.
Aerial video of the incident showed Finicum threw his hands in the air after exiting the truck but then twice appeared to reach inside his coat pocket, where police would later find a loaded 9-millimeter pistol.
The second time Finicum reached for his pocket, police fired their guns, killing him.
'We want the truth'
Tenney said many questions remain unanswered about her father's death.
"We don't want the media's bias. We don't want the FBI's bias. We want the truth," she said to the roar of bystanders and anti-government supporters on horseback.
She said her "daddy" believed he was following the law. "It was the federal government that was violating it. We agree with him. We also agree with Thomas Jefferson who once said, 'When government fears the people, there is liberty. When the people fear the government, there is tyranny.'"
Her sister, Tierra Belle Collier, said, "Do we believe that peaceful actions justify the use of deadly force? Do we believe that two hands up in surrender justifies the use of deadly force? Do we believe that following the rule of law, the U.S. Constitution justifies the use of deadly force? If we do then where is liberty?"
While hundreds of mourners arrived Friday for the memorial service, daughter Brittney Beck, 26, said her dad "died for liberty."
"My dad was an amazing man. He died for liberty. He died for everybody's freedoms," said Brittney Beck, 26. "I think it's really great that people are here to honor him and thank him for that."
Finicum's widow, Jeanette, spoke at the memorial service about how he "guarded our time together as a family. … I know I will be with him again because families are forever."
Her husband will be buried Saturday at the family's ranch on the Arizona Strip.
Showing of solidarity
Nathan James, 45, of Las Vegas, drove to the services with about 20 others to show solidarity for the Finicum family and friends at the Kaibab Stake Center. "I'm here as a regular citizen of our country."
He said he, too, feels that the government has too much control of public lands. "I didn't know it was so tough to be a rancher."
Todd Applegate drove to the church from Vale, Oregon, to pay respects for Finicum, who he had met during the occupation, to "thank him for what he was doing for our country, for our children."
"We're here to pay our respects to a great American hero and make sure this isn't forgotten," Applegate said, adding that his hometown is a ranching community and a Bureau of Land Management community.
"We're really torn right now. It's a tough deal," he said, adding that the Bundys go to church with his in-laws, "so we know him."
"We want to support this thing that he stood up for and died for," Applegate said about Finicum.
He said he wasn't part of the occupation but drove to the refuge's resource center and helped cook lunch for the occupiers. "I went down four days in a row and got to know these people."
Finicum 'no martyr'
Applegate said he doesn't like to attach the word "martyr" to Finicum.
"He didn't mean to die. He had obviously lots of friends and family and other things to think about. So, no, I don't think he was a martyr. I think he died for his cause because he was willing to do that just to protect the people in the truck at that point."
"I don't think he saw that coming," Applegate said.
Ammon Bundy, his brother Ryan and 14 others have been indicted by a federal grand jury in the armed takeover of the wildlife refuge.
All 16 defendants — including four protesters still holed up at the refuge near Burns — have been charged with a single felony count of conspiracy to impede officers of the United States.
Both Bundy brothers are being held without bail and face a Feb. 24 arraignment. Authorities consider Ammon Bundy the Oregon takeover's leader.
The three-page indictment, unsealed in Portland on Thursday, accuses the defendants of conspiring to "prevent by force, intimidation and threats" employees of the U.S. Fish & Wildlife Service from carrying out their duties at the refuge.
Contact Keith Rogers at krogers@reviewjournal.com or 702-383-0308. Find him on Twitter: @KeithRogers2