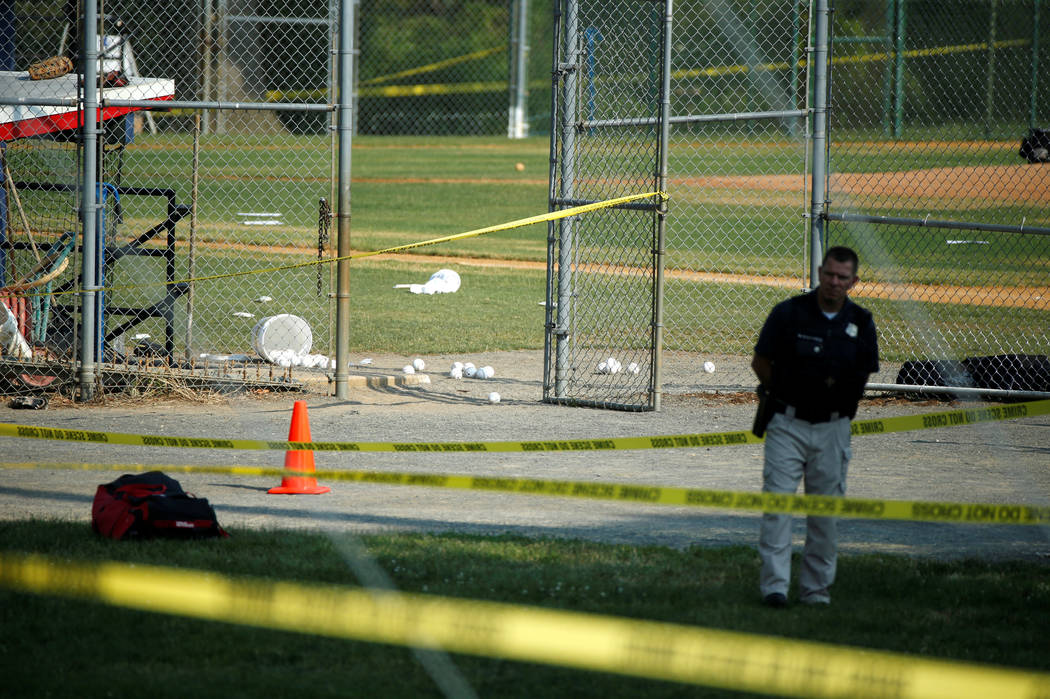 A gunman acted alone when he shot and wounded a top House Republican and four other people on a northern Virginia baseball field, the FBI said Wednesday.
Tim Slater, the special agent in charge of the Washington FBI office, also said during a news conference that James T. Hodgkinson did not have any ties to terrorism.
Rep. Steve Scalise, the House majority whip, was gravely wounded in the shooting last week. He has undergone several surgeries and remains hospitalized, and has been upgraded to fair condition.
MedStar Washington Hospital Center issued a statement Wednesday saying Rep. Steve Scalise, 51, of Louisiana is "beginning an extended period of healing and rehabilitation."
The Majority Whip was struck in the hip and the bullet shattered blood vessels, bones and internal organs along the way. Doctors said he had arrived at the hospital last Wednesday at imminent risk of death.
Scalise and other congressional Republicans were practicing for their annual charitybaseball game against Democrats when a gunman started shooting. U.S. Capitol Police and other officers returned fire and killed the gunman, who turned out to be an unemployed home inspector with a deep animus toward President Donald Trump and other Republicans.
The gunman was identified as James T. Hodgkinson, 66, who volunteered for Bernie Sanders' presidential campaign.
A female police officer with less than 2 years' experience withstood a barrage of gunfire from the gunman.
Alexandria Police Chief Michael Brown lauded the heroic actions of Officer Nicole Battaglia and two other officers who were the first to arrive at a field where GOP congressmen were practicing for the game.
Officers were first dispatched to the scene at 7:10 a.m. June 14, Brown said, and Officer Kevin Jobe, a 16-year Alexandria police veteran, arrived less than two minutes later. Battaglia and another officer, Alexander Jensen, arrived around the same time.