Federal charges filed against Cliven Bundy in Nevada standoff — VIDEO
February 11, 2016 - 8:47 pm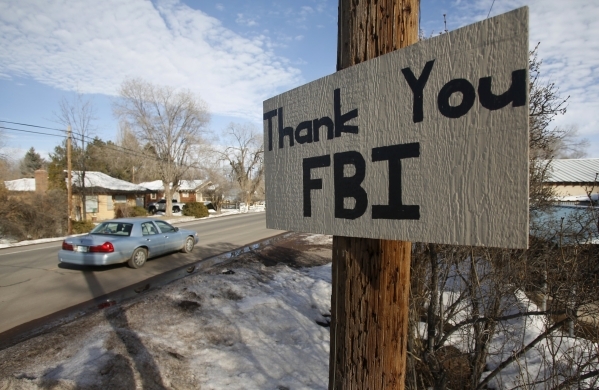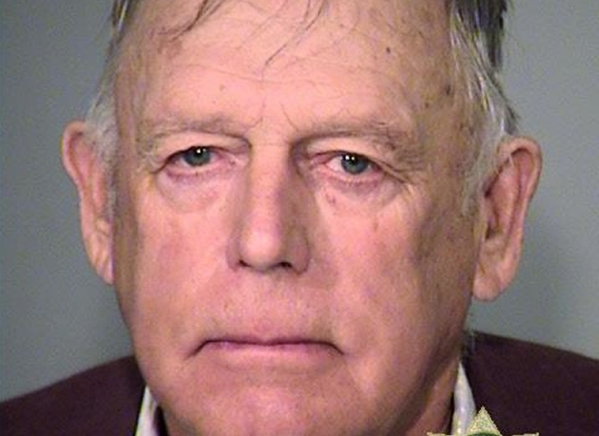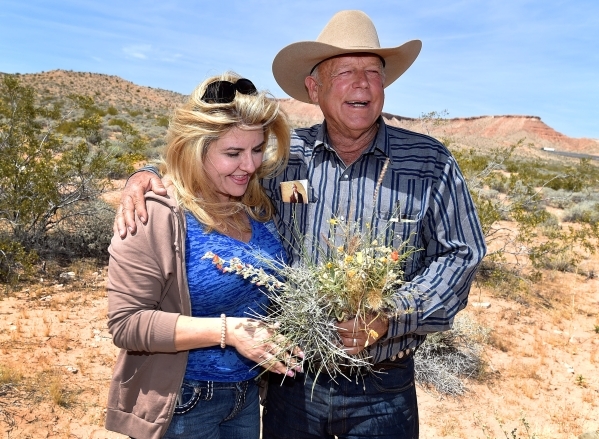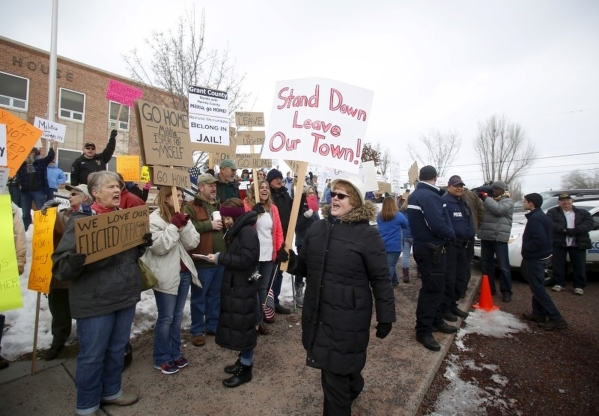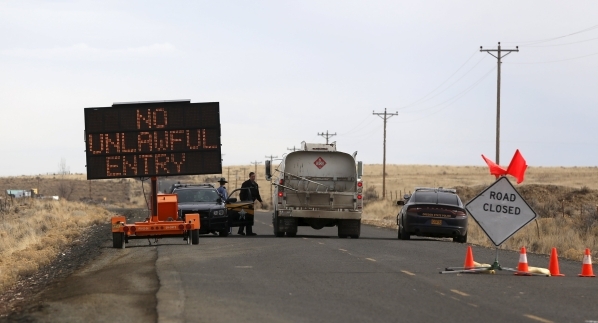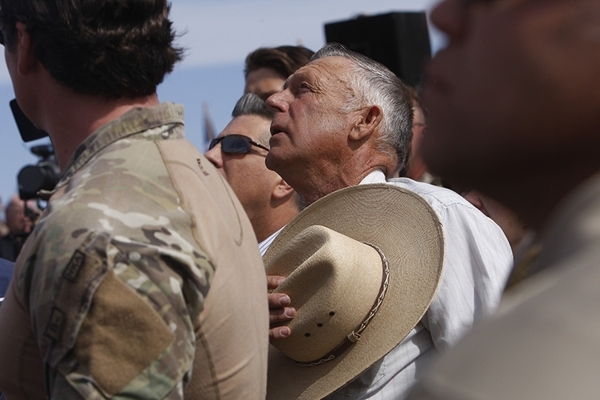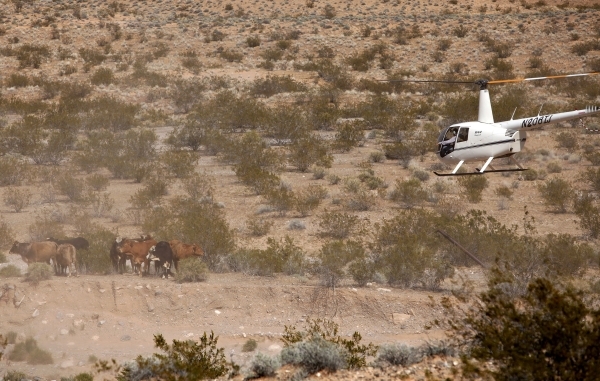 A six-count criminal complaint was filed Thursday in Las Vegas against Bunkerville rancher Cliven Bundy stemming from the April 2014 armed standoff with federal law enforcement officers.
Bundy, 69, who was arrested in Portland, Oregon, late Wednesday, was charged with leading a "massive armed assault" against authorities outside his ranch to force them to abandon roughly 400 Bundy cattle they had rounded up.
He had "trespassed his cattle" on federal public lands for more than 20 years, refusing to pay for required permits and thwarting federal court orders, the complaint alleges.
"Bundy was the leader, organizer and chief beneficiary of the conspiracy, possessing ultimate authority over the scope, manner and means of the conspiratorial operations and receiving economic benefits of the extortion," the complaint states.
Felony charges in the FBI complaint include conspiracy, extortion, assault on a federal law enforcement officer, obstruction of justice and carrying a firearm in a crime of violence.
The conspiracy to block the cattle roundup and to interfere with government operations is alleged to have continued even as the complaint was filed Thursday.
A federal magistrate in Portland on Thursday ordered that Bundy be held in custody. A detention hearing to determine if he will be allowed pretrial release is set for Tuesday. Bundy is expected to be returned to Las Vegas to face the charges.
The magistrate ordered that Bundy will be allowed a court-appointed attorney at taxpayer expense if he qualifies.
Nevada U.S. Attorney Daniel Bogden declined comment, saying the investigation is ongoing.
Bundy was on his way to support the four remaining armed occupiers of a national wildlife refuge in southeastern Oregon when FBI agents arrested him at Portland International Airport. Before leaving for Oregon, Bundy left a telephone message for a Review-Journal reporter, saying the "FBI has supposedly surrounded those people. … I'm headed there to see if I can save a life, I guess."
The protesters surrendered Thursday morning, ending the deadly standoff that began Jan. 2. Twenty-five people have been indicted for involvement in the refuge occupation, each facing at least one charge of conspiracy to impede a federal officer. On Jan. 26, protester Robert "LaVoy" Finicum, 54, of Cane Beds, Arizona, was shot and killed by Oregon state troopers who were trying to arrest him at a roadblock near Burns, Oregon.
Family to continue fighting
At Bundy Ranch along the Virgin River 80 miles northeast of Las Vegas, Bundy's daughter-in-law, Briana Bundy, 30, said the family will continue to fight federal control of public land.
"We're going to continue to run this ranch," she said. "We're going to continue to raise our babies, feed our cows and enjoy our faith and our freedoms. And we're going to continue to fight for those that we still have left."
Briana predicted the Bureau of Land Management will now try to remove Bundy's cattle from the Gold Butte range, finishing the 2014 roundup that was abandoned after a confrontation with self-styled militia who rallied to Bundy's side.
The 32-page federal complaint details the roles of four unnamed co-conspirators in the 2014 standoff, all of whom were arrested in Oregon. Bundy's sons Ammon, the alleged leader in Oregon, and Ryan were among those taken into custody there.
BLM and National Park Service rangers were outnumbered 4-to-1 by Bundy and his supporters at the height of the standoff on April 12, 2014, the complaint alleges. The lives of the rangers were threatened by Bundy-led snipers on a bridge at the center of the tense confrontation, which attracted national attention.
According to the complaint, Bundy is alleged to have: "Organized followers into bodyguards, armed patrols and security checkpoints for the purpose of using threats, force, violence and intimidation to protect the conspirators, prevent law enforcement actions against the conspirators, prevent the execution of federal court orders and prevent law enforcement officers from discharging their duties."
Bundy and his co-conspirators used "deceit and deception" on the Internet to recruit hundreds of supporters across the country to their cause, the complaint alleges.
Arrest applauded
Conservationists in Nevada hailed the rancher's arrest.
Annette Magnus is executive director of Battle Born Progress, an advocacy group pushing for permanent federal protection of the Gold Butte area south of Bundy's ranch near Bunkerville.
She said she is glad to see Bundy "finally being held accountable for his actions."
"This should have happened two years ago," Magnus said. "Mr. Bundy ignored fines, permits and multiple court orders, instigating a dangerous standoff with law enforcement officials rather than paying back the American taxpayers. This isn't fair to the American people or to the thousands of ranchers who abide by the law."
Rob Mrowka, senior scientist for the environmental group Center for Biological Diversity, said Bundy's arrest should "open the door to a prompt resumption of the roundup …"
"There are a large number of malnourished and starving cattle in the hostile desert there now," Mrowka said, "and come the brief spring green-up they will pose serious competition to emerging desert tortoises seeking nourishment after their winter hibernation."
Outside the Mesquite Wal-Mart, where FBI agents arrested a Bundy supporter Wednesday night on charges stemming from the Oregon takeover, a woman said the self-styled militia presence at the 2014 standoff amounted to "bullying."
"I think it's important that the gentleman realizes that he has to follow the law of the country," said the woman, who only gave her first name, Shelia, because she feared retaliation. "Taking over a town. Taking over this place over here. That's wrong. People got hurt whether it was physically or economically."
In Portland this week, a federal grand jury indicted nine more people in the Oregon standoff. Among them was North Carolina resident Jason Charles Blomgren, 41, who was arrested Wednesday night in Mesquite.
Blomgren appeared Thursday afternoon before a federal magistrate judge in Las Vegas on one felony count of conspiracy to impede federal officers and was ordered held without bail pending transfer to Oregon.
— Review-Journal writers Keith Rogers, Henry Brean and Carri Geer Thevenot contributed to this report. Contact Jeff German at jgerman@reviewjournal.com or 702-380-8135. Find him on Twitter: @JGermanRJ
Previous coverage
Full coverage of the feud between the Bundy family and the BLM