Gray wolf sighted at Grand Canyon, first since 1940s
October 31, 2014 - 1:51 pm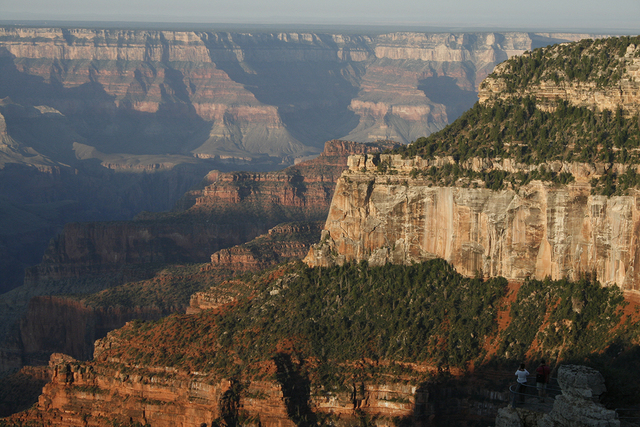 A gray wolf was recently photographed on the north rim of the Grand Canyon in Arizona in what would be the first wolf sighting in the national park since the last one was killed there in the 1940s, conservation groups said on Thursday.
The U.S. Fish and Wildlife Service was sending a team to try capturing the animal in order to verify its species and origin, although federal biologists are assuming it is a wolf unless otherwise determined, a spokeswoman said.
The agency later issued a statement saying a collared "wolf-like" animal had repeatedly been observed and photographed on U.S. forest land just north of Grand Canyon National Park, and that wildlife officials were "working to confirm whether the animal is a wolf or wolf-dog hybrid."
It said the collar "is similar to those used in the northern Rocky Mountain wolf recovery effort," and that feces would be collected for DNA analysis.
Several photos of the animal were taken over the weekend by a Grand Canyon park visitor who shared them with conservation activists and park staff, according to the Center for Biological Diversity, which first made the findings public.
A note accompanying images viewed by Reuters said two wolf biologists and "an experienced wolf observer" who reviewed the photos concluded they "appear to depict a radio-collared northern Rocky mountain gray wolf."
Any wolf roaming the Grand Canyon in north-central Arizona would be protected under the U.S. Endangered Species Act. If confirmed to be a western gray wolf, it would presumably have ventured hundreds of miles south from the Northern Rockies, where the animals were reintroduced in the 1990s and are now estimated to number nearly 1,700.
A separate smaller population, from a subspecies called the Mexican gray wolf, inhabits southeastern Arizona and western New Mexico, hundreds of miles in the opposite direction. But the animal in question appeared larger than a typical Mexican wolf, experts said.
The sighting comes as the Obama administration is weighing a proposal to lift Endangered Species Act protections for all wolves but the Mexican gray subspecies, even in states where wolves are not known to have established a presence.
Center for Biological Diversity executive Noah Greenwald said the new wolf sightings helped show such a move would be premature.
"It highlights … that wolves are still recovering and occupy just a fraction of their historic range," he said.
Reporting by Laura Zuckerman in Salmon, Idaho.