Hundreds mourn fallen Illinois officer Lt. Joe Gliniewicz — VIDEO
September 7, 2015 - 2:42 pm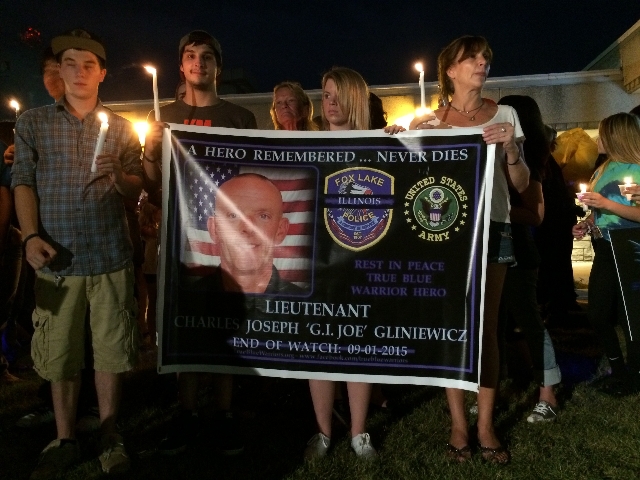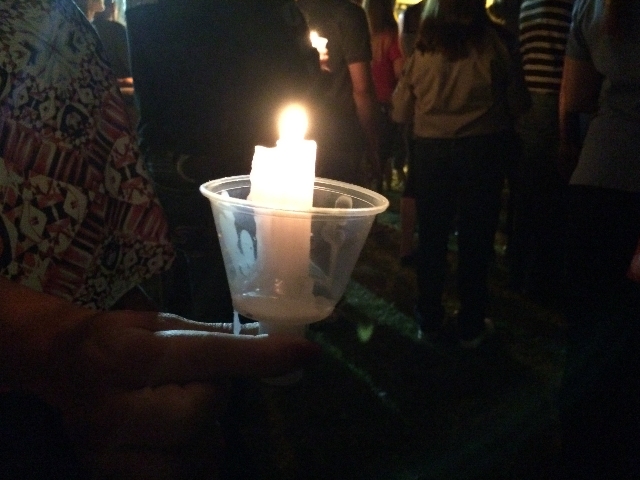 ANTIOCH, Ill. — Hundreds of mourners gathered in Illinois on Monday for the funeral of police officer Charles Joseph Gliniewicz, who was shot last week while pursuing three suspects who are still on the loose.
Police officers from nearby towns were among those who filled the Antioch Community High School auditorium to pay last respects to Gliniewicz, an officer for the village of Fox Lake in northwestern Illinois. Two overflow rooms were also nearly full.
"The nation now knows he's a hero," his brother Michael Gliniewicz, a member of the Antioch Fire Department, told mourners.
Outside the high school, hundreds of people lined the sun-washed streets to watch the funeral procession. They held American flags and tied blue ribbons around their wrists as a tribute to Gliniewicz.
Some held homemade signs saying: "Rest in Peace, Joe." Two fire-truck ladders held a large U.S. flag that waved in the wind.
Gliniewicz, a decorated 30-year veteran of the Fox Lake Police Department and the father of four boys who was known as "G.I. Joe," was killed on Tuesday. He was 52.
The suspects are believed by authorities to be two white men and a black man. They have eluded a manhunt that has drawn hundreds of police officers and investigators into Fox Lake, about 60 miles northwest of Chicago.
Police officers who spoke at the podium described Gliniewicz as a coffee lover who always had a smile on his lips and wanted to make a positive difference.
"Rest easy, my friend, we got it from here," said Jeff Dalton from the nearby Frankfort Police Department.
An 18-mile procession beginning after Gliniewicz's funeral will wind from Antioch through Lake County via Fox Lake and then return to Antioch. It will end at Hillside East Cemetery, where Gliniewicz will be buried.
Gliniewicz retired as a first sergeant in the U.S. Army Reserve and his awards as a police officer included a medal of valor. He also was involved in a youth law enforcement training program for about a decade.
Police have released few details of the encounter that led to Gliniewicz's killing, except to say he was pursuing three suspects on foot in a remote area when he was shot.
The last day of work
Gliniewicz was on his way to work Tuesday morning, in the cruiser he had taken home the day before, when he saw three suspicious people, Filenko said.
Gliniewicz was the type of officer who considered himself on duty as soon as he rolled into town, he said.
The lieutenant made the first call at 7:52 a.m. and called three minutes later to request backup. The backup units arrived at 8:01 and found their fellow officer dead, roughly 50 yards from his vehicle, at 8:09, Filenko said.
Authorities searched across tricky terrain and brought in helicopters, dogs, federal agents, night-vision equipment and body-heat sensors. Police cleared every building in a 2-square-mile, cordoned-off area and fielded more than 100 tips, Filenko said.
Despite the resources devoted to finding the suspects, police found no witnesses, he said.
Besides a home security video that Filenko mentioned Thursday, police said they also have one video from a truck driver who had a camera in his vehicle and was in the area Tuesday.
An autopsy has been completed, but authorities haven't released the results. The Northern Illinois Police Crime Laboratory was expediting its review of evidence to determine whether there was any fingerprint or DNA transfer, Filenko said last week, but police have not divulged whether that review was complete or what it revealed.
Gliniewicz, 52, was a hero to many in Fox Lake. Hundreds gathered Wednesday night for a vigil to honor the 30-year police veteran. He led the local police explorers' program, mentoring and training youths interested in becoming officers. He was a husband and father of four.
"Joe was my best friend and my world — my hero," spouse Melodie Gliniewicz told more than 1,000 people at the candlelight vigil.