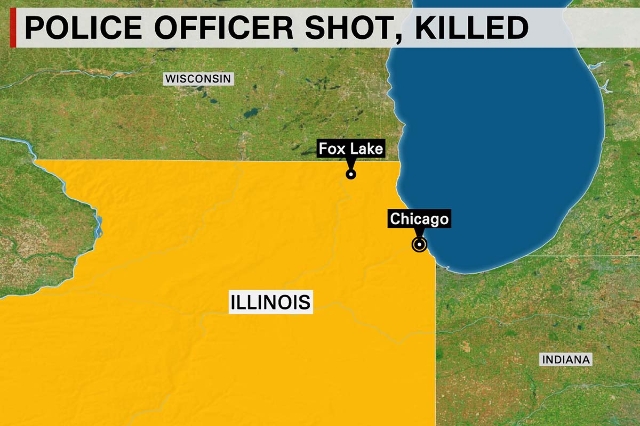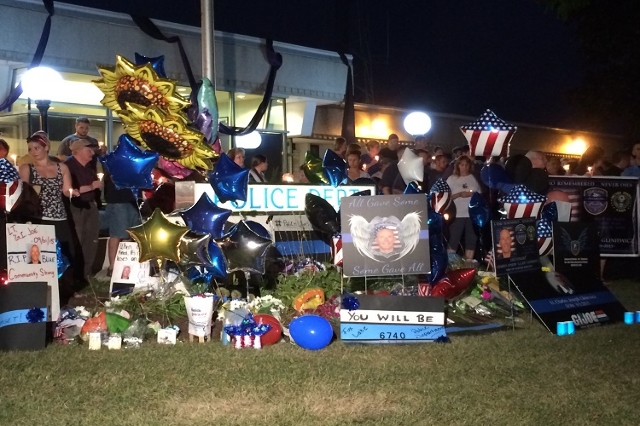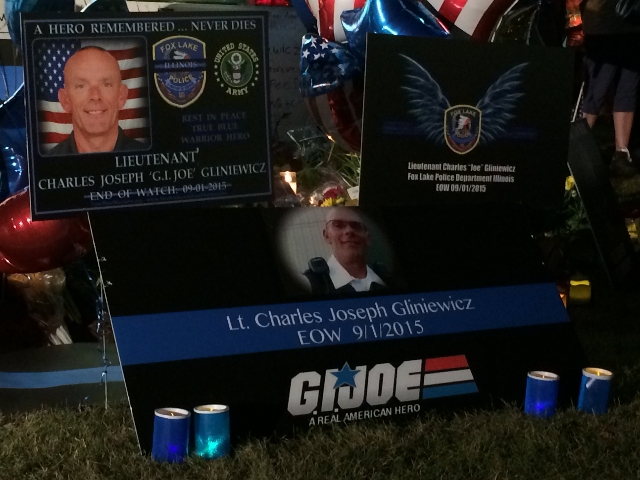 A suburban Chicago police officer whose shooting death has confounded investigators for weeks was killed with his own service weapon, authorities said Thursday.
George Filenko, commander of the Lake County Major Crime Task Force, told reporters that while DNA has been sampled from the scene in which Lt. Joe Gliniewicz was shot, no information about that aspect of the investigation would be released. He would only confirm that one DNA sample belonged to a man.
Gliniewicz died September 1. The lieutenant radioed dispatchers to say he was following three men into a heavily wooded area. He was later found shot dead there. The coroner has said he can't rule out a homicide, suicide or accident.
Two shell casings were recovered from the scene, Filenko has previously said.
No sightings of suspects
In the month since the shooting, there have been no confirmed sightings of the three men the officer said he was pursuing, authorities said.
Some federal law enforcement agencies have either reduced or ended their involvement in helping solve the shooting.
The U.S. Marshals Fugitive Task Force pulled out of the investigation last month because there were no suspects identified, according to a marshals service official.
In addition, the number of agents from the Bureau of Alcohol, Tobacco, Firearms and Explosives assigned to the case has dropped from 48 to 10, according to a bureau official.
The Lake County Sheriff's Office has said federal agencies are "fully involved" in the investigation.
Disorderly conduct charges related to case
The mystery of the case was punctuated recently when a retired Chicago police officer appeared in court to face disorderly conduct charges after threatening to harm investigators unless Gliniewicz's death was declared a suicide.
Joseph A. Battaglia, 54, is accused of making calls to the Lake County coroner's office, police agencies and media outlets, and threatening investigators "unless all the involved personnel declare Gliniewicz's death a suicide," according to a statement from the county sheriff's office.
He had no involvement in the Gliniewicz investigation.
Father of four
The Army veteran and father of four was on his way to work in the cruiser he had taken home the day before, when he said three suspicious men piqued his interest. He sent word over his radio that he was pursuing the trio on foot.
A few minutes later, he requested backup. Radio communication dropped off. Colleagues did not hear his voice again.
The backup units found their fellow officer dead, roughly 50 yards from his vehicle, officials said.
DNA belonging to someone other than Gliniewicz was found on his gun recovered at the crime scene, according to sources with knowledge of the investigation.
While Lake County officials said the case is being handled as a homicide, other theories remain on the table, including the possibility of a self-inflicted fatal gunshot wound.
Officers identified and interviewed three people caught on video taken by a home security system and a truck driver near the shooting scene. It was determined they were not involved in the shooting.
Gliniewicz planned to retire in August, but he was asked to stay on for another month.