In Orlando shooting's aftermath, residents gather to mourn, remember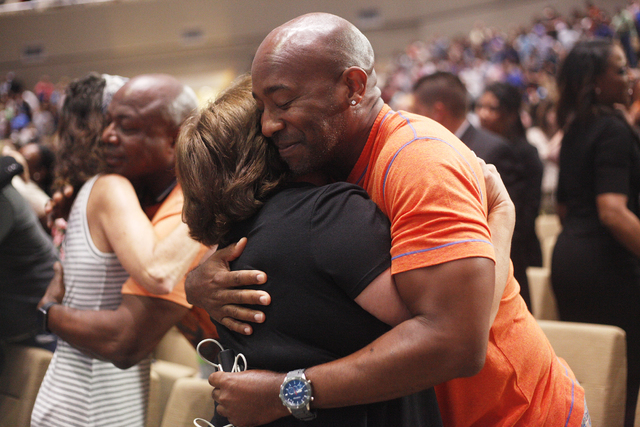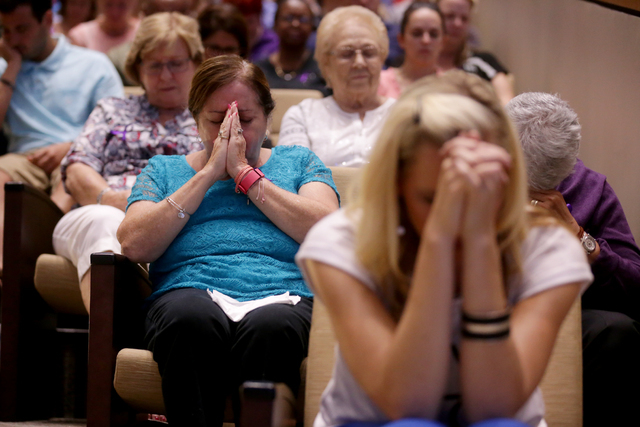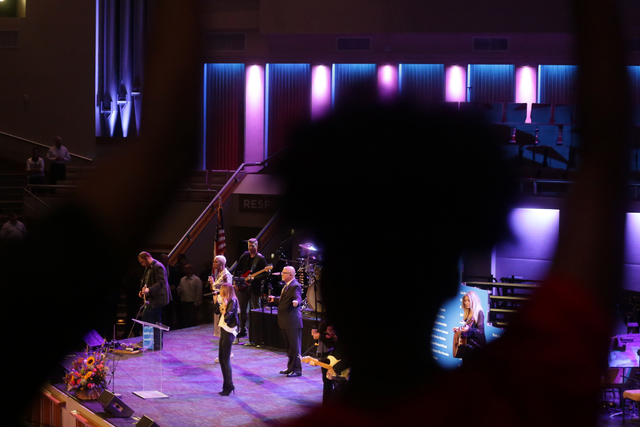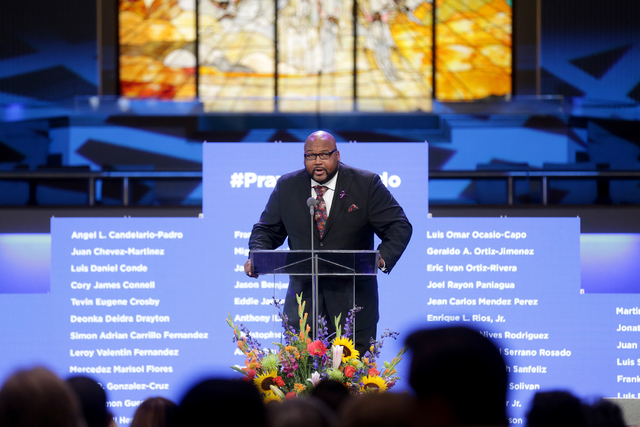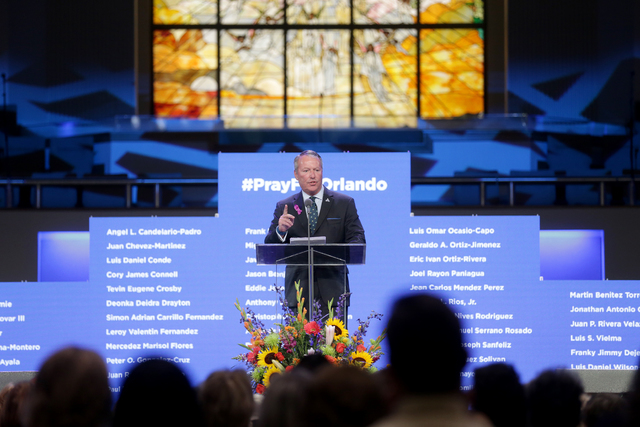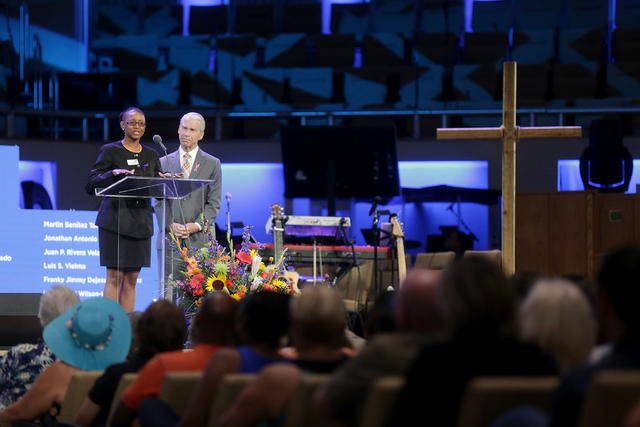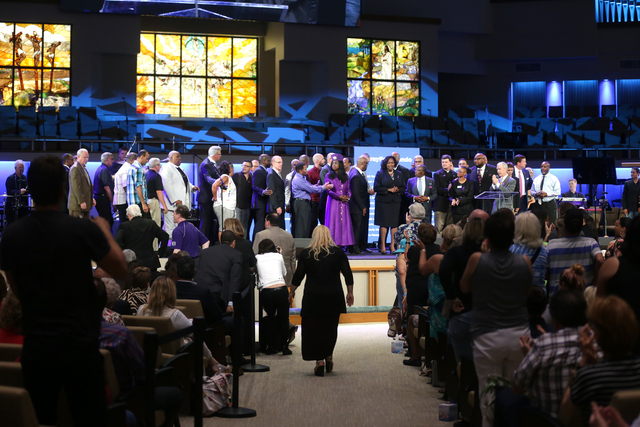 ORLANDO, Fla. — The flags hung at half-staff seemed to bow a little lower in this tourism-based city that mirrors Las Vegas in many ways.
Residents are still coming to grips with the terrorist-related tragedy Sunday morning in which 49 people died at the hands of a lone gunman who shot up a gay nightclub.
Tuesday was another day of mourning and remembrance. Nearly 3,000 people jammed the worship center of the First Baptist Church of Orlando to find comfort and healing in a multifaith service that included prayers for the victims and their families, inspirational music and a hopeful address from Orlando Mayor Buddy Dyer.
Dozens of other government dignitaries attended the vigil as did members of the band that backed up Christina Grimmie, a singer and finalist on the TV show "The Voice" who was shot to death by an obsessed fan after performing a concert in Orlando on Friday night.
David Swanson of the First Presbyterian Church of Orlando, who ministered to the band members and their families, paid tribute to Grimmie, whose own tragedy was overshadowed by the worst mass shooting in American history two days later.
The clergy gathered at the 1½-hour service that was broadcast live throughout Florida prayed for the city's leadership to guide them through potential economic hardships following the tragedy.
At one point in the service, Nino Gonzalez of Iglesia El Calvario, read the names of each of the mostly Hispanic victims; a responsive bell peal followed each name.
Each victim's name also was listed in a stairstep pyramid pattern on a video board that dominated the chancel of the modern worship center that seats 4,400 people.
Dyer, who has been praised for his leadership during the crisis, spoke for about six minutes, encouraging Orlandoans to stay strong.
"We come to the end of another day in a world where Orlando is now the site of the deadliest shooting in American history," Dyer said. "It's another day when the community is in pain, another day when we mourn the loss of loved ones, another day filled with anger and sadness, another day where our residents are walking around in a daze, looking at each other in the eyes and asking, 'Why?'
"Despite all the pain this community has been through, despite the questions with impossible answers, I am uplifted by the fact that we're ending another difficult day in just this fashion: together united as one Orlando."
Dyer said he does not expect the community to be defined by Sunday's event but by its ability to rebound. He then announced that an Orlando family assistance center would open Wednesday at Camping World Stadium, formerly known as the Citrus Bowl, to provide access to public services including grief counseling, funeral arrangements, lodging and travel arrangements for affected families and "a place to mourn with families of other victims or a place to go when you just don't feel like being alone."
"Everything in one place and everything will help for families because that's what we do for those we share our city with," Dyer said.
The mayor said there are still many unanswered questions that he and other city leaders will pursue in the days ahead.
"I certainly don't have the answers," he said, "but I do know one thing: We will get through this and we will be stronger because of it."
Dyer also thanked the first responders who first arrived the Pulse nightclub, the medical teams who treated the wounded and dying and the community for lining up for hours to donate blood.
"There's a painful irony in the fact that our city, which is so closely associated with joy and love known the world over, now has to wear the title of the site of the worst mass shooting in American history. We cannot change what happened and we cannot walk away from it, but we can show those who seek to harm us and the world that joy and love conquers violence and hate.
"Hate will not define us, hate will not defeat us because we are one Orlando united."
More public gatherings are planned through the week.
Contact Richard N. Velotta at rvelotta@reviewjournal.com or 702-477-3893. Find him on Twitter: @RickVelotta
RELATED
Trauma surgeons scrambled with rush of shooting victims in Orlando
Over $5.3M raised for victims of Orlando nightclub shooting
FBI checking reports that Orlando gunman was regular at gay nightclub
These are the victims of the gay nightclub massacre in Orlando
Authorities investigate if Orlando gunman had help
Obama, Clinton, Trump comment on Orlando massacre
Here's how Las Vegans can help the Orlando nightclub shooting victims