Large rock fall again hits Yosemite National Park, injuring 1
September 28, 2017 - 4:47 pm
Updated September 28, 2017 - 7:40 pm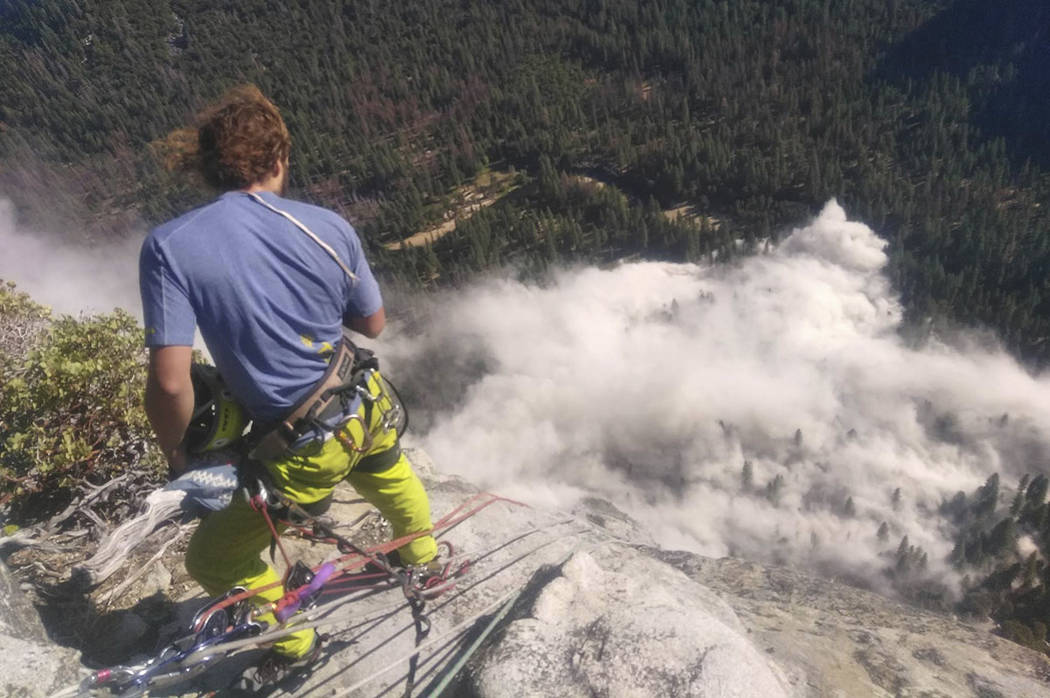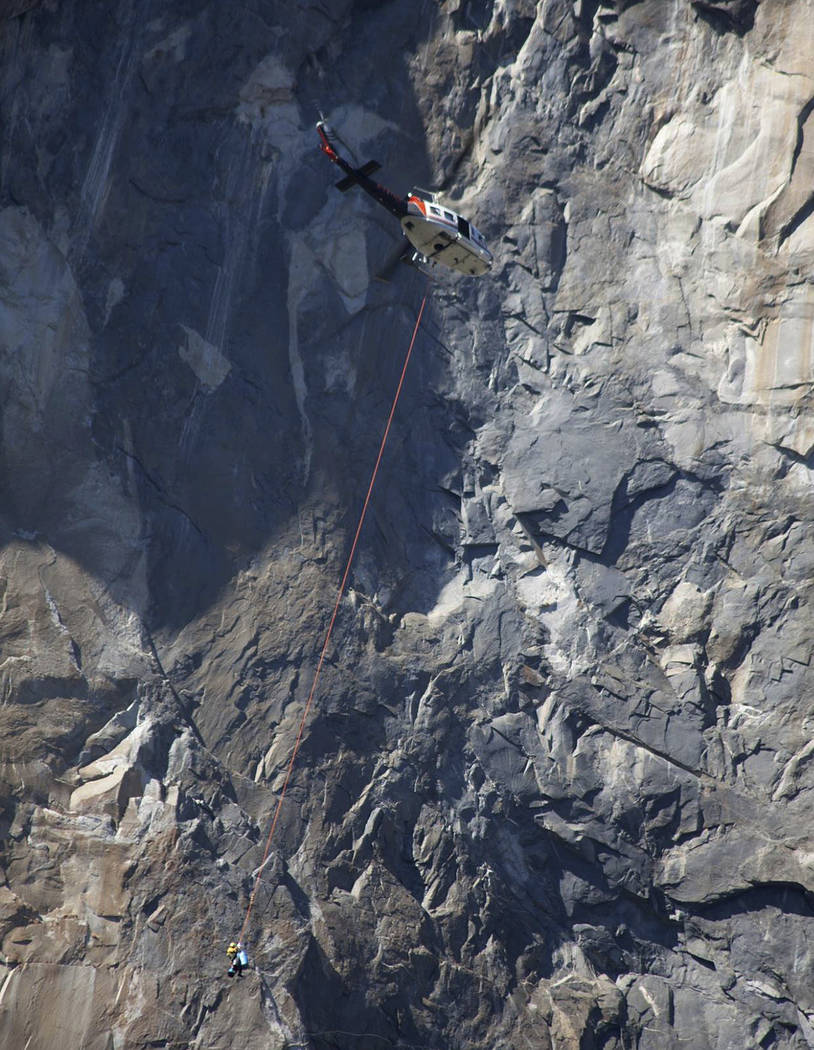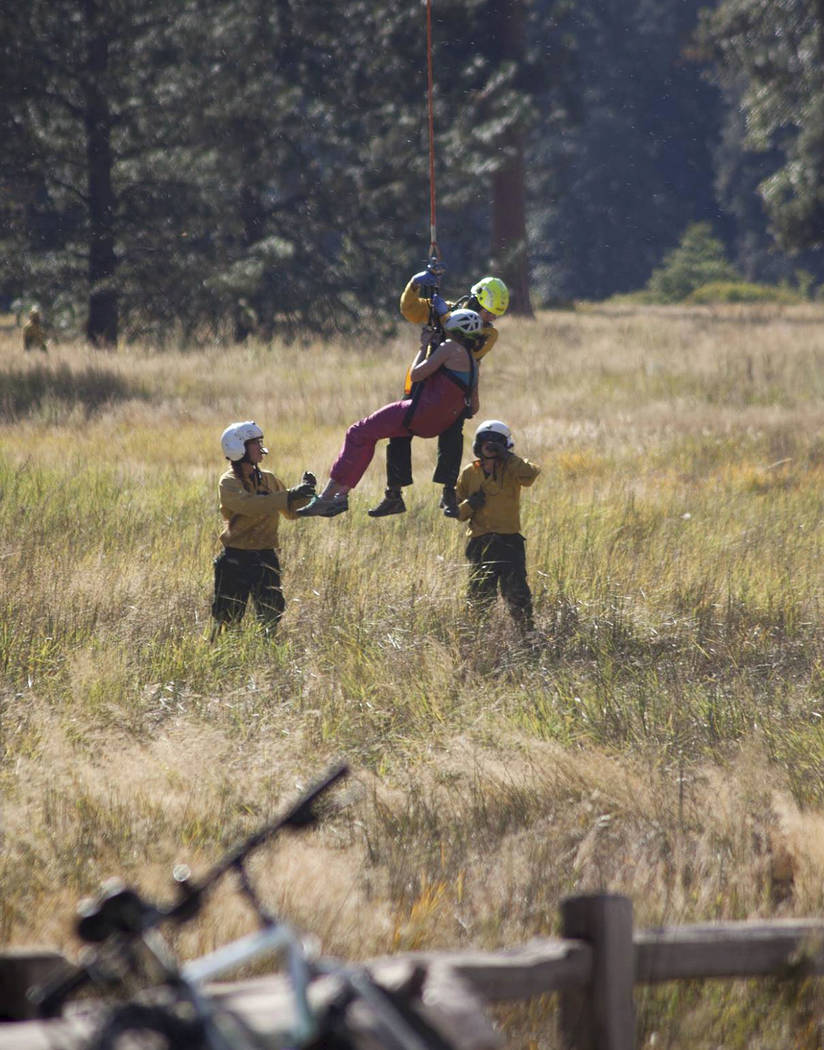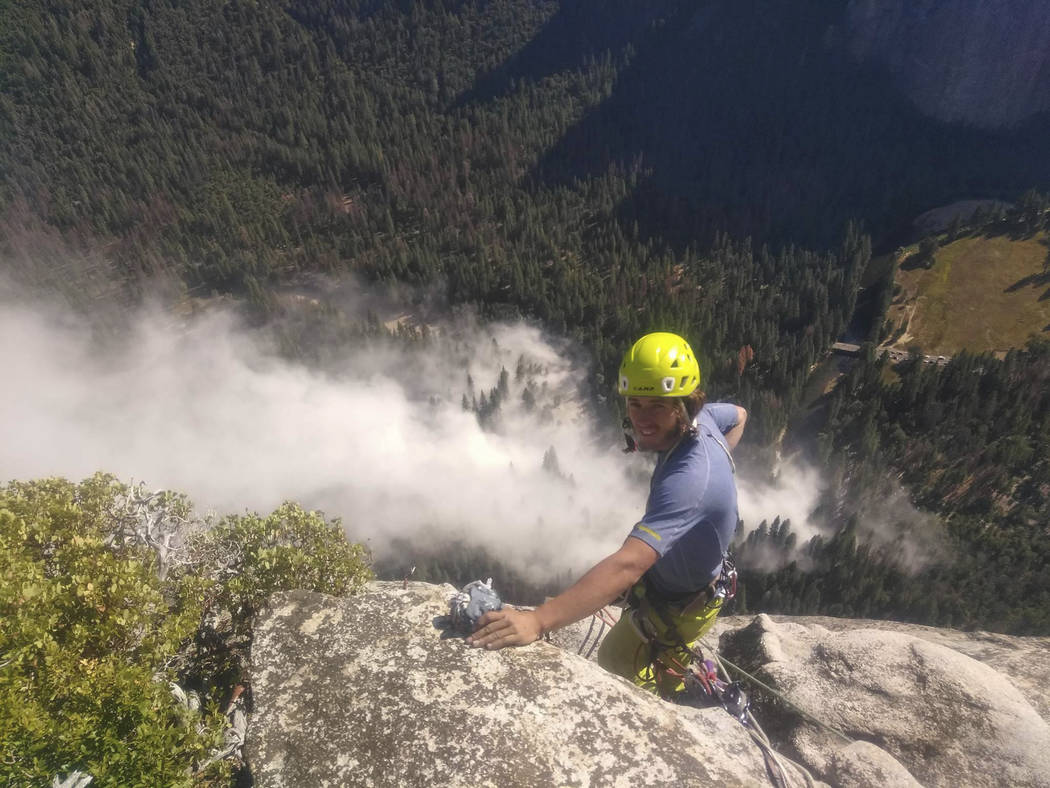 A massive new rock fall hit Yosemite National Park on Thursday, cracking with a thundering roar off the El Capitan rock formation, injuring one person and sending huge plumes of white dust surging through the valley floor below.
The slide came a day after a giant slab of granite plunged from the same formation, killing a British man on a hiking and climbing visit and injuring his wife.
One person was injured Thursday and was flown to a hospital, park ranger and spokesman Scott Gediman said. There was no immediate word on the person's condition.
Climber Ryan Sheridan had just reached the top of El Capitan when the rock slide let loose below him Thursday. "There was so much smoke and debris," he said by cellphone from the top of El Capitan. "It filled the entire valley with smoke."
Northside Drive exiting Yosemite Valley is closed due to a new rockfall off of El Capitan. Use Southside Drive to exit Yosemite Valley.

— Yosemite National Pk (@YosemiteNPS) September 28, 2017
Sheridan had also reached the top of El Capitan a day earlier, when the first rock slide occurred and said this one was huge in comparison.
"It was in the same location of the previous rock fall. A larger rock fall let loose, easily three times the size," Sheridan said.
Yosemite said on its Twitter page that the park was closing a road on the north side of the park because of the rock fall. Officials advised visitors to use the southern access road.
British climber died Wednesday
The massive granite slab that fell Wednesday from the iconic El Capitan rock formation in Yosemite National Park and killed a British climber was seen as a rare event — but only because the rock fall turned deadly, longtime climbers said Thursday.
Rocks at the world-renowned park's climbing routes break loose and crash down about 80 times a year. The elite climbers who flock to the park using ropes and their fingertips to defy death as they scale sheer cliff faces know the risk but also know it's rare to get hit and killed by the rocks.
"It's a lot like a lightning strike," said Alex Honnold, who made history June 3 for being the first to climb El Capitan alone and without ropes. "Sometimes geology just happens."
The last time a climber was killed by a rock falling at Yosemite was in 2013, when a Montana climber fell after a rock dislodged and sliced his climbing rope. It was preceded by a 1999 rock fall that crushed a climber from Colorado. Park officials say rock falls overall have killed 16 people since 1857 and injured more than 100.
The British man and his female companion were hiking at the bottom of El Capitan far from trails used by most Yosemite visitors in preparation for an ascent when the chunk of granite about 12 stories tall broke free and plunged, said park ranger and spokesman Scott Gediman. He died, she was seriously injured and authorities did not identify them Thursday pending notification of their relatives.
The slab itself was about 130 feet tall and 65 feet wide and fell from the popular "Waterfall Route" on the East Buttress of El Capitan, Gediman said.
Series of 7 rockfalls occurred on southeast face of El Capitan on Sept. 27, resulting in one fatality & one injury: https://t.co/G0JRYWE3z0. pic.twitter.com/n1dXLVftWN

— Yosemite National Pk (@YosemiteNPS) September 28, 2017
Fall not caused by climbers, says geologist
Canadian climber Peter Zabrok described the falling rock as "white granite the size of an apartment building." Images posted on social media immediately after it fell showed billowing white rock dust soaring high into the air.
Yosemite geologist Greg Stock said the rock fall was not caused by climbers, who wedge climbing gear into rock cracks so they can loop ropes to support their weight and the cliff-side tents they use for El Capitan climbs that generally take several days.
While the cause of the rock fall will never be known, Stock said the break was probably caused by the expansion and contraction of the monolith's granite as it heats up during the summer and gets cold and more brittle in the winter.
"The rock fall its self is nothing unusual," he said. "We have had larger rock falls occur in the Valley this year."
The deadly rock fall happened during the peak fall season for climbing El Capital, when climbers from around the world converge at Yosemite because of warm weather and long climbing days.
Climber John DeGrazio had just guided a group to the top of the Half Dome rock formation a few miles away when he saw large clouds of dust rising into the air near El Capitan. At least 30 climbers were on the wall of the 7,569-foot formation when the rock fell.
"I've seen smaller avalanches and smaller falls before where you would just see a tiny dust cloud, this was covering a good portion of the rock in front of us," said DeGrazio, of YExplore Yosemite Adventures, who has led climbers in Yosemite Park for 12 years.
Ken Yager, president and founder of the Yosemite Climbing Association, the rock that broke away "cratered and sent stuff mushrooming out in all directions."
Zabrok said he saw a rescuer lowered by helicopter and thinks he saved a survivor. He later saw rescuers moving someone on a litter.
The effort to save the two "was done at tremendous peril to the rescuers because there were three subsequent rock falls that were all nearly as big and would have killed anybody at the base," he said.
Gediman, the park spokesman, said the rock fall was among seven that happened in the same general area during a four-hour period. Rescuers found no other victims.
Officials had no immediate estimate for how much the big rock weighed. But Gediman said all of the rock falls combined on Wednesday weighed 1,300 tons.