Las Vegas shooting survivors face tragedy again in California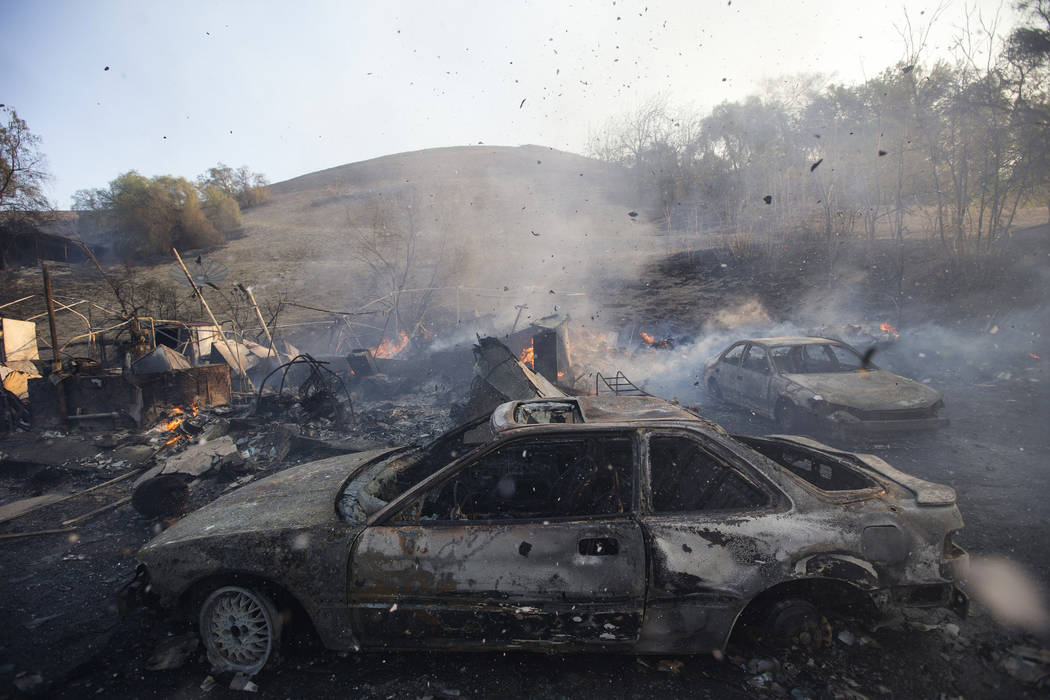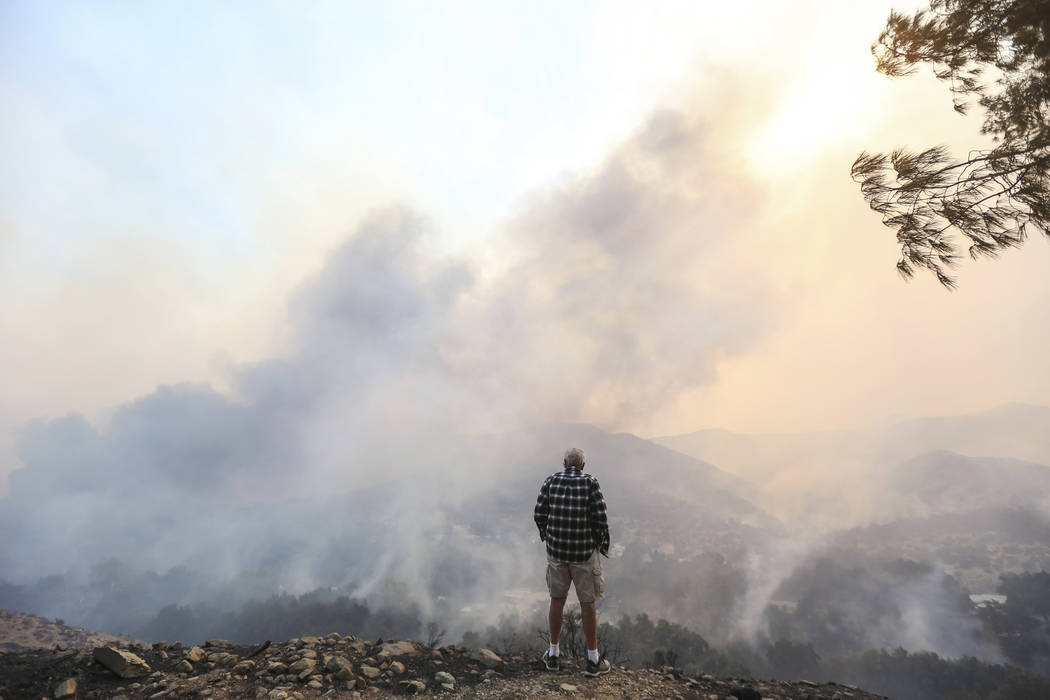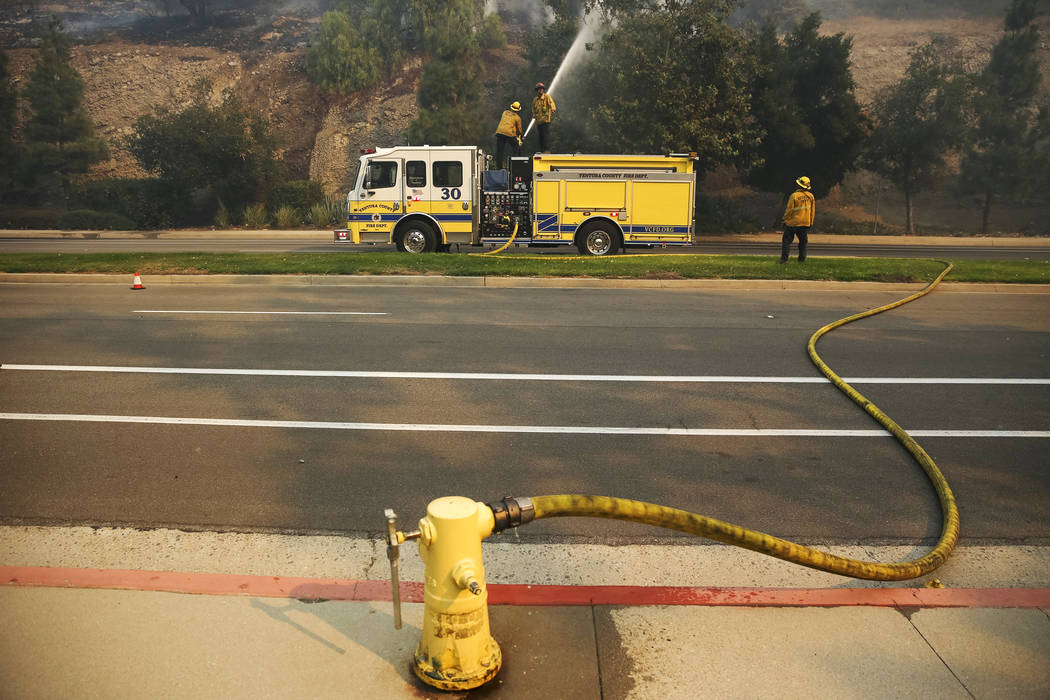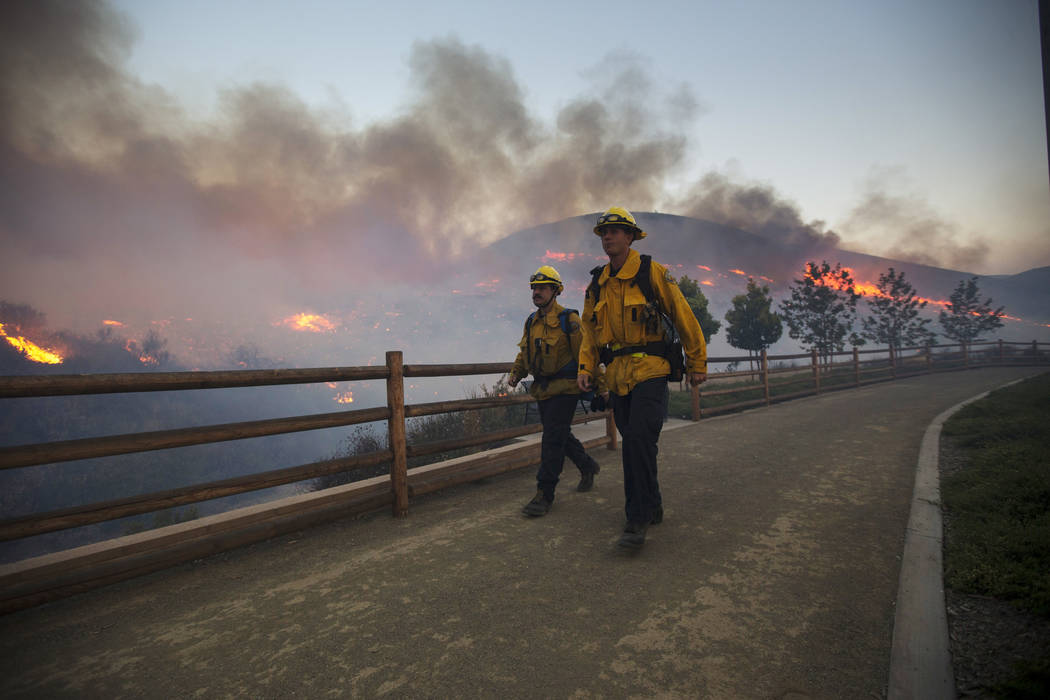 THOUSAND OAKS, Calif. — Swallowed overnight by a blanket of thick, dark smoke, Ventura County had little room left to grieve Friday.
Tragedy hit the Southern California community twice within 24 hours as more than 95,000 residents were forced out of their homes by two wind-driven fires, known as the Woolsey and Hill fires, following a deadly mass shooting late Wednesday that killed 12 people at a country bar tucked away in the hills of Thousand Oaks, which had been considered one of the safest cities in the nation.
Some of the thousands facing tragedy again Friday were survivors of both the shooting at the Borderline Bar and Grill and the Route 91 Harvest festival attack in Las Vegas. They included Brendan Kelly and Molly Maurer.
On Friday morning, Kelly and his family were preparing to evacuate their home in Thousand Oaks, his sister and mother told the Las Vegas Review-Journal as smoke from the fires billowed overhead. The family declined to comment further.
#CaliforniaFires pic.twitter.com/Cmqq5kwSF7

— 📸VEGASPHOTOGRAPH (@vegasphotograph) November 10, 2018
Kelly had found himself in a terrifyingly familiar scene Wednesday when the shooting unfolded about 11:15 p.m. during the bar's weekly College Country Night. A gunman had ignited a smoke device before opening fire less than an hour after the final group dance lesson of the night.
He was armed with a Glock 21, a .45-caliber handgun, with an extended magazine that is illegal in California.
As Thousand Oaks remained under threat from the wildfires, the investigation continued into what drove gunman Ian David Long, 28, to kill.
Maurer announced around 2 a.m. Friday on Facebook that she had safely evacuated her Ventura County home.
"Safety check-in part 2," she wrote. "We were evacuated and are safely at my mom's house."
Just 12 hours earlier, she had posted her first "safety check-in" on her Facebook profile after escaping the gunfire at the bar.
"I can't believe I'm saying this again," she posted, referring to the Route 91 attack. "I'm alive and home safe."
In April on the six-month anniversary of the Oct. 1, 2017, Las Vegas shooting, Kelly and Maurer, along with about a dozen others, were pictured together at the Borderline during a Route 91 survivors meetup. Last year, in the wake of the Las Vegas attack, the same bar hosted a "Country Strong" benefit concert for local victims.
Over the past year, the bar had become something of a home away from home for many survivors of the Las Vegas shooting, which left 58 people dead.
The Southern California fires — two of three major fires burning Friday in the state — broke out Thursday in Ventura County as the area was reeling from the country bar shooting.
The gusty winds also remain unforgiving. It's heartbreaking what the community of Ventura County has been through in just the three days — A mass shooting, wildfires & evacuations. pic.twitter.com/8NGGTUlWOF

— Rio L. (@riolacanlale) November 9, 2018
Air tankers swooped through the skies, making low passes to dump water and flame retardant as firefighters tried to protect homes amid gusts topping 60 mph.
As of about 2:40 p.m. Friday, according to the Ventura County Fire Department, more than 25,700 structures had been affected by the fires.
The flames creeping down the hillsides of Thousand Oaks were visible Friday from the city's teen center, which had transformed overnight into a shelter for evacuees. A day earlier, the facility had been where grieving family members had gathered and learned the fate of loved ones who had not returned from the Borderline.
"Oh God, it's almost biblical, right?" said longtime Ventura County resident Robert Nudelman, 67. "It's like we're just waiting for the next bad thing to happen."
Nudelman was told at about 1 a.m. to pack his belongings and abandon his home in Westlake Village.
On Friday afternoon, with nowhere to go, he walked along a busy road near his home and watched as crews struggled to contain a brush fire scorching the edge of a neighborhood perched on a hill.
"I just hope that everybody stays safe," he said. "But I'm positive the community will have no problem moving forward."
Contact Rio Lacanlale at rlacanlale@reviewjournal.com or 702-383-0381. Follow @riolacanlale on Twitter. The Associated Press contributed to this report.