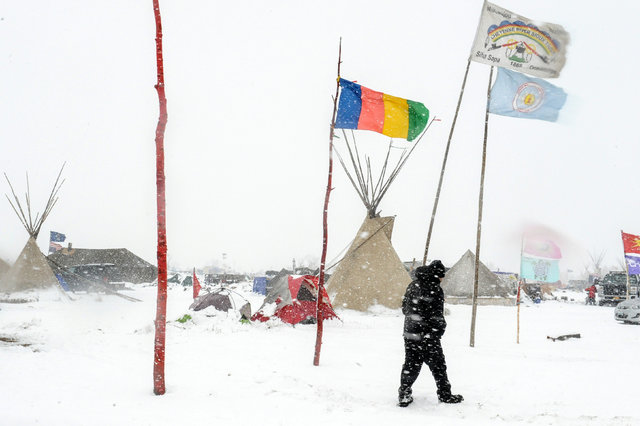 CANNON BALL, N.D. — North Dakota state officials on Tuesday backed away from plans to block supplies from reaching protesters at a camp near the construction site of an oil pipeline project after the governor's office said no such action was planned.
Activists have spent months protesting plans to route the $3.8 billion Dakota Access Pipeline beneath a lake near the Standing Rock Sioux reservation, saying the project poses a threat to water resources and sacred Native American sites.
Earlier on Tuesday, Maxine Herr, a spokeswoman for the Morton County Sheriff's Department, said food, building materials and other supplies would be blocked from entering the main camp following Governor Jack Dalrymple's "emergency evacuation" order on Monday.
However, a spokesman for the governor told Reuters on Tuesday afternoon that no such action was planned.
"There is not going to be any blockade of supplies," said spokesman Jeff Zent.
Following Zent's comment, Herr said law enforcement would take a more "passive role" than a enforcing a blockade. Officers would instead stop vehicles they believed to be heading to the camp and inform drivers that they were committing an infraction and could be fined $1,000.
"That is the understanding that we had initially but we had to get that clarified. The governor is more interested in public safety than setting up a road block and turning people away," Herr said by telephone.
The 1,172-mile pipeline project, owned by Texas-based Energy Transfer Partners LP, is mostly complete except for a segment planned to run under Lake Oahe, a reservoir formed by a dam on the Missouri River.
Thousands of people are protesting at camps located on U.S. Army Corps of Engineers land, north of the Cannonball River in Cannon Ball, North Dakota. The Sacred Stone camp, which was the original camp established in April, is south of the river on the Standing Rock Sioux reservation.
Opposition to the pipeline has galvanized numerous Native American tribes as well as environmental activists. The movement has been bolstered by social media campaigns and the support of celebrities including actors Mark Ruffalo and Shailene Woodley.
North Dakota officials have issued several requests for additional help from federal law enforcement in light of the demonstrators. However, the U.S. Army Corps of Engineers said on Monday that its order to evacuate the primary protest camp — known as Oceti Sakowin — by Dec. 5 would not include forcibly removing people from the land.
"Those who remain will be considered unauthorized and may be subject to citation under federal, state, or local laws," the Army Corps said, adding that enforcement of the order was up to local authorities.