Lawmakers talk gun control after Orlando nightclub shooting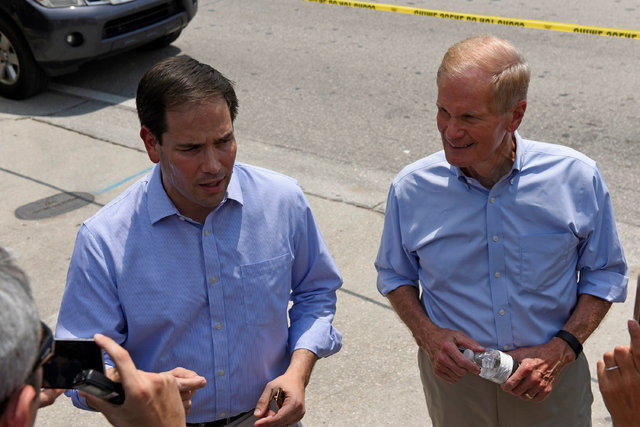 WASHINGTON – The deadliest mass shooting in U.S. history prompted calls on Sunday by some members of Congress for legislation to tighten control of weapons sales, although there were slim hopes for much change after 50 people were killed at a gay nightclub in Florida.
Democratic Senator Robert Casey said he would announce a bill on Monday that would ban anyone convicted of a misdemeanor hate crime from owning a firearm.
Under current law, those with felony convictions are prohibited from buying or possessing a gun, but those convicted of misdemeanor hate crimes are not.
Casey planned to make the announcement in his home state of Pennsylvania after a meeting with members of Pittsburgh's lesbian, gay, bisexual and transgender community.
Lawmakers, including some Republicans, have sought some gun restrictions after earlier mass shootings, but even minor changes failed to gain enough support to become law. Backed by the powerful gun lobby, many members of Congress see controls of weapons sales as a threat to Americans' constitutional rights.
Other Democrats also called for Congress to act after Sunday's attack in Orlando, some in strong terms.
Richard Durbin of Illinois, the No. 2 Senate Democrat, said the killings would prompt debate but not action. "The bottom line is that we allow dangerous people to buy guns in America and that has got to change," he said.
Democratic Senator Chris Murphy said the "epidemic" of gun violence would continue if Congress does not act and also said lawmakers shared responsibility.
"Congress has become complicit in these murders by its total, unconscionable deafening silence," he said in a statement. "This doesn't have to happen but this epidemic will continue without end if Congress continues to sit on its hands and do nothing – again."
A gunman killed 20 children and six staff members at Sandy Hook Elementary School in Newtown in Murphy's home state, Connecticut, in 2012.
The suspected Orlando attacker, identified as Omar Mateen, 29, a U.S. citizen who was the son of immigrants from Afghanistan, was carrying an AR-15 style assault rifle and a handgun, authorities said. The shooter in Newtown also had an AR-15.
Many Republicans, including the presumptive presidential nominee Donald Trump, focused on the threat from Islamist militants after the shooting, citing reports that Mateen was inspired by Islamic State.
The FBI said Mateen had twice been interviewed after making comments to co-workers indicating he supported militant groups, but neither led to evidence of criminal activity.
RELATED
50 dead, 53 injured after shooting at Orlando nightclub
Las Vegas LGBT center to hold vigil for Orlando shooting victims
Nevada reacts to Orlando nightclub shooting
'Heavily armed' man arrested near LA Pride parade
Lawmakers talk gun control after Orlando nightclub shooting
Orlando nightclub was sister's tribute to gay brother who died of AIDS