Maryland newspaper says it received threats after shooting
Updated July 1, 2018 - 4:19 pm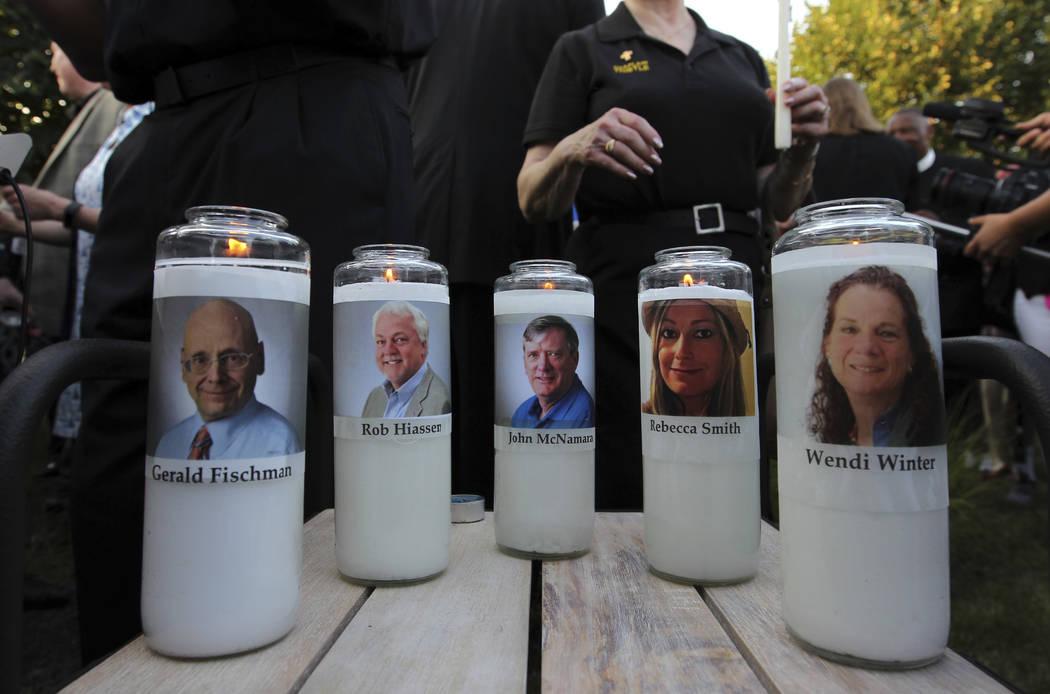 ANNAPOLIS, Md. — The Maryland newspaper where five people were killed by a gunman last week said it received death threats and emails celebrating the shootings following the attack.
The Capital Gazette said in a Sunday editorial that it would not forget being called "an enemy of the people." President Donald Trump has used identical language to describe the news media.
The Capital Gazette said people also called for the paper to fire a reporter who cursed on national television after seeing her friends shot.
The paper also thanked the community for its support following the shooting and said more than 800 people subscribed to its digital edition.
Jarrod Ramos is charged with murder after police say he opened fire Thursday at the Gazette offices in Annapolis.
Memorial services set for 2 slain journalists
Memorial services for two of the five victims killed in a shooting at the Maryland newspaper have been scheduled for next week.
The Baltimore Sun reports that a "celebration of life" for 59-year-old Rob Hiaasen will be held Monday at the Irvine Nature Center in Owings Mills.
The invitation says shorts are welcome, as the slain Capital assistant managing editor wouldn't have wanted attendees to have to wear a suit for him.
The newspaper says a memorial service for special publications editor Wendi Winters will take place at noon July 7 at the Unitarian Universalist Church of Annapolis.
Phoenix Geimer, one of Winters' daughters, announced the plans on Facebook. In lieu of flowers, Geimer urged well-wishers to make a donation to the Girl Scouts of America, the American Civil Liberties Union, Planned Parenthood, or the American Red Cross.