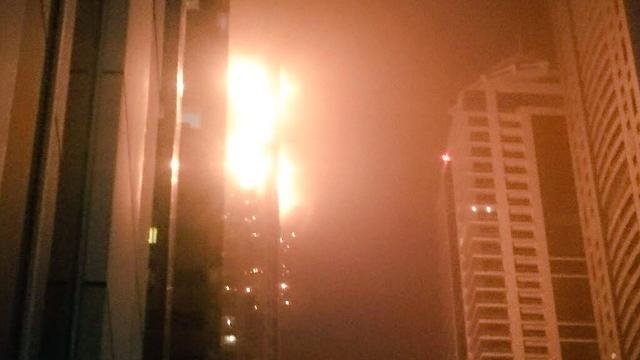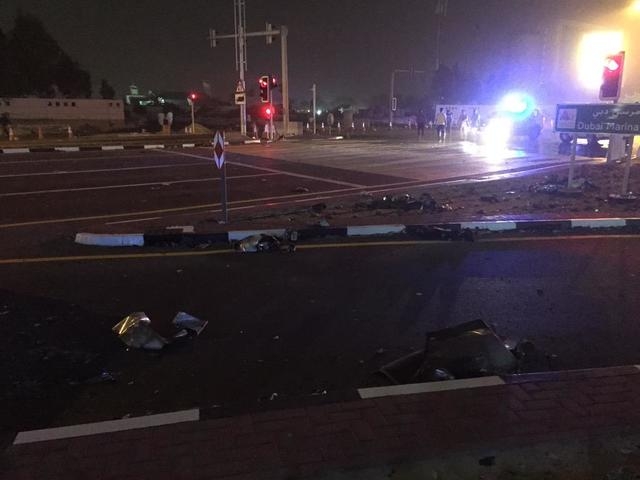 A fire that engulfed the higher floors of a Dubai residential high-rise tower has been extinguished, a Reuters witness on the scene on Saturday said.
Hundreds of residents were evacuated after the blaze erupted hours earlier in the building, one of the world's tallest residential buildings. It is located in the Dubai Marina district, which houses much of the Gulf emirate's expatriate community.
This is a developing story. Check back for updates.
A fire broke out early Saturday at a luxury apartment skyscraper in Dubai, engulfing several floors on at least three sides of the building and spewing flaming debris to the ground.
No deaths were immediately reported and it was unclear whether anyone was hurt in the fire at The Torch, an iconic building on the Dubai Marina.
The cause was not known, the Dubai Civil Defense said.
The fire started at 2 a.m. (2 p.m. PT Friday), when many people were out and enjoying the nightlife, witness Leah Polonenko said.
She shot video of the fire that showed flaming debris spilling from the building shortly after the fire started.
The building was still burning two hours later, but by 5:20 a.m., there was no sign of flames, CNN Arabic Producer Hamzeh Noami said from the scene.
He said hundreds of people were in the street, many of them residents.
At 79 floors, The Torch was the world's tallest residential tower when it was completed in 2011, according to the building's developer, Select Group.
It contains 676 residential units with 24-hour security and concierge, and six retail spaces.
A resident of a nearby building told CNN he was watching a movie when he saw the fire.
"We went to the balcony, then it was one side of the building (that) was burning," Jaime Mueller, 30, told CNN by phone.
"We went downstairs and a lot of people were watching," he said. "Then we saw another piece of fire fall, and it started the fire on the other side."