Militants connected to ISIL planned beheading in Australia
September 17, 2014 - 8:59 pm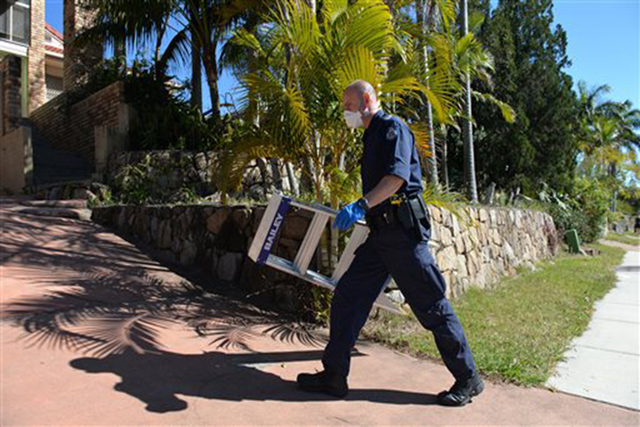 SYDNEY — Intelligence showed that militants connected with Islamic State were planning to behead a member of the public in Australia, Prime Minister Tony Abbott said on Thursday after hundreds of police raided homes in a sweeping counter-terrorism operation.
Abbott said there was a "serious risk from a terrorist attack" days after Australia raised its national terror threat level to "high" for the first time. The heightened alert cited the likelihood of attacks by Australians radicalized in Iraq or Syria.
Australia, which is due to host the Group of 20 Leaders Summit in Brisbane in mid-November, is concerned over the number of its citizens it believes are fighting overseas with Islamist militant groups.
Treasurer Joe Hockey insisted that the necessary precautions had been put in place for the G20 Leaders Summit. He dismissed concerns the raids could disrupt a meeting of G20 finance ministers this weekend in the tropical northern city of Cairns.
More than 800 police were involved in the pre-dawn security operation in Sydney and Brisbane, described as the largest in Australian history. At least 15 people had been detained, police told a news conference.
Australian Broadcasting Corp. and other local media reported earlier on Thursday that members of the group planned to snatch a random person in Sydney, Australia's largest city, and execute them on camera draped in the flag of the Islamic State militant organization.
Asked at a media conference in the Northern Territory about reports of plans to conduct a public beheading, Abbott said: "That's the intelligence we received."
"The exhortations, quite direct exhortations, were coming from an Australian who is apparently quite senior in ISIL to networks of support back in Australia to conduct demonstration killings here in this country," Abbott said, referring to the group otherwise known as Islamic State that has seized large swaths of territory in Syria and Iraq.
He did not identify the Australian.
A court official and police said a Sydney man identified as Omarjan Azari, 22, had appeared in court after the raids and been charged with conspiracy to commit a terrorist act and would remain in custody until a hearing in November.
Prosecutor Michael Allnutt told the court in Sydney that an attack was being planned that "was clearly designed to shock and horrify, perhaps terrify" the community, the Sydney Morning Herald reported.
Azari's lawyer, Steven Boland, did not apply for bail. Boland was not immediately available for comment
POLICE ON THE STREETS
Footage released by Islamic State militants fighting in Iraq and Syria in recent weeks purported to show the beheadings of American journalists James Foley and Steven Sotloff and British aid worker David Haines.
In 2013, British soldier Lee Rigby was hacked to death by two Muslim converts in London who claimed the attack was in retaliation for the killing of Muslims by British forces.
Police said the raids were focused in western Sydney and the Queensland state capital, Brisbane. Around half of Australia's population of roughly 500,000 Muslims lives in Sydney, with the majority in the western suburbs where the raids occurred.
New South Wales Police Commissioner Andrew Scipione said he had ordered an increased police presence onto the streets after the raids to prevent "troublemakers" taking advantage of heightened tensions.
Up to 160 Australians have either been involved in the fighting in the Middle East or actively supporting it, officials said. At least 20 are believed to have returned to Australia and pose a national security risk, the head of Australia's spy agency said when raising the threat level last week.
Highlighting the risk of homegrown militants returning from the Middle East, Abbott pledged on Sunday to send a 600-strong force as well as strike aircraft to join a U.S.-led coalition fighting Islamic State militants in Iraq.
Australia had been at the "medium" alert level since a four-tier system was introduced in 2003. A "high" alert level is used when officials believe an attack is likely, while a "severe" level means they believe an attack is imminent or has occurred.