New threats emerge in outbreak even as China voices optimism
February 20, 2020 - 9:15 am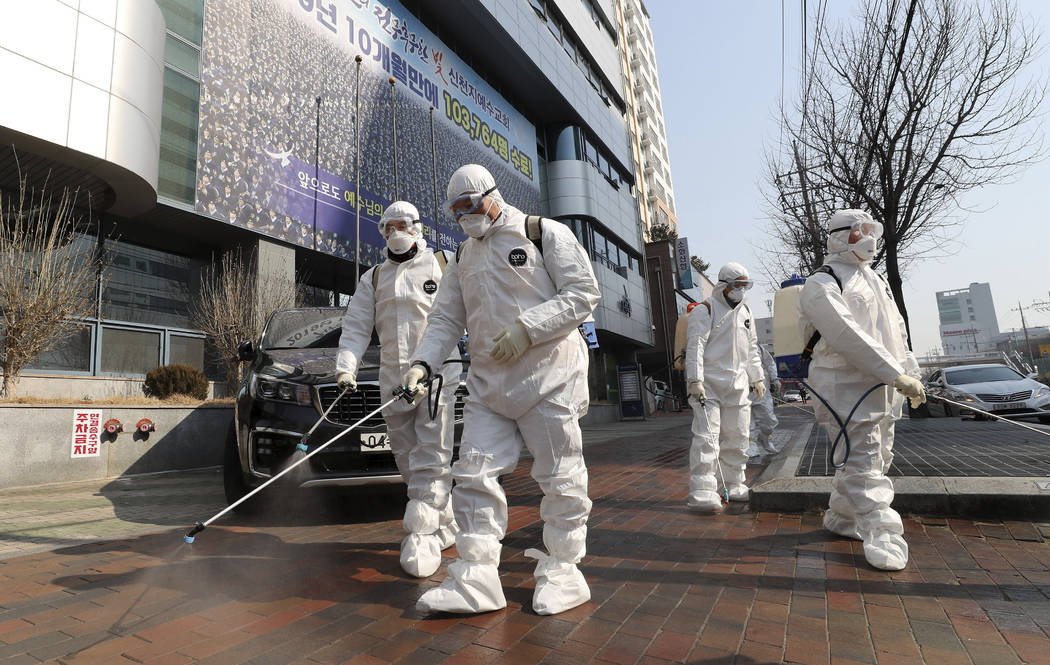 BEIJING — Chinese health officials expressed new optimism Thursday over a deadly virus outbreak while authorities in South Korea's fourth-largest city urged residents to hunker down as fears nagged communities far from the illness' epicenter.
The confidence voiced by China's government came as it reported a reduced number of new infections. But doubts remained about the true trajectory of the epidemic as China again changed its method of counting and new threats emerged outside the country.
"The downward trend will not be reversed," insisted Ding Xiangyang, deputy chief secretary of the State Council and a member of the central government's supervision group.
Whatever promises were aired where the illness poses its biggest threat, countries around the world continued to grapple with the rippling effects. The latest front in the widening global fight against COVID-19 emerged in Daegu, South Korea, where the city's 2.5 million residents were urged to stay inside, wearing masks even indoors to stem further infection.
Mayor Kwon Young-jin made a nationally televised appeal for those preventative measures, warning that a rash of new cases could overwhelm the health system. He pleaded for help from the country's central government.
Flare-up 900 miles away
Daegu and surrounding towns reported 35 new cases of the coronavirus on Thursday.
The flare-up came more than 900 miles from COVID-19's epicenter across the Yellow Sea in China's Hubei province and its capital of Wuhan, a sign of the risks the virus potentially poses to communities across the region and beyond.
"Everything that is not known about this is causing concern," said Dr. David Heymann, a professor of infectious disease epidemiology at the London School of Hygiene and Tropical Medicine.
Though all but about 1,000 of more than 75,000 reported cases of COVID-19 have been recorded in China, scattered cases have erupted elsewhere.
Iran announced three more infections Thursday, a day after the country's state-run news agency, IRNA, reported its first two deaths stemming from the virus. In addition, South Korea reported its first fatality and Japan said two former passengers of the Diamond Princess cruise ship had died of the illness, bringing the death toll there to three.
Other deaths confirmed by the World Health Organization outside mainland China include two in Hong Kong and one each in France, the Philippines and Taiwan.
Changing mesures cloud outlook
The trajectory of the outbreak remained clouded by China's zigzagging daily reports of new cases and shifting ways of tallying them.
The number of new cases in China declined again Thursday, to 394, a notable shift from the 1,749 figure released a day earlier. Another 114 deaths in China were linked to the virus.
But those statistics came after yet another change in how cases are counted.
Last week, China's National Health Commission said officials in Hubei would record new infections without waiting for laboratory test results, relying instead on doctors' diagnoses and lung imaging. On Thursday, though, it returned to its prior way of counting, a decision sure to aggravate observers who say consistency is key to understanding COVID-19's path.
The health commission said it was reducing its count of infections by 279 after lab tests found they had wrongly been included in the tally.
Nebraska detainees prepare to leave
The 57 Americans who've been held in quarantine at a Nebraska National Guard camp are preparing to leave Thursday and are in good health, a federal health official said.
They landed at Omaha's Eppley Airfield on Feb. 7, having flown from the Wuhan region of China, the center of the COVID-19 outbreak.
They soon were bused to Camp Ashland southwest of Omaha, where they've been biding their time with daily health checks, staying in hotel-style rooms and having no contact with soldiers in training there. The evacuees include more than a dozen children.
One of the 57 who developed a cough about a week later was tested for COVID-19 at a special isolation unit on the University of Nebraska Medical Center campus in Omaha. It came back negative, and she returned to the camp.
They've not been asked to wear masks or take any other health measures as they leave or once they arrive home, said Joe Smith, a spokesman for the Centers for Disease Control and Prevention.
"There is no need. These are healthy people," he said Thursday.
Thirteen more evacuees who flew in Monday are being held in quarantine or biocontainment units at the University of Nebraska Medical Center campus.