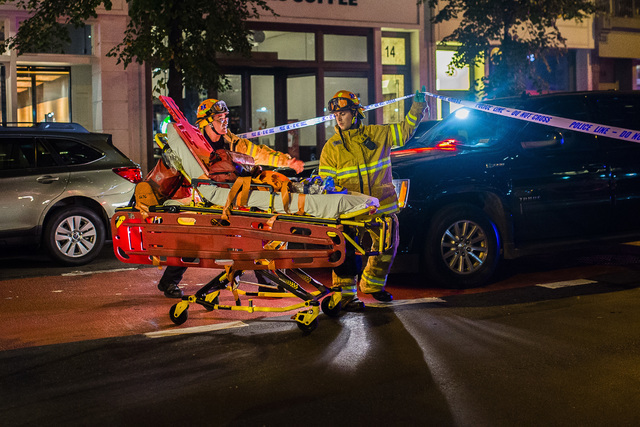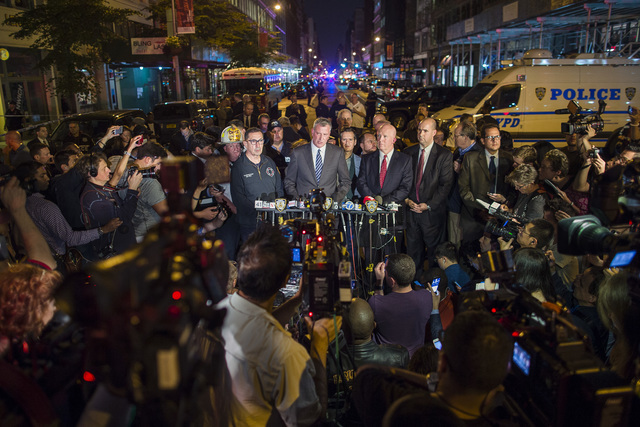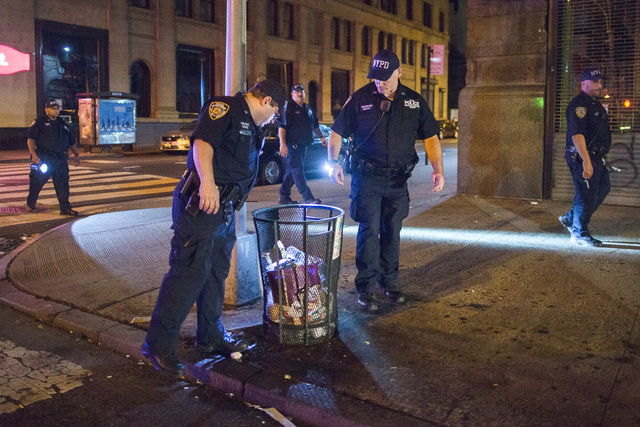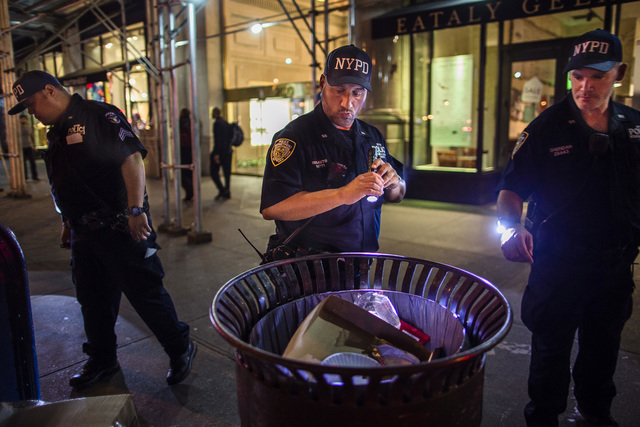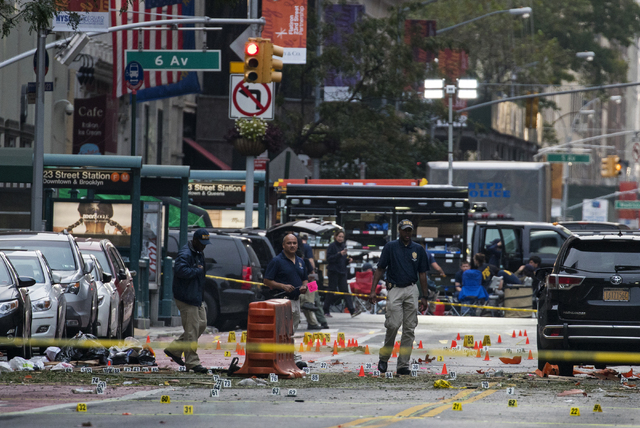 NEW YORK — Gov. Andrew Cuomo said Sunday a blast that injured 29 people in Manhattan was caused by some kind of bomb, but the attack didn't appear to be linked to international terrorism.
Cuomo, speaking near the scene of the Saturday night blast, told reporters a second device found blocks away from the first explosion appeared "similar in design" to the first, though investigators are still testing its remnants after it was removed by a bomb squad robot and blown up at a police facility in the Bronx.
The bombing rocked the city's Chelsea neighborhood, a mostly residential part of Manhattan's west side known for its art galleries and large gay population. Witnesses described hearing a deafening blast, and surveillance video footage captured images of nearby windows being blown out by the explosion as people sprinted away from the scene.
"We will find whoever planted these explosives and they will be punished," said Cuomo, a Democrat. He said all 29 people who were injured have been treated and released from a hospital.
Members of the FBI's Joint Terrorism Task Force are investigating the blast along with New York Police Department detectives, fire marshals and other federal investigators. As a precaution, Cuomo said he was deploying an additional 1,000 state troopers and members of the National Guard throughout New York City.
The first device, which exploded on West 23rd Street at about 8:30 p.m., appeared to have been caused by an improvised explosive device placed inside a toolbox in front of a building undergoing construction, according to a law enforcement official who spoke to The Associated Press on condition of anonymity because the official wasn't authorized to discuss an ongoing investigation.
The second device, found later inside a plastic bag on West 27th Street, appeared to be a pressure cooker with wiring and a cellphone attached to it, the official said. A spokesman for the Bureau of Alcohol, Tobacco, Firearms and Explosives in New York said investigators are examining the remnants of the device to determine how it was comprised, including whether it was real or fake.
Investigators were also probing whether the Manhattan blast was in any way related to a pipe bomb explosion in Seaside Park, New Jersey, before a charity 5K race to benefit Marines and sailors earlier Saturday. The race was canceled and no one was injured.
Mayor Bill de Blasio, speaking at the scene of the explosion Saturday night, said that there didn't appear to be a connection between the two incidents. He called the explosion an "intentional act" but said there was no known "specific and credible threat against New York City."
"Now, I want to be clear: Whatever the cause, whatever the intention here, New Yorkers will not be intimidated," he said.
Chris Gonzalez, visiting from Dallas, was having dinner with friends at a restaurant in the area.
"We felt it. We heard it," Gonzalez said. "It wasn't like jolting or anything. Everyone just went quiet."
Rudy Alcide, a bouncer at Vanity Nightclub at 21st Street and 6th Avenue, said he, at first, thought something large had fallen.
"It was an extremely loud noise. Everything was shaking, the windows were shaking," he said. "It was extremely loud, almost like thunder but louder."
Donald Trump appeared to pre-empt New York City officials when he declared Saturday evening that a "bomb went off" in New York City before officials had released details.
"I must tell you that just before I got off the plane a bomb went off in New York and nobody knows what's going on," Trump said, minutes after stepping off his plane during a rally at an airport hangar in Colorado Springs, Colorado.
He continued: "But boy we are living in a time — we better get very tough, folks. We better get very, very tough. It's a terrible thing that's going on in our world, in our country and we are going to get tough and smart and vigilant."
The Republican presidential nominee made the comments around 9:10 p.m., shortly after the explosion in Manhattan's crowded Chelsea neighborhood and as emergency officials were responding to the blast.
Local authorities have said they believed the explosion, which injured 29, was an "intentional act," but declined to answer questions about the cause at a news conference that began about two hours after Trump spoke.
New York City Mayor Bill de Blasio said then that it was "too early to determine specifically what the incident was caused by" and that the investigation was still underway.
A spokeswoman for Trump did not respond to an email asking whether Trump was briefed about the incident before taking the stage.
Trump's rival Hillary Clinton, meanwhile, sought to present a more cautious response, underscoring the difference between the two candidates' styles.
Clinton was briefed on the incidents shortly after her speech to the Congressional Black Caucus Foundation dinner in Washington.
After landing in suburban New York City, Clinton told reporters she had been briefed "about the bombings in New York and New Jersey and the attacks in Minnesota." She said, "we need to do everything we can to support our first responders — also to pray for the victims. We have to let this investigation unfold."
Clinton was referring to a pipe bomb that exploded in a New Jersey shore town and reports of a shooting and the stabbings of eight people at a Minnesota mall.
Clinton, asked about Trump's saying that a "bomb" had gone off in New York, said it was "important to know the facts about any incident like this," adding, "I think it's always wiser to wait until you have information before making conclusions, because we are just in the beginning stages of trying to determine what happened."