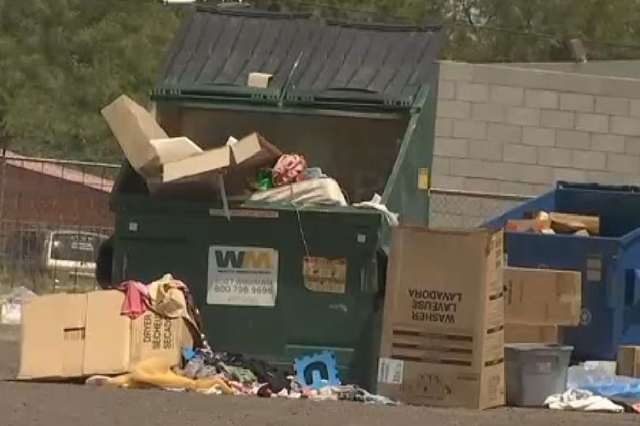 GLENDALE, Ariz. — It was a grim discovery in a Glendale dumpster on Saturday morning.
Someone had wrapped a newborn baby in a towel, put it in a bag and stuffed the bundle into the dumpster overnight.
"I opened the bag up, the towel opened up, and there was the baby," a man known as "Birdman" on the street told KPHO TV. "As soon as I found it, I told my girlfriend, 'Call 911; I just found a baby, a dead baby,' " he said.
Birdman says he and his girlfriend were searching for plastic bottles and metal cans shortly after midnight just behind a Food City. At first he thought the bundle was a toy, but further inspection would prove otherwise.
"I put the flashlight on it, touched it, made sure it was a baby. It was a baby," he said.
Glendale police believe the baby boy was born just shortly before it was placed in the dumpster.
"We just don't have a lot of answers," said Sgt. David Vidaure with the Glendale Police Department.
Police say what is particularly disturbing about this case is that just eight blocks away at Fire Station 2 is a Safe Baby Haven. The person could have easily just left that little boy with a firefighter, with no questions asked.
"There are options out there. If you're a mother who's giving birth who at some point decides that you can't handle or don't want the responsibility, there are options," Vidaure said.
It could have been a chance at life for the baby boy. Now, it's a disturbing image Birdman will never forget.
"I couldn't believe people would do that to a baby. Throwing it in a dumpster just isn't right. It isn't right," Birdman said.
Police are turning to the public for help in identifying the newborn and tracking down the persons responsible for the incident.
"We would like to specifically ask that they are mindful of any women they know who suddenly and mysteriously no longer appear pregnant, but do not have a newborn child with them," Vidaure said.
People with information should call the Glendale Police at 623-930-3000 or Silent Witness at (480)-WITNESS with tips or information.