No ground war in Iraq, Obama tells troops
September 17, 2014 - 12:58 pm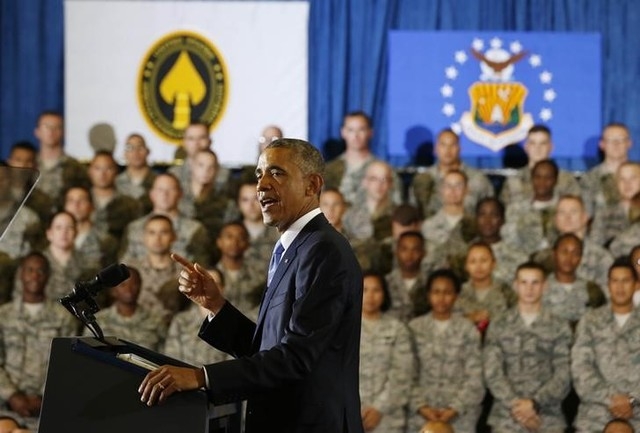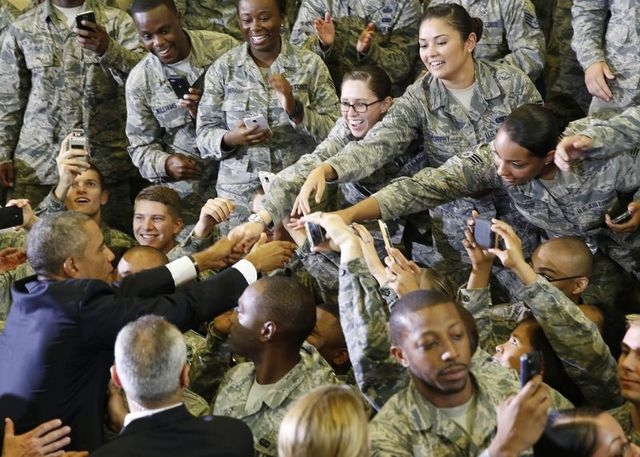 MACDILL AIR FORCE BASE, Fla. — President Barack Obama, trying to reassure war-weary Americans, vowed on Wednesday the United States will not fight another ground war in Iraq but his spokesman said some military advisers could end up in front-line positions against Islamic State.
Obama, who has spent much of his presidency distancing himself from the Iraq War, stressed that airstrikes would be the central U.S. contribution to the fight against Islamic State in Iraq and Syria, along with coordinating a coalition that he said now includes more than 40 countries.
"I want to be clear. The American forces that have been deployed to Iraq do not and will not have a combat mission," Obama said in a speech at MacDill Air Force Base in Tampa.
"We will train and equip our partners. We will advise them and we will assist them. We will lead a broad coalition of countries who have a stake in this fight," he said.
His spokesman Josh Earnest said some U.S. military advisers could be deployed to forward positions to help direct Iraqi security forces and call in airstrikes, but said they would "not be personally or directly engaging the enemy."
On Tuesday General Martin Dempsey, chairman of the U.S. military's Joint Chiefs of Staff, had raised concerns among some of Obama's fellow Democrats when he said some American military personnel could eventually take up frontline positions with local fighters.
NO U.S. GROUND WAR
"If Gen. Dempsey determined that it may be necessary to forward deploy some of the American advisers, then he will bring that option to the president, and the president said that he would consider it on a case by case basis," Earnest told reporters on Air Force One.
At the base, Obama declared before an audience of troops: "As your commander in chief I will not commit you and the rest of our armed forces to fighting another ground war in Iraq."
The United States has launched more than 160 airstrikes against Islamic State targets in several areas in Iraq and Obama has authorized similar attacks against the extremist group's strongholds in Syria.
More than 1,600 American advisers have been dispatched to help Iraqi forces but Obama does not want them to get involved in ground combat to avoid a repeat of the Iraq war begun by his Republican predecessor, George W. Bush.
In his testimony to a Senate committee on Tuesday, Dempsey outlined scenarios in which he might recommend having U.S. troops do more, potentially accompanying Iraqis during complicated offensives, such as a battle to retake the northern city of Mosul from Islamic State fighters.
"It's for me a blanket 'no,' " said Nancy Pelosi, the top Democrat in the Republican-controlled House of Representatives. "I don't think the American people are up for it."
But former Defense Secretary Robert Gates told CBS's "This Morning" that Dempsey's remark made sense because air power alone has its limitations.
"The reality is they're not going be able to be successful against ISIS strictly from the air," he said.
U.S.-LED COALITION
Obama sketched out a large but limited U.S. role against Islamic State, saying more than 40 countries were contributing to the coalition effort.
He was to meet his top national security advisers at the White House later on Wednesday to discuss a meeting of leaders at the U.N. General Assembly next week on how to get control of foreign fighters who have sworn allegiance to Islamic State and could return to their home countries to attack civilians.
The FBI director and the heads of the Department of Homeland Security and the National Counterterrorism Center said that people radicalized by online propaganda from Islamic State and other groups posed the main terrorist threat to America.
They told a congressional committee that while there was no evidence that Islamic State planned an attack on American soil, its vigorous propaganda machine and sophisticated online recruitment efforts created a clear potential threat.
Obama also is seeking congressional backing for his strategy. The House of Representatives was due to have two votes later on Wednesday — one a stopgap spending bill to keep the government open after the fiscal year ends on Sept. 30, and the other on an amendment to that bill that would authorize Obama's mission to equip and train Syrian rebels to battle the Islamic State group.
If the bills pass the House, they would be sent to the Senate for a vote expected later this week. The authorization, if passed, would last only until Dec. 11.
Additional reporting by Roberta Rampton, Patricia Zengerle and David Lawder.