North Korea fires missile as Trump, Xi prepare to meet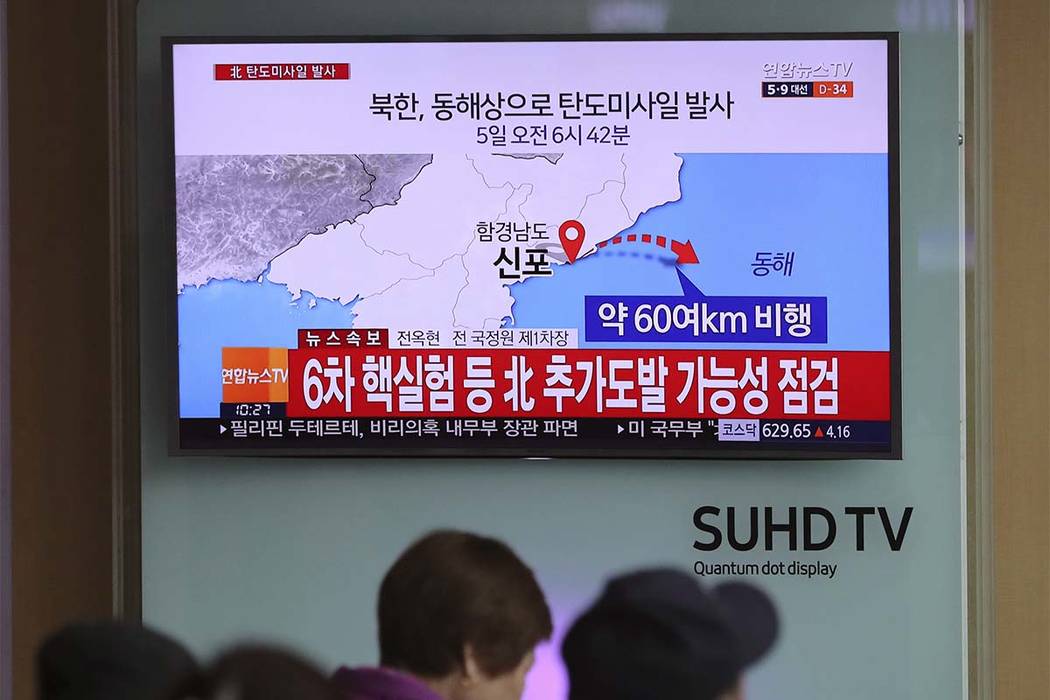 SEOUL — North Korea test-fired a ballistic missile into the sea off its east coast on Wednesday, South Korea's military said, ahead of a summit between U.S. and Chinese leaders who are set to discuss Pyongyang's increasingly defiant arms program.
The missile flew about 40 miles from its launch site at Sinpo, a port city on North Korea's east coast, the South Korean Office of the Joint Chiefs of Staff said in a statement. Sinpo is home to a North Korean submarine base.
The launch comes just a day before the start of a summit between U.S. President Donald Trump and Chinese President Xi Jinping, where talks about adding pressure on the North to drop its arms development will take center stage.
"The launch took place possibly in consideration of the U.S. -China summit, while at the same time it was to check its missile capability," a South Korean official told Reuters about the military's initial assessment of the launch.
The missile was fired at a high angle and reached an altitude of 117 miles, the official said.
Any launch of objects using ballistic missile technology is a violation of U.N. Security Council resolutions. The North has defied the ban, saying it infringes on its sovereign rights to self-defense and the pursuit of space exploration.
The launch drew swift condemnation from Japan, with Prime Minister Shinzo Abe saying further provocative action was possible.
Japan's Chief Cabinet Secretary Yoshihide Suga described the launch as "extremely problematic" and said Tokyo had lodged a strong protest.
South Korea's foreign ministry also condemned the launch as a blunt challenge to a series of U.N. Security Council resolutions targeting North Korea's nuclear and missile program. Seoul called a National Security Council meeting and vowed to respond strongly in case of further provocations.
In a terse statement, U.S. Secretary of State Rex Tillerson said: "The United States has spoken enough about North Korea. We have no further comment."
Trump wants China to do more to exert its economic influence over unpredictable Pyongyang to restrain its nuclear and missile programs.
China has denied it has any outsized influence on Pyongyang and Foreign Ministry spokeswoman Hua Chunying ruled out the chance of a link between the launch and the summit, saying, "I can't see any certain connection between these two things."
Ahead of the U.S.-China summit in Florida, Trump had threatened to use crucial trade ties with China to pressure Beijing into more action on North Korea.
A senior U.S. White House official said Trump wanted to work with China and described the discussions over North Korea as a test for the U.S.-Chinese relationship.
ICBM threat
North Korea could choose to continue with missile-related activities through next week, when the isolated and impoverished country celebrates the 105th anniversary of the birth of the state's founder, Kim Il Sung.
It has used the anniversary in previous years to test-fire the intermediate-range Musudan ballistic missile and to launch long-range rockets to try to put satellites into orbit.
An expert on the North's political strategy warned against reading too much political significance into the timing of the tests ahead of the U.S-China summit.
"They may have taken the summit into account to pick a day but, to me, it is more likely to catch up with its own missile development roadmap for their technical needs," said Kim Dong-yub, a military expert at Kyungnam University's Institute of Far Eastern Studies in Seoul.
North Korea failed in an attempt to launch a ballistic missile from its east coast two weeks ago. Earlier in March, it fired four missiles towards Japan, some of which came as close as 300 km (190 miles) to the Japanese coast.
It has also conducted two nuclear weapons tests since January 2016, all in defiance of U.N. sanctions.
The U.S. and South Korean militaries said initial assessments indicated the latest launch was of a KN-15 medium-range ballistic missile, which would be the same kind North Korea test-launched in February.
Pyongyang tested a new type of medium- to long-range ballistic missile in February, which it later said was an upgraded, extended-range version of its submarine-launched ballistic missile (SLBM).
North Korea has carried out several SLBM tests near Sinpo.
"While it is entirely possible it was the land-based KN-15, it very well could have been a test of their SLBM system that was conducted on land," said Dave Schmerler, an expert at the California-based James Martin Center for Nonproliferation Studies.
The North is believed to be developing an intercontinental ballistic missile (ICBM) that could hit the United States and its leader, Kim Jong Un, has vowed to test-launch one at any time.
Experts and officials in the South and the United States believe Pyongyang is still some time away from mastering all the technology needed for an operational ICBM system, such as re-entry into the atmosphere and subsequent missile guidance.