Northern Nevada, Northern California still seeing wet weather
February 8, 2017 - 8:41 pm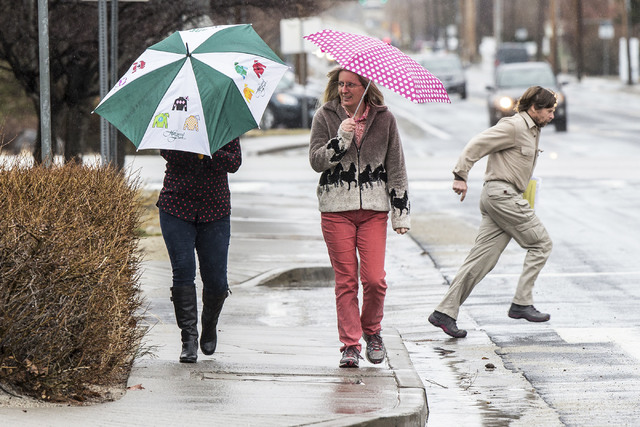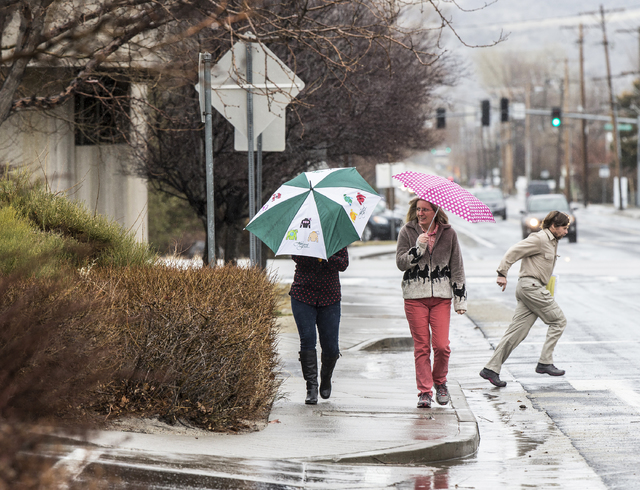 FELTON, Calif. — Avalanche, flood and wind warnings were in place again Wednesday as another powerful storm hit Northern California a day after heavy rains caused rockslides that shut down highways and bridges.
The battered region braced for heavy rain forecast for Thursday, when the risk of flooding will increase north of San Francisco along the swollen Russian River, which topped its banks during a series of storms last month, the National Weather Service said.
Mudslides blocked a Santa Cruz highway in more than a dozen spots and slammed against a family compound, destroying one house and damaging another.
Jennifer Ray said a mudslide knocked off her sister's house from its foundation before dragging and overturning several of the family's cars and damaging her own mobile home. Her family lives on an off-the-grid Los Gatos compound where her father also has a home.
"All we could do is watch as it all came down and trap my mom's dogs in her car," Ray told KNTV. The dogs are now safe.
Nearly 5 inches of rain fell in a 12-hour span Wednesday in the San Joaquin Valley, swamping roads and swelling waterways to critical levels.
The water levels at an earthen dam on Lewis Forks south of Yosemite National Park that authorities said was in imminent danger of failing Tuesday had receded by Wednesday evening. But with more rain expected on Thursday and Friday, things might get worse again, said Madera County sheriff's Cmdr. Bill Ward.
Downstream residents in the rural Cedar Valley area should be ready to evacuate at a moment's notice, he said.
To the north, officials shut down water flow from a dam in Butte County after chunks of concrete went flying off the emergency spillway, creating a 200-foot-long, 30-foot-deep hole.
The Department of Water Resources said the erosion at Lake Oroville does not pose a threat to the earthen dam or public safety, and the reservoir has plenty of capacity to handle the continuing rain.
Water officials released a test flow on Wednesday afternoon to assess how much water could rush past the damaged spillway and planned another test on Thursday.
The weather service said the storms were part of a "classic pineapple express," referring to an atmospheric river phenomenon that carries moisture across the Pacific Ocean from Hawaii and dumps it on Northern California. It could deliver even more rain starting Thursday, forecasters predicted.
"If the model guidance is correct this next system could be even juicier moisture wise as it has a decent tropical connection," according to a weather service statement.
Avalanche warnings were issued along the eastern front of the Sierra Nevada. More than a foot of snow was reported at ski resorts.
Strong winds with gusts topping 60 mph were predicted in parts of the San Francisco Bay Area, south into the Santa Cruz Mountains and along the Central Coast.
In Southern California, commuters contended with dense fog and slick roads from ongoing rain showers.
PARTS OF NORTHERN NEVADA SEE FLOODING
A flood warning is in effect for portions of Washoe and Douglas Counties and Carson City until Thursday morning, thanks to heavy rain and snow melt from the past few days.
On Tuesday, a major storm dumped more than a foot of new snow in the Sierra Nevada, unleashed heavy rain that triggered flooding and mudslides in the valleys around Reno and Carson City, and pushed potentially damaging winds across much of western Nevada.
In Carson City, heavy rain flooded streets and caused a mudslide that closed temporarily southbound U.S. Highway 395 at the U.S. 50 on-ramp. A mudslide blocked part of Highway 89 in California north of Reno.
High water also closed a stretch of U.S. Highway 50 east of Carson City near Silver Springs. In Fernley, high winds downed a tree and a power line closing a stretch of State Route 828.