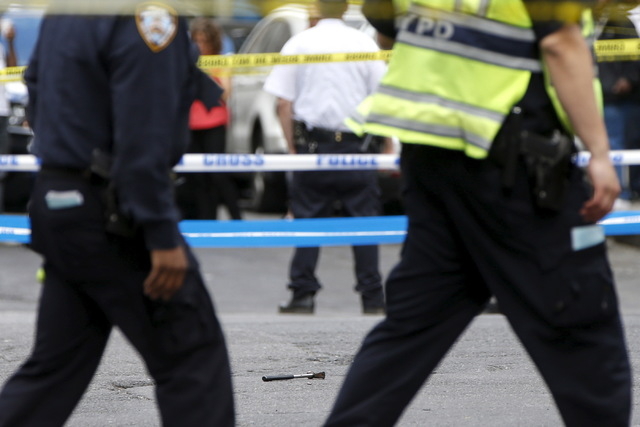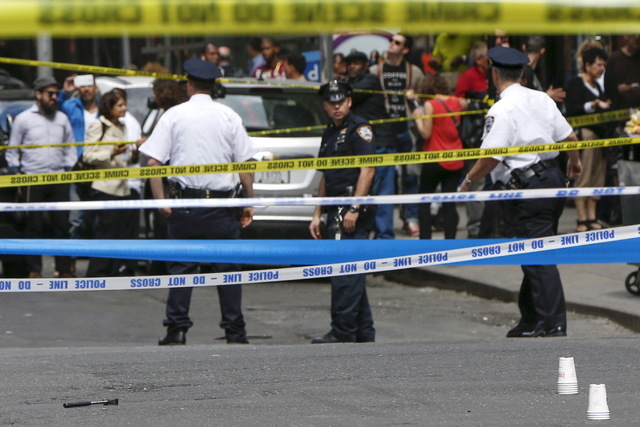 NEW YORK — A hammer-wielding man accused of hitting three people on the head in tourist-packed areas of New York City earlier this week was shot on Wednesday after he swung the tool at a police officer on a city street, police said.
Two New York police officers approached the man in Midtown Manhattan because he matched the description of the suspect in Monday's hammer attacks, police said.
"When he turned around, he pulled out the hammer and violently started swinging the hammer at the female officer," Deputy Chief William Aubry told reporters.
The other officer then fired four shots at the man, twice striking him, police said. The suspect was being treated at Bellevue Hospital Center.
Images posted to social media showed the suspect lying on the ground after being shot with a metal hammer a few feet away.
Police Chief Bill Bratton commended the quick action of the male officer who preliminary evidence showed "quite possibly saved his partner's life by shooting the suspect."
The female officer was being treated for bruises at a hospital, local media reported.
In one of the three attacks on Monday, a man with a hammer struck a 28-year-old Manhattan woman in Union Square Park, police said. About 10 minutes later, also in Lower Manhattan, a 33-year-old woman who was walking with her boyfriend was hit in the back of the head, authorities said. The suspect fled.
While investigating those assaults, police learned of a third attack earlier in the day in Midtown Manhattan in which a 20-year-old man was hit on the head with a hammer while crossing a street, police said.
All three victims suffered scalp injuries and were treated at a hospital.