Pa. fugitive makes court appearance
October 31, 2014 - 10:22 am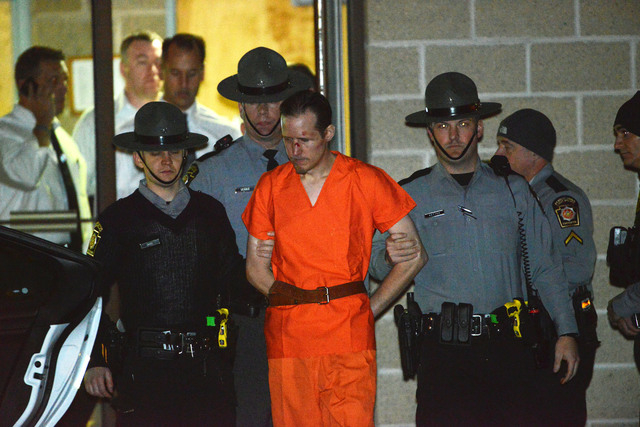 MILFORD, Pa. — A bruised and gaunt Eric Frein, captured after a seven-week manhunt and detained with the handcuffs of the Pennsylvania trooper he is accused of killing, was held without bail on Friday after facing murder charges in court.
The 31-year-old survivalist, who prosecutors say will face the death penalty if convicted, was caught on Thursday after a methodical seven-week search using a grid system and hundreds of law enforcement officers. U.S. Marshals found Frein in an abandoned airplane hanger in Tannersville, Pennsylvania – with his weapons inside, police said.
A massive police presence surrounded Frein as he was escorted in and out of the Pike County Courthouse for a preliminary arraignment on a first-degree murder charge and one count of homicide of a police officer, among other charges.
Frein arrived at court in the cruiser and handcuffs used by Corporal Bryon Dickson, 38, whom he is accused of killing in a sniper attack on Sept. 12 outside a Pennsylvania state police barracks in Blooming Grove. Frein also is charged with wounding Trooper Alex Douglass, 31, in the shooting.
Wearing an orange jumpsuit with his face looking battered, Frein was asked by the judge whether he understood the charges.
"Yes I do," Frein said in a strong voice.
Police said Frein's bruises, including an oozing gash over his nose, were from injuries he suffered hiding in the woods as a fugitive.
Pike County District Attorney Raymond Tonkin said a preliminary hearing was scheduled for Nov. 12. No plea was entered at the hearing on Friday.
Marshals found Frein at about 6 p.m. on Thursday, ordered him down on his knees with his hands in the air, said State Police Lieutenant Colonel George Bivens. Frein is talking to police and the investigation is continuing, Bivens said.
He estimated a cost of $10 million for the massive manhunt that has involved hundreds of officers from state, local and federal agencies, using helicopters, armored vehicles and sophisticated tracking technology.
Frein, who was on the FBI's most wanted list, surrendered without incident, police said. Two firearms were found in the hangar but Frein was carrying no weapons.
Police have said the suspect, an expert marksman whose hobbies included dressing like a Serbian soldier in a war reenactment group, held a longstanding grudge against law enforcement and was not targeting any individual officer.
Tannersville, about 100 miles north of Philadelphia, is the center of the forest where police concentrated their search for Frein, who lived with his parents in Canadensis, 20 miles south of the barracks.
The heavy police presence and the aggressive tactics employed during the manhunt rattled many residents of the normally peaceful area of northeastern Pennsylvania, even as the shootings appalled the community.
Related
Halloween back on for Pennsylvania children