Pacific storm brings much-needed rain to California
October 28, 2016 - 7:52 pm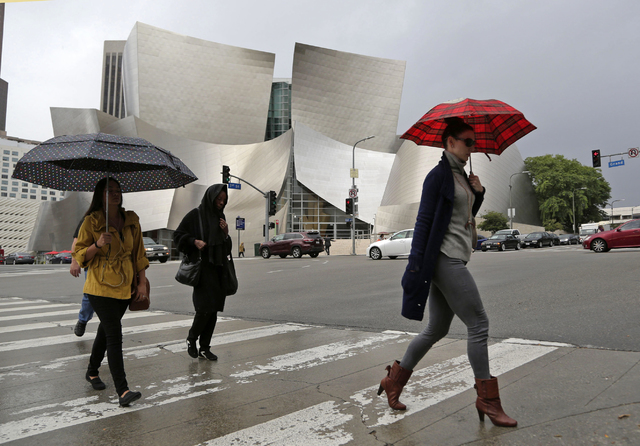 LOS ANGELES — A Pacific storm spread needed rain to much of California on Friday, causing traffic snarls but no immediate trouble for communities near slopes left barren by wildfires.
Northern and central sections of the state felt the brunt of the storm's impacts but the threat of heavy rain rapidly diminished as it spread into Los Angeles and flash flood watches in local mountains were canceled.
Rainfall rates were highly variable from the coast to the Sierra Nevada, but all of it was needed in a state that has seen only modest improvement in its drought situation.
In San Francisco, which had a 24-hour total of about three-quarters of an inch of rain by dawn, a big rig crash on the eastbound side of the Oakland-San Francisco Bay Bridge spilled about 100 gallons of fuel and closed several lanes of traffic, according to the California Highway Patrol. The driver sustained minor injuries.
On the Central Coast, the storm brought plenty of precipitation to San Luis Obispo and Santa Barbara counties, but there were lesser amounts to the north, resulting in cancellation of a flash flood watch for the burn scar left by the summer's 206-square-mile wildfire near Big Sur.
Downtown Modesto in Central California was flooded, with at least one car stalled in water that was up to 2 ½ feet deep. The city's utilities director blamed the problem on an outdated drainage system that wasn't designed to handle the nearly 2 inches of rain that fell. There were reports of flooding and debris flows on several state highways through Stanislaus County.
A year ago, almost the entire state was in severe, extreme or exceptional drought — from the Oregon state line to the Mexico border. But since then enough rain has fallen that a chunk of northwestern California is now back to normal and the worst levels of drought designation have retreated somewhat to the central and southern regions, according to the U.S. Drought Monitor.
Other storms are expected to follow during the weekend, with potential for significant snow in sections of the Sierra Nevada, which normally stores a huge amount of the state's water supply in the form of a winter snowpack that eventually runs off into major reservoirs.
Yosemite National Park closed Tioga Road, which tops 9,000 feet, because driving conditions deteriorated Friday and 1 ½ foot of snow is expected to blanket the area this weekend. Glacier Point Road, which rises to 8,000 feet was to close at 5 p.m. Saturday. Both roads usually close for the winter months.
After five years of drought, it's uncertain how much snow to expect in the current water year.
When the 2016 water year ended on Sept. 30, the California Department of Water Resources summarized it as a "snow drought," with "meager precipitation that fell more often as rain than snow" even though parts of the north had average or above-average precipitation.
That occurred during a strong El Nino, the periodic warming of the equatorial Pacific that sometimes brings heavy precipitation to California. Now, federal forecasters see a nascent La Nina, an ocean cooling phenomenon linked to drier-than-normal conditions in California.
According to the state Department of Water Resources, in 18 La Nina winters since 1950-51, above-average precipitation occurred 11 times in the northern Sierra and eight times in the central and southern Sierra.
In Southern California, La Nina winters brought below-average precipitation to the coastal region 16 times and 15 times in the region's interior.