Protests, violence persist across U.S.
Updated June 1, 2020 - 10:25 pm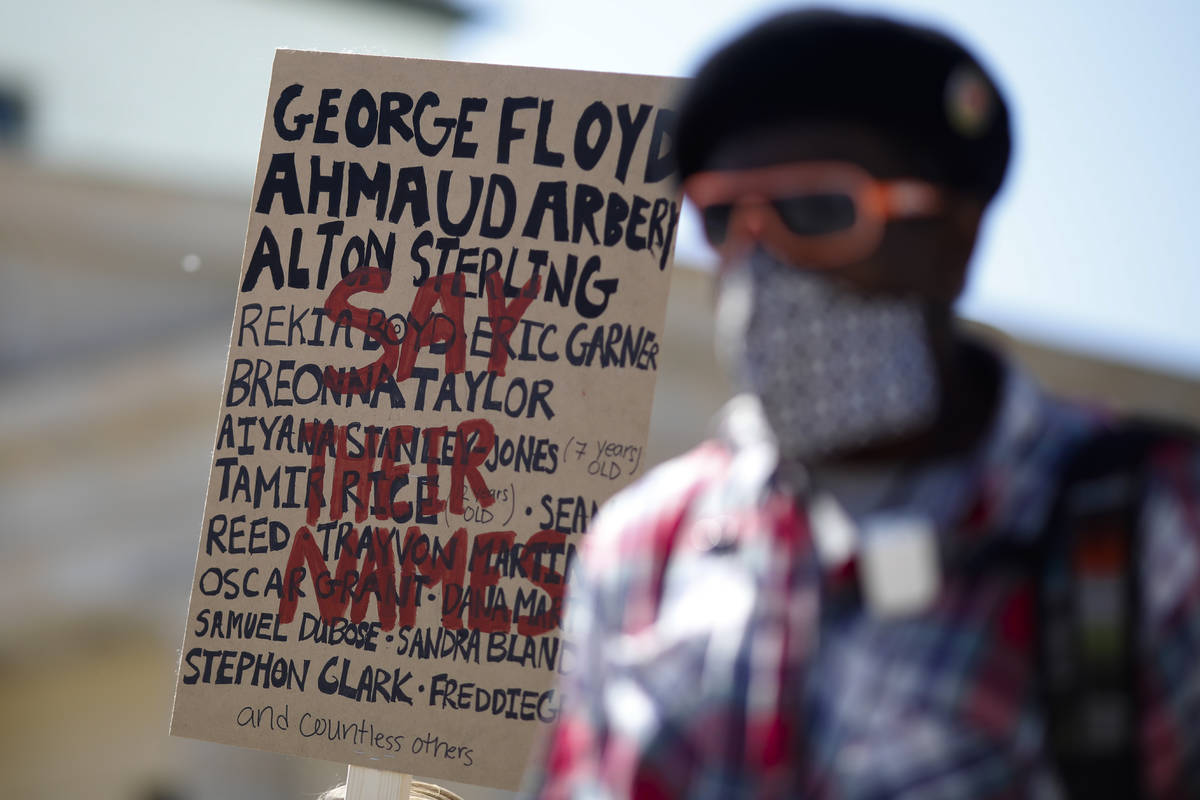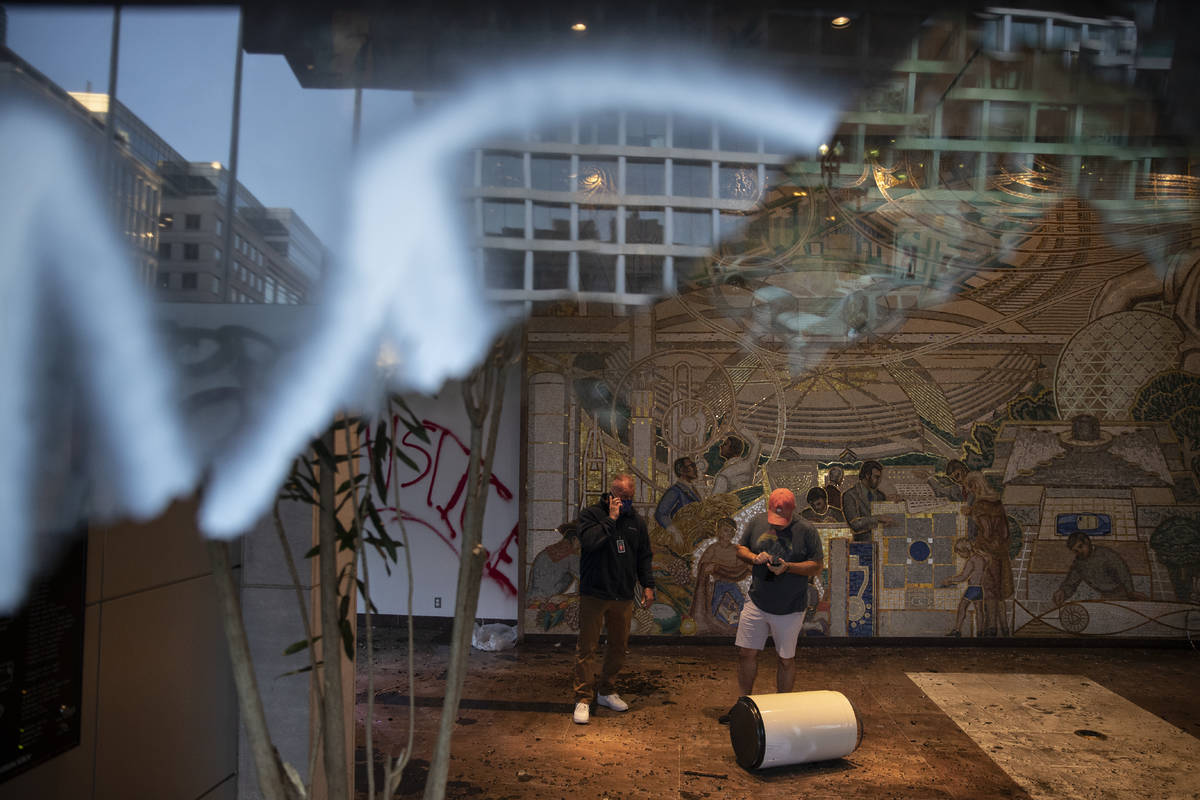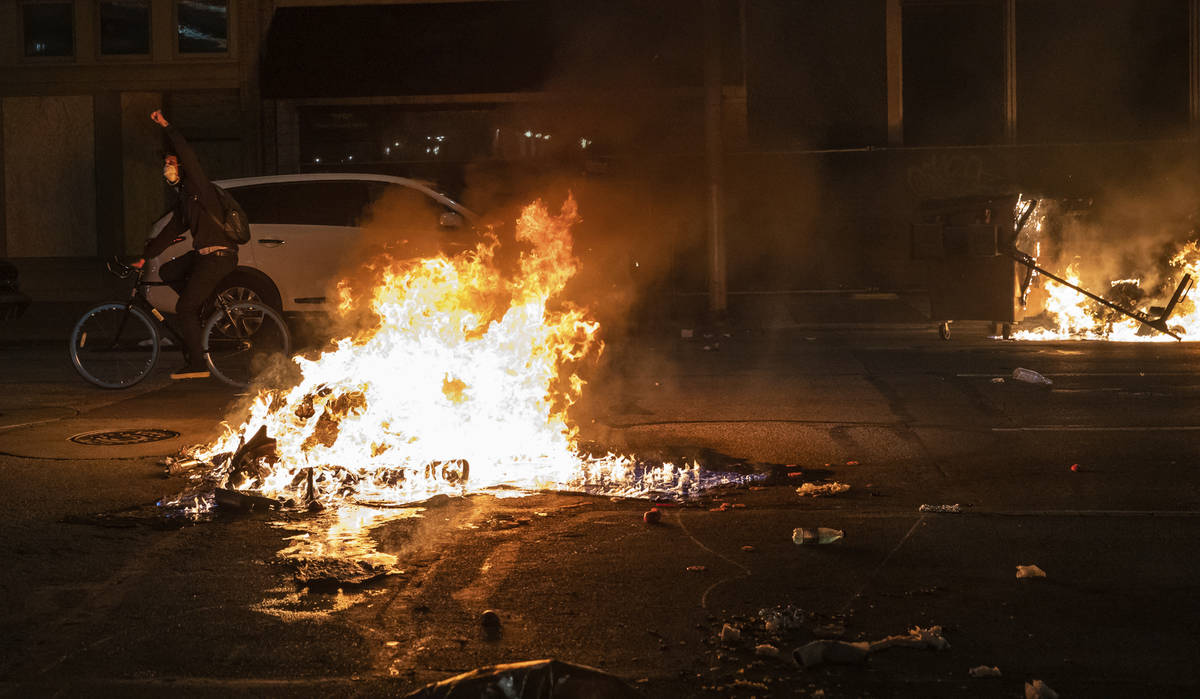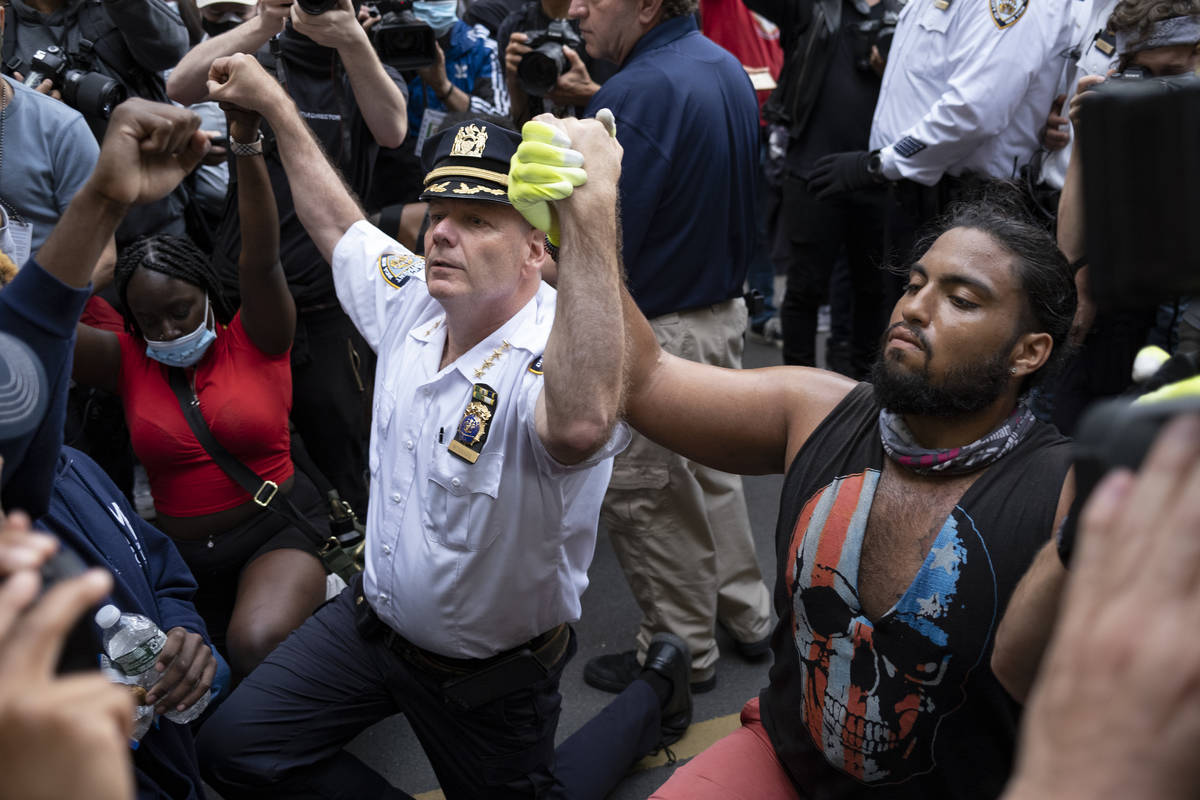 The country has been beset by angry demonstrations for the past week in some of the most widespread racial unrest in the U.S. since the 1960s. Spurred largely by George Floyd's death, protesters have taken to the streets to decry the killings of black people by police. Minneapolis Officer Derek Chauvin has been charged with murder, but protesters are demanding that three of his colleagues be prosecuted, too. All four were fired.
While most of the demonstrations have been peaceful, others have descended into violence, leaving neighborhoods in shambles, stores ransacked, windows broken and cars burned, despite curfews around the country and the deployment of thousands of National Guard members in at least 15 states.
On Monday, demonstrations erupted from Philadelphia, where hundreds of protesters spilled onto a highway in the heart of the city, to Atlanta, where police fired tear gas at demonstrators, to Nashville, where more than 60 National Guard soldiers put down their riot shields at the request of peaceful protesters who had gathered in front of Tennessee's state Capitol to honor Floyd. Two people were killed during protests in the Chicago suburb of Cicero, authorities said, but provided no details. In Louisville, Kentucky, riot police firing tear gas scattered several hundred protesters from downtown, violently capping a day of mostly peaceful protests.
A vehicle plowed through a group of law enforcement officers at a demonstration in Buffalo, New York, injuring at least two. Video from the scene showed the vehicle accelerating through an intersection shortly after officers apparently tackled a protester and handcuffed him. The officers were hospitalized in stable condition, authorities said.
In New York City, where nightfall has brought widespread scenes of destruction, large crowds rallied peacefully in Times Square and Brooklyn during the day. Then, in early evening, looters rushed into a Nike store in Manhattan and protesters smashed storefront windows near Rockefeller Center. Video posted on social media showed some protesters arguing with people breaking windows, urging them to stop.
The city has already endured immense commercial damage from the unrest. On Monday, rioters got through the doors of the city's flagship Macy's store, famous for its Thanksgiving Day parade, and police later pulled at least two handcuffed men out of the store and put them into a van. By that time, most of the the street was littered with broken glass.
In Washington, protesters continued marching peacefully through Washington hours after being forced from Lafayette park and past the 7 p.m. curfew.
Eventually, within sight of the Capitol building, the marchers were turned back by law enforcement officers using tear gas, pellets and low-flying helicopters kicking up debris. As they dispersed, some protesters smashed windows at a nearby office building.
Earlier Monday, Trump told the nation's governors in a video conference that they "look like fools" for not deploying even more National Guard troops. "Most of you are weak," he said.
He added: "You've got to arrest people, you have to track people, you have to put them in jail for 10 years and you'll never see this stuff again."
Washington Gov. Jay Inslee, a Democrat, dismissed Trump's comments as the "rantings of an insecure man trying to look strong after building his entire political career on racism."
Former Vice President Joe Biden, the Democratic presidential candidate, vowed to address institutional racism in his first 100 days in office. He met in person with black leaders in Delaware and also held a virtual meeting with big-city mayors.
Biden said hate emerges "when you have somebody in power who breathes oxygen into the hate."
In Minneapolis, meanwhile, Floyd's brother Terrence made an emotional plea for peace at the site where Floyd was arrested.
"Let's switch it up, y'all. Let's switch it up. Do this peacefully, please," Terrence Floyd said as he urged people to use their power at the ballot box.
Also Monday, an autopsy commissioned for Floyd's family found that he died of asphyxiation from neck and back compression, the family's attorneys said.
Authorities in many cities have blamed the violence on outside agitators, though have provided little evidence to back that up.
But on Monday, federal authorities arrested a 28-year-old Illinois man saying he had posted self-recorded video on his Facebook page last week that showed him in Minneapolis handing out explosive devices and encouraging people to throw them at law enforcement officers.
More than 5,600 people nationwide have been arrested over the past week for such offenses as stealing, blocking highways and breaking curfew, according to a count by The Associated Press.