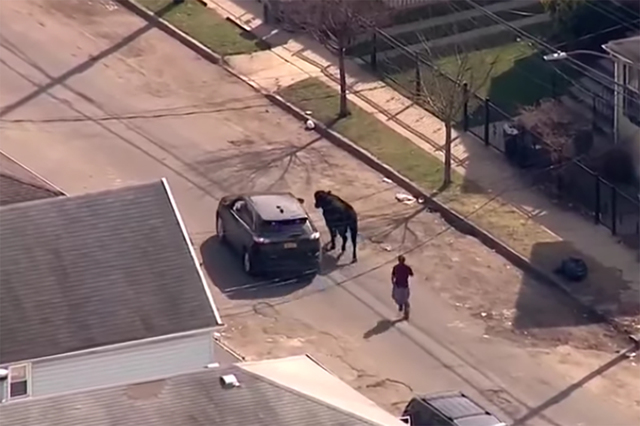 NEW YORK — A bull that apparently escaped from a slaughterhouse has led police on a wild chase through New York City streets.
Police corralled the animal in a backyard in Jamaica, Queens after a chase that lasted more than an hour.
According to reports on social media, the bull later died.
The cow chase in Jamaica, Queens, is over. https://t.co/g3SPIUOmKi

— Twitter Moments (@TwitterMoments) February 21, 2017
Footage airing on WABC-TV showed the black bull or steer trotting through a residential neighborhood with several tranquilizer darts stuck in its hide.
Police chased a cow on the loose in Queens, NY today. It has been captured, but not before these amazing images. https://t.co/XanztDETt0 pic.twitter.com/HIyGnzR81L

— Good Morning America (@GMA) February 21, 2017
The nimble bovine eluded attempts to box it in between police vehicles by squeezing through narrow openings.
There were no reports of the bull causing any injuries during the chase, though it did rip the door off a car.
WABC reported that Skylands Animal Sanctuary & Rescue in Wantage, New Jersey has offered a home for the wayward beast.
There was no answer at the sanctuary's phone number.
I'm on my way to work and see a cow walk right by me in Jamaica, Queens. Unbelievable… pic.twitter.com/buM9dn3LmD

— Vladimir Vilsaint (@Soon2betheKing) February 21, 2017