Russia frees two women on amnesty before Olympics
December 23, 2013 - 8:47 am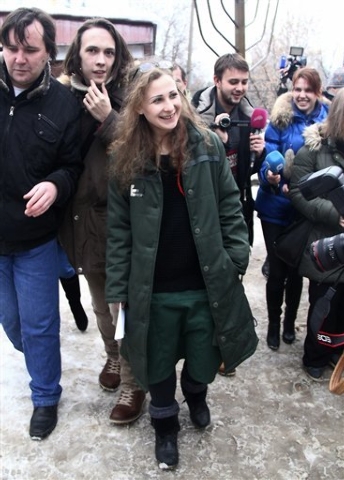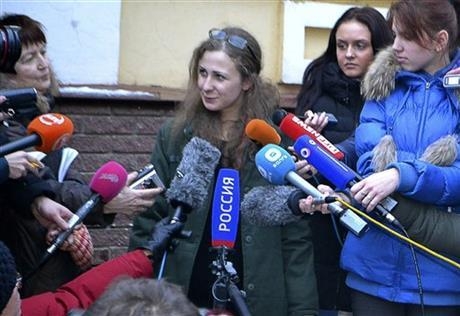 MOSCOW — Two members of the Pussy Riot punk group were freed Monday under an amnesty signed by President Vladimir Putin months shy of Russia's first staging of the Winter Olympics and the women's planned release from prison.
Maria Alekhina left a Nizhny Novgorod penal colony and Nadezhda Tolokonnikova was released from a Krasnoyarsk prison, their lawyer Irina Khrunova said in a phone interview. They were arrested for hooliganism after performing a "punk prayer" seeking the Russian leader's ouster at Moscow's main Orthodox cathedral in February 2012.
"The amnesty was strange," Khrunova said. "It's good that it applies to my clients but it seems like that they were personally included for political PR ahead of the Olympics."
Putin granted clemency to as many as 22,000 people last week to mark the 20th anniversary of Russia's constitution and as he prepares to host the Winter Olympics in February. Alekhina and Tolokonnikova were due for release in March.
The Russian president separately pardoned Mikhail Khodorkovsky, the former oil tycoon released after 10 years in prison. Putin said he granted the reprieve last week at Khodorkovsky's request to visit his ailing mother. The ex- businessman ruled out any political challenge to Putin, while vowing to campaign for the rights of political prisoners in Russia.
The two Pussy Riot members qualified for the amnesty in part because they have young children. Tolokonnikova may be heading to her grandmother who lives in Krasnoyarsk, according to Khrunova.
"I am going to fight for other political prisoners right," Alekhina said Monday, echoing Khodorkovsky, according to Russian state TV.
A Moscow court sentenced Tolokonnikova, Alekhina and a third performer, Ekaterina Samutsevich, for inciting religious hatred and hooliganism in August 2012. Samutsevich was released on a suspended sentence, while two others weren't identified and remain at large.
Among those amnestied were four out of more then two dozen people jailed after an anti-Putin protest on May 6, 2012, which erupted into clashes with the police on Bolotnaya Square in Moscow. Also given clemency were 30 people charged with participating in a Greenpeace protest against Arctic oil drilling, who hadn't yet been sentenced.
Putin declined to amnesty the rest of the Bolotnaya case members as they had been charged with using force against police or with organizing mass riots.
— With assistance from Anton Doroshev and Henry Meyer in Moscow.
bc-russia-amnesty